Archers listener discussions to 5 December 2012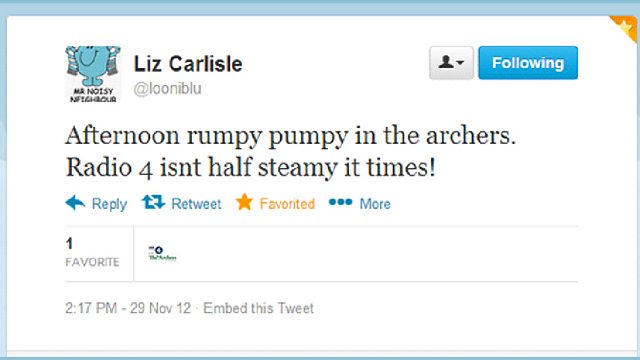 Twitter quote
Listeners discuss pots and kettles when it comes to Lilian and her distrust of Matt.

Ed gets a tongue-lashing as he steadfastly refuses to look a gift horse in the mouth.

There are a few suggestions to make sure Lynda's Elizabethan Christmas is as authentic as possible.

And as Ambridge Extra gets underway, some are "pleasantly surprised". But is it a bit too gloomy?
Here's my pick of listener discussions on The Archers message board, Twitter and Facebook between 29 November and 5 December 2012.

Listeners are aghast as Lilian questions her trust of Matt. As her relationship with Paul deepens, some are worried about Matt's future

Trust Lillian. Pot / Kettle #thearchers (@SmithPeterScott on Twitter)

Pushing the old "Pusscat" button just ain't working no more, Tiger! Get your coat! #TheArchers (@Cardedfolderol on Twitter)

I think they can't resist Matt finding out it's Paul, so while he knows something up I don't think he know his half-brother is involved. (Purple_Hay on the message board)

I think Matt knows. All that being nice all of a sudden... likely he knows that if Lilian dumps him he can't run a company in his own name and who else will let him run their company like she does? He's a wily fox (Charlotte Evans on Facebook)

Lillian, he's a wrong 'un but stick with Matt. He's your yang to your yin. Paul wouldn't like the fags and gin #thearchers (@urbaneprofessor on Twitter)

I think Matt is safe as Lillian will soon tire of his goody two shoes brother. (Abu Milhem on the message board)

Matt is a despicable crook but a really well developed character who I really enjoy listening to he has some of the best lines in the show. He will be on to Lillian in a flash and I don't mind if they split as long as he doesn't leave The Archers or go silent. (Dailyfix on the message board)

A seriously conflicted character, well played ... Matt is also the most acute observer of the other characters albeit closely followed by Brian and Jazzer. (Feral_Ralph on the message board)

Well count me out as I loathe Matt. He's a horrible, lying, nasty and quite possibly evil man and his wit doesn't redeem any of that. I'd like to hear him plummet to the bottom of a pit and never come out. (old cath on the message board)

#TheArchers oh God Lillian bin Matt, let Paul be your Christmas present to yourself (@123thegardener on Twitter)

Join the debate on the message board threads: SHE can't trust HIM? and ( I don't want to lose Matt!

Listeners berate Ed Grundy for refusing any offers of help such as David's offer of sharing the feed order. They also think he should have given "bully" Mike a talking to about the price he's getting for his milk

#thearchers oh Ed's def not a chip off the old block is he? Gift horse and all that! (@Lol58Milne on Twitter)

Ed you muppet. David is trying to help whilst you keep your pride. #TheArchers Nice move David. (@cha0tic on Twitter)

What he needs is someone to sit him down and talk a lot of sense into him. Like Clarrie (Anonymous on the message board)

I have long wondered on what grounds Ed is considered fit to run the dairy enterprise in the 21st century given that his education is Joe and Eddie (self confessed very poor farmers) and few hours with a hobby farmer (Oliver). (RAFromSway on the message board)

I have little sympathy for Ed, but I thought Mike was pretty much a bully in that conversation with Ed. OTOH, Ed was also very stupid in not telling Mike exactly what for. (Redbookish on the message board)

Mike needs to consider finding another more reliable and solvent supplier - he does have Vickki to pay for...... (Earldunda on the message board)

I think he should have asked if he could share the pain a bit. After all Vicki is completely involved with her pregnancy but Mike has to keep his eye on the financial reality. It won't help the milkround if Ed goes under. (KitschLorraine on the message board)

Is Ed too proud for his own good? Add your thoughts to the Everything's charity with Ed and Mike, how dare you take that tone? threads on the message board.

As villagers try to ensure Lynda's Elizabethan Christmas is authentic, listeners wonder just how far they'll take it...

"We want to keep it as close to an authentic Elizabethan occasion as possible..." Right, nobody wash from now till Christmas. Now, where can I get some arsenical soap to improve my complexion? (Freda Fry on the message board)

Not a good time to be a swan round Ambridge then (teddyandgypsy on the message board)

Not just swans. Eccles had better watch his tail-feathers! (Lakey_Hill on the message board)

And a ready supply of rotten vegetables for the audience to throw should the show not be quite to their liking. (pollyanna on the message board)

Read all the suggestions on the message board.

And as Ambridge Extra starts its 4th series, there's some excitement, and applause for Emma as she takes Tracy down a peg or two. But is it a bit too gloomy?

Wow! Go Emma #ambridgeextra (@FurnessGirl on Twitter)

I thought it was a good & promising start to the series. In AmEx3 the first couple of episodes in SA took a while to get moving and that part of the SL became one of the strongest of the three series thus far. The direction in which they may take Emma - if she remains part of AmEx - looks promising. (Mustafa Grumble on the message board)

When I read the teaser and saw it was about the Horrobins I wasn't expecting to enjoy it, but I was pleasantly surprised. Emma and Tracey were well acted as ever. Donna is a bit of a stereotype, but just the sort of woman who would be married to Keith. (flameofthewest on the message board)

It seems to be going to be unremittingly gloomy and depressing. Unless other characters are introduced to lessen the effect, or something more positive happens, I will give up. (Lakey_Hill on the message board)

I liked it... I find Tracey & Co hilarious & a sort of flip side to the mundane middle classness of Ambridge - we've just spent so long with WI produce shows, tea urns & Linda's intellectual pretensions. (nesta vipers on the message board)

Have your say on the Ambridge Extra topic on the message board.

Tayler Cresswell is host of The Archers message board.