"Oh poor Susan (never thought I'd say that)" - listener discussions to 26 November 2011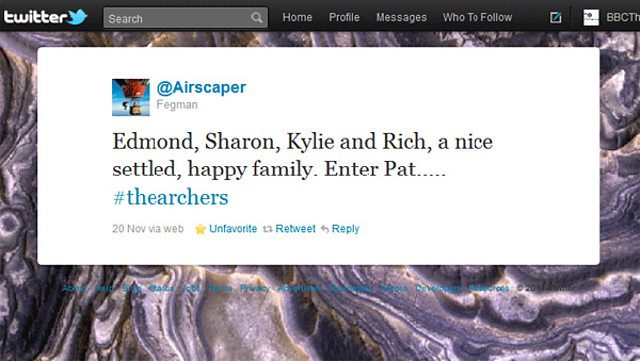 Should Susan take Neil's advice and leave Bert and Gary to fend for themselves? Is Ambridge becoming overrun with Horrobins? There's been a huge amount of debate about Pat's quest to find out if Rich is her grandson. Should she leave him be? Could you if you were in her shoes? Helen's childcare plans and Jim's relationship with Christine have been discussed - and has it really been 30 years since Eddie and Clarrie tied the knot?
In Ambridge Extra, Alistair's inner thoughts have disturbed some and what will Shula say about those text messages from Erin? And finally, there are congratulations for Ryan Kelly (Jazzer) on his AMI award.
Here's my pick of listener discussions on The Archers message board, Twitter and Facebook between 17-23 November 2011.

With Bert and Gary Horrobin relying on Susan to look after them, "poor Susan" has elicited some sympathy. But is she bringing this all on herself? Would she be better off leaving her dad and brother to fend for themselves?
Oh poor Susan (never thought I'd say that) #TheArchers (@MsAlliance on Twitter)
Are there really grown men who are as useless as Gary Horrobin? It's appalling. (Auntie Molly)
People who behave like Susan are very irritating. Pointless martyrdom for a couple of feckless grown men who are quite capable of fending for themselves.
Only the women in their lives have run around picking up after them for years. (TuffTanya)
Join the debate on the message board

Never mind Susan's feelings, after Tracy appeared on Susan's doorstep on Wednesday, some message board folk complained of being "all Horrobinned out". But not everyone has had enough
All too soapy for me - Tracy landing on Susan and poor Neil out of the blue like that. Do we really need more characters and SLs at the moment? (siriol)
Tracy probably has enough on her plate without taking on two more children - Bert & Gary... It could be she has tried to bring the children up decently and exposing them to the everyday behaviour of Bert & Gary - unconstrained by Ivy is too awful to contemplate.... If she stays, of course, Susan will tremble every time the doorbell rings. Is it Clive? Oh, no; it's only Den! (HtoHe)
Well - I've just come home and LA and Tracey's appearance at the end of the epi cheered me up no end after a rather gloomy week. Bring on the Horrobins! (TheRealSportyGirl)
Really looking forward to Christmas now! Will the Bull get trashed on Boxing Day?.....
(Jacks Parakeet)
Read more on the No thread about Tracy thread.

The biggest topic of conversation on the message board has been Pat's speculation about Sharon's son Rich. Is he really John's son? Listeners have debated whether this storyline is about Pat's state of mind, or John's paternity - or both?
What's wrong with a simple phone call, Sharon could tell her where to go, but she might not. All these "don't be ridiculous" and "just let it go" comments are idiotic, Pat might have a grandson, the son of her dead son how is she supposed to just forget about it and why should she. (Jillyflower)
If Helen can deprive Henry's paternal relatives of any rights to know him I don't see how Pat can complain if Sharon does the same to her. After all Henry's father could be dead and his family devastated by his loss too. Look to your own actions, Pat. Not very honourable are they? (anna kist)
What (apart from throw his mother Sharon out a couple of times, and regard her as unworthy of Her Son John, and blame her for John's death) has Pat ever done for Rich? Anything to earn one half-minute of consideration? (Chris Ghoti)
You know that Pat #thearchers isn't going to keep quiet and there will be war when it all comes out (@munstermaid on Twitter)
Read all about it in the Why doesn't she just ask? and Just leave it alone Pat! threads on the message board.
It seems that everyone thought Pat make a huge mistake in telling Susan "Radio" Carter about her suspicions about Rich
Famous last words from Susan "I won't breathe a word" - will be round the village by tea time #thearchers (@sheilmcn on Twitter)
About as likely as Brine saying "I'll never look at another woman but you, Jenny". Or Tom saying "Let's face it, I'm a really lousy businessman". (NotsoTinyTim)
Last time Neil told Susan not to spread something around (about Nic not wanting another baby I think) she 'just' told Emma. (JustJanie - Fairweather Jogger)
Join the discussion in the "I won't breathe a word" thread

Helen's childcare plans have raised some eyebrows. Will she cope looking after two children for three days a week?
Oh please, please, let this friend's toddler be the type that opens its mouth to bawl as soon as it opens its eyes in the morning, be a picky eater, generally be a child that refuses to do anything an adult wishes it to and infect (in the sense of influence rather than e-coli) Henry! (Buntysdaughter)
Helen won't have to pay childminding fees, Henry will be fed and nappied and loved for 3 days, at the childminder. Then Childminder's baby will be fed/nappied/loved by Pat and Tony for 3 days (Dinah Shore)
Debate the issues in the So, no childminding cost for Helen then thread

On Monday there were cheers and tears as we celebrated Clarrie and Eddie Grundy's wedding anniversary.
#TheArchers making me cry tonight. Congrats @eddie_grundyand clarrie! (@wonderment on Twitter)
Had a lump in my throat listening to @bbcthearchers surprise anniversary party Sad but true. Long live touching gripping drama from Ambridge (@MrBarnabys on Twitter)

And listeners were cheered by gentleman Jim's blossoming relationship with Christine
I think the storyline rather sweet, well written and a bit moving as well. (jane c)
I like it too. And at the moment neither of them is admitting to either themself or the other that the feelings are growing - which is lovely. (BartlebysBestFriend)
Share your thoughts on the 'Hang on to the key...' thread.

In Ambridge Extra there's been a big debate over whether Alistair is acting appropriately towards Erin (or should that be the other way around?). Some found hearing Alistair's thoughts disturbing, but what they're really wondering is what Shula will say?
He knows the warning bells are ringing, it's just whether he can resist the temptation to daydream a little before it gets out of hand. (ermintrude)
Well, Al might be restrained, but will she? I'm not holding my breath. Cue Daniel walking in on a 'tricky situation'. Cue closing music. (DracsM1)
Err Alistair, I'd delete those text messages if I where you. #ambridgeextra (@Airscraper on Twitter)
Alastair - be careful! Shula's going to do her nut #ambridgeextra #teenagelust (@BeanMatthew on Twitter)
What is the matter with Alastair... he needs to tell Shula double quick! Erin is plainly after him - she is totally out of control... it`ll all end in tears. PS on the plus side, he & Shula may get another room decorated (Sameara Ninnuendo aka nesta)

And many have congratulated Ryan Kelly on (Jazzer) on his AMI award
Long overdue recognition of a brilliant and talented actor who has very much created the character he plays, a character that has improved greatly with the years. We need him to sing more, though! (Mustapha Grumble on the blog)
Congratulations on portraying a very entertaining character. I love the accent and Jazzer's antics! A well deserved award. (Meg Dyer on Facebook)
Always enjoy Jazzer. Still giggle over "As you were pigs" Please pass on congratulations to Ryan - the award is well deserved. (Lilians twin ??)
Add your congrats on the message board

Tayler Cresswell is host of The Archers message board.