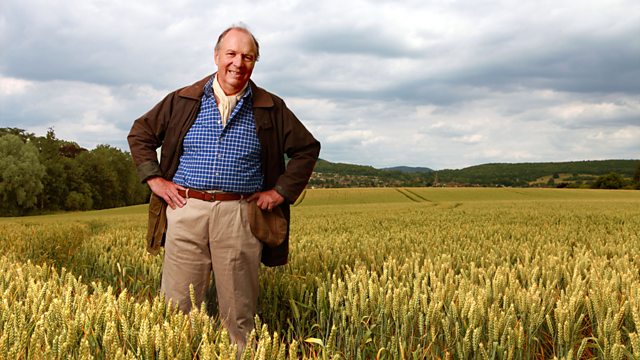 Charles Collingwood (Brian Aldridge)
Last year, Jennifer Aldridge spent several weeks not talking to Jim Lloyd, because of the profile of Brian which Jim wrote for Borsetshire Life magazine.
We heard snippets from the piece on air at the time. But we thought you'd like to read the article in full...

The Squire of Ambridge
by Jim Lloyd
As I arrive at Home Farm, I catch sight of a well-manicured outdoor swimming pool, recently unveiled from its winter slumber. Such a mark of conspicuous consumption takes a deal of wealth to support. What is it about my host, Brian Aldridge, that makes him one of the richest men in Ambridge?
Brian is the pinnacle and epicentre of a farm business empire that dominates the local scene and stretches all the way to the broad plains of Hungary. As he pours me an aromatic coffee from a gleaming silver machine, my eye takes in the lavishly-appointed kitchen. Artful touches of rusticity are counterpointed by immaculate contemporary style. Even the cake, cooling on a rack near the range cooker, has the air of a prop in a photo shoot.
Brian is equally carefully turned out, and with an equal sense of contrasting style. The well-cut tweed jacket is perhaps to be expected of a comfortable gentleman farmer. But the silk handkerchief, exuberantly erupting from the breast pocket, and the shirt – a striking blue with a violet stripe – hint at a rakish undercurrent not unknown in older, powerful men, from Peter Stringfellow to Silvio Berlusconi. You get the feeling that, despite being within hailing distance of his eighth decade, this is still a man who hopes he can charm a smile from a pretty girl.
'...I'm not really that deep...'
Indeed, Brian does have the easy charm of the former public schoolboy. He attended Sherborne, although a subsequent university education was apparently considered unnecessary. As we settle down for our chat, he freely admits 'I'm really not that deep. What you see is what you get.' A fair self-assessment, as there is not much evidence of a 'life of the mind'. He claims his main interests are shooting and fishing – activities he's made sure to provide for on his doorstep. However, although he may enjoy bending unwitting fauna to his recreational will, I get the impression that his main hobby is, in reality, business.
'...The trouble with a lot of people is they simply  don't have vision...'
Brian arrived on the Ambridge scene in 1975, and made a considerable and immediate impact. With a substantial inheritance from his parents, who tragically died when he was not yet 30, he bought 1500 acres and a fine Georgian farmhouse from the still near-feudal Berrow Estate. He rapidly made his mark as a large-scale farmer, with the biggest and latest machinery. Local feathers were undoubtedly ruffled. Was Brian uncomfortable at antagonising his neighbours? Not a whit, it would seem. As he says: 'The trouble with a lot of people is they simply  don't have vision. They seem to be incapable of seeing the big picture. That's what you have to focus on.  I like to think it's the keystone of all my work.'
Home Farm now boasts an array of enterprises. Nearly 300 sheep and 110 deer graze the lush grass, although of course that lushness is only created by constant applications of herbicides and chemical fertilisers. And any walker ascending the historic slopes of nearby Lakey Hill cannot fail to notice the four acres of polytunnels. In these bulbous extrusions, strawberries and other soft fruit is grown, pandering to the modern consumer's demand for comestibles regardless of their traditional season. As they glisten in the Spring sunshine, they are eerily evocative of a giant spacecraft, arrived from another planet to colonise our rural domain.
'...People usually come round to my way of thinking...'
Their commander-in-chief unrepentantly insists on their necessity. 'If that's what the housewife wants, then it's my duty as a farmer to provide it.' And the exotic chemicals distributed nearly daily on Home Farm's rolling acres? 'It's a hungry world out there. Some people would have us sowing seed by hand and ploughing with horses. I'd rather use the best of science to get maximum productivity from my land.' Even if that doesn't make him popular? 'I don't mind not being popular', he ripostes. 'I'd rather be right. People usually come round to my way of thinking in the end.'
'...Brits nowadays don't know what hard work is...'
One of the effects of this intensive approach is that, for all its size, you see remarkably few people at Home Farm, which supports only two full-time farm workers under the management of Brian's step-son Adam Macy. Brian quickly points to the lively platoon of seasonal workers, engaged to pick fruit in the strange luminescence of the polytunnels. But, as we hear from their guttural accents in the village shop and pub, are they not all from Eastern Europe? Brian says he'd be delighted to employ local people. 'Unfortunately, Brits nowadays don't know what hard work is. That's why we have to look further afield.'
Incestuous? 'Nothing to hide.'
The intensive arable approach extends beyond the boundaries of Home Farm, which is contiguous with the remains of the Berrow Estate. Now owned by the property company Borsetshire Land, the estate employs no agricultural staff, instead contracting out the work to Home Farm. And who is chairman of Borsetshire Land? Why, one B. Aldridge Esq. Surely such an incestuous arrangement raises serious questions of impartiality. 'No, that's an outrageous suggestion. We simply put in the best tender. I have nothing to hide on that score at all.'
As chairman, one of Brian's biggest projects was the development of a new livestock market on the outskirts of Borchester, replacing the historic cattle market in the heart of the town. One may question whether the people of Borchester really needed the 'superstore' which has now colonised the old location, but the financial incentives a national chain could offer no doubt made South Borsetshire District Council keen to facilitate the move – despite a certain amount of opposition. Brian is dismissive. 'That's my point. There was, but everyone loves it now. They can't remember what all the fuss was about.'
Were there not times when this enterprise seemed like a folie de grandeur, threatening to spiral out of control? 'No, not at all. I was always completely in charge.' He must admit that it experienced a few teething problems, not the least plunging Borsetshire's farmers into darkness on its opening day in deepest December. Brian's irritation undermines his smooth façade at the reminder of this embarrassing incident. 'That's only to be expected with a big project. I don't know why people can't grasp that.'
'...They just don't know what they're talking about...'
However, Brian's ability at overcoming dissenting views – perhaps dismissing them is a more apposite description –  was to be sorely tested by Borchester Land's next undertaking: his ambitious plan to establish a 'mega dairy' on Estate land. He cavils at this term, but it is how the ordinary folk of Ambridge have come to describe the project, which will see 1500 cows kept permanently indoors, in conditions which many would see as alien to nature. However, he has little time for the critics. 'They just don't know what they're talking about. These are going to be the most pampered cows in the county. They'll have everything they need.' Everything except sunshine and grass, some would suggest.
Borsetshire Land is no stranger to local controversy. As long ago as the year 2000, it evicted popular local residents the Grundy family from the farm they had worked for generations – unjustly, in the opinion of many. And its reputation as landlords can hardly have been enhanced by events at their remaining tenanted holding, Bridge Farm. After a threat  by 'B.L.' to convert their packhouse – essential to their organic vegetable business – into housing,  Pat and Tony Archer took on the considerable financial burden of buying their freehold.
This must have been all the more awkward for Brian, as Tony Archer is the elder brother of Brian's  wife Jennifer – she the onlie begetter, no doubt, of that picture-perfect cake. One wonders if Brian applies his single-minded approach to all his family and what effect, in turn, that has on them.
His numerous step- and natural offspring are certainly a far-flung bunch. Although now returned, Adam spent many years in Africa. Step-daughter Debbie manages a large farm in Hungary (in which Brian has an interest) and daughter Kate made her home in South Africa. Even youngest daughter Alice recently considered emigrating to Canada. What, we wonder, will be the eventual life choice of his ten-year old son Ruairi?
But for now, the de facto Squire of Ambridge surveys his empire, and finds it good. 'You don't make progress without bruising a few egos', he says. 'But I'm very satisfied with all I've done.'

What do you think? Was Jennifer right to take offence? Or did Jim sum Brian up pretty well?
Keri Davies is an Archers scriptwriter and web producer.
Learn more about Jim, Brian, Jennifer, Adam, Tony, Debbie, Kate and Ruairi – and the actors who play them – in our Who's Who.