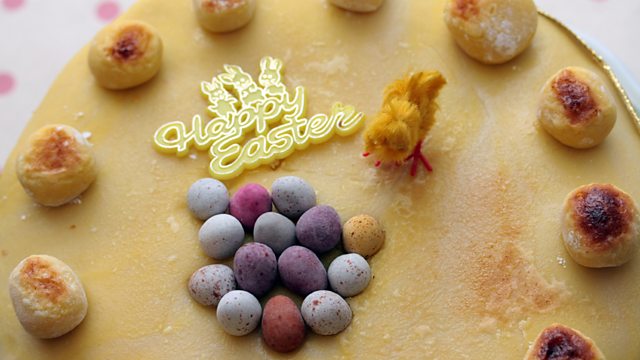 Simnel Cake
David's mum Jill  and Ruth's mum Heather had a gently combative encounter over their contrasting  Simnel cakes today (Easter day 2013). It's not the first time competing comestibles have featured in the relationship of these two matriarchs. Let us take you back ten years  (harp music, screen goes wobbly...)
It was 2003. Having stayed with Ruth and David at Brookfield over Christmas, Heather had planned to return home to Prudhoe when the children went back to school. During her stay, Phil Archer had enjoyed their shared interest in musicals. During a bracing walk up Lakey Hill, he suggested that she might stay a little longer.
When Phil's wife Jill had to pull out of a concert of opera arias, Heather took her place. Phil was the perfect host, treating her to a programme and explaining the music. Unfortunately he forgot to pass on a message to Jill about picking up the children, to Jill's irritation.
Phil's continued unwitting kindness to their guest started to get on Jill's nerves somewhat. But he really crossed a line when he brought Jill breakfast in bed – complete with Heather's homemade marmalade, not Jill's.
Well-meaning Phil realised he was in dangerous territory. Two days later, Jill found two jars of marmalade at their breakfast table. Phil pointedly chose to spread Jill's on his toast, claiming he found Heather's rather sickly.
Good save, Phil.
Keri Davies is an Archers scriptwriter and web producer