'I thought Tom had principles' - listener discussions to 20 February 2013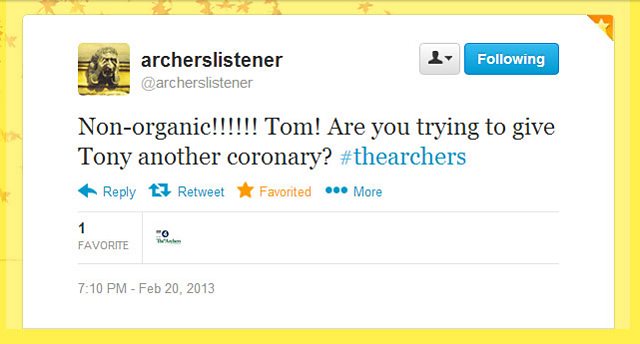 Post from @archerslistener on Twitter
As Tom and Pat lock horns over organics, listeners take sides.
There's disquiet over Lilian's antics and some think Alice is "just as bad" as her aunt in lying to Chris about her job search.
There's concern for Ambridge's silent characters after Wolfgang's sad demise.
And as The Archers message board is due to close on Monday 25 February, Mustardlanders say their farewells.
Here's my pick of online listener discussions between 14-20 February 2013.
It's Tom v Pat over Bridge Farm's organic status. Has Tom gone too far? Listeners show their colours siding with "Team Pat" or "Team Tom"
 I thought Tom had principles. He appears to have gone over to the dark side. #TheArchers (@FreakHedd on Twitter)  
Tom is a megalomaniacal Pork Lord. *boo! hiss!* #DownwithTom (@grimbletweets on Twitter)  
Tom has been given a hard worked for business on a plate. He should value and respect the work his parents have done, or buy his own land and start from scratch. There are lots of young people at agricultural college who would take his place. (Lynda Everington on BBC The Archers Facebook page)
 Pat needs to get off her (organic, grass fed) high horse #theArchers #worlddoesntrevolvearoundyoupat (@GoodEggFoodie on Twitter)  
I am surprised Pat speaks to Tom the way she does. He has just held the business together whilst they took a holiday with hardly one word from Helen. I do quite like Tom and he has always been very reliable. Maybe it is time to leave the family to paddle their own canoe Tom and just get on and do what you have to do. (libranmeg on The Archers message board)
 I'd love to see Tom split from Bridge Farm to paddle his own canoe.  Given that he's failed and had to be financially bailed out umpty times by the family before, I think I can predict who in a year or two's time is still going to be paddling along and who's going to have plummeted over the weir with a sausage-curdling cry of 'it's not fair'.  (Tadpole on The Archers message board)
 The Archers is always at its best when people get self righteous...awesome fight between Pat and Tom! She's such a manipulator! (Corin Warden on BBC The Archers Facebook page)  
Is Amside in financial trouble? Or is it just Lilian who's about to experience a meltdown?  
Ooh you don't think Paul is gonna try and outbid Matt & Lillian do you?! #thearchers  (@Rgys_Phillips on Twitter) 
I can smell bankruptcy for Amside. #thearchers (@churlishmeg on Twitter) 
Why would a woman having an affair like that put all her money into a scheme with her present partner? (rupertsmum on the Archers Addicts forum) 
I can't believe that by now Matt has not taken Lilian's mobile to one side to see who all the calls and texts are to & from. It is just so obvious that she is telling him a pack of lies. For someone as devious and savvy as Matt, you would think he would be more than just a little suspicious (Nedbod on The Archers message board)  
There is nothing worse than when a character starts to act 'out of of character'. I'm missing Lillian's dirty laugh and jokes - bring her back Beeb! (Sam Parnell on BBC The Archers Facebook page)   
I reckon he's known from the start and is biding his time for all manner of 'Matt' reasons and benefits, which one day (please be soon!) will come to light. He is the sort of man who would see no point in cutting off his nose to spite his face and I think he is almost enjoying it. (Snow White on The Archers message board)  
@BBCTheArchers Re Paul - nice shoe in of the word controlling ! Hope this is a sniff of an exciting storyline to come!! Can't wait ! (@gilly38 on Twitter)   
Watch out Lillian. You'll find you can check out anytime you like, but you can never leave. #hotelPaul #thearchers (@SueHomeyard on Twitter)     
Like auntie like niece? Alice is berated for going behind Chris's back with her job search. But perhaps it's time Chris broadened his horizons?
Alice does rather seem to have inherited the fibbing gene from Brian. #thearchers   (@janewright on Twitter)   
What's so great about Ambridge? If it doesn't work out they could probably come back. Alice's cottage will still be there.... (Minihohum on The Archers message board)  
Poor Chris. He's basically just been told that she'll leave him without warning if an interesting job comes along. Not that she should be forced to live a life she doesn't want in Ambridge, but she's not even being decent and honest to Chris about what she wants in life, and where he fits in (or doesn't fit, as the case may be). (charmingAnnielynn on The Archers message board)
 Alice has a sense of entitlement the size of bus, she's been carping about her job ever since she got it and has no earthly idea why she isn't chief engineer of a global company at her tender age! What if she gets offered the job in Canada, will she just pack and leave a note on the kitchen table saying "gone to Canada, be back in a year, dinner in oven"? (Angela Stepney on The Archers message board)  
Alice is so self-centred !! If she wanted to go travelling. she shouldn't have encouraged Chris to buy the forge. Funny how the urge to have something to tell their (grand)children about only emerged after she got fed up with her own job! (Val Johnson on the Archers  Addicts Facebook group)
#thearchers Seriously.. I think Chris has a point about the interview. But could be more open minded about emigrating. (@SteveBrooks13 on Twitter)  
Bit of a difference between Ambridge-Southampton and Ambridge-Vancouver. Brian's "starter marriage" comment is beginning to come true... (Charlotte Clarke on BBC The Archers Facebook page) 
There are concerns for Ambridge's silent characters as Lynda discovers Wolfgang has died
Mr Pullen, Bunty, who's next? Oh No not my Freda what will the Bull do? #thearchers (@cllrnealgibson on Twitter)  
Oh :( RIP Wolfgang. Lynda being upset about a genuinely upsetting thing is very heartbreaking indeed. #TheArchers @BBCTheArchers (@Alexhj9 on Twitter)   
Can llamas catch TB from badgers? Now that would be poetic justice. #TheArchers (@Whyjay99 on Twitter)
 Watch out Constanza and Sallieri in that case - or David will be around with his twelve-bore to do a bit of preventitive culling. (Pat_Clifton on The Archers message board) 
 I also think it could be TB, but I don't think Lynda would change her mind about the cull. She is very principled. Even if it is TB, I think she will stay true to her principles, and put more momentum behind Ed's vaccination campaign rather than switch to culling. (freerangepiglings on The Archers message board) 
 And finally, a fond farewell to Mustardland  
Should auld acquaintance be forgot,
and never brought to mind?
Should Mustardlanders be forgot,
and auld lang syne?
For auld lang syne, my jo,
For auld lang syne,
We'll tak a cup o' kindness yet,
For auld lang syne. (Read Tadpole's full version of auld lang syne The Archers message board)
Tayler Cresswell is host of The Archers message board, Facebook page and @BBCTheArchers on Twitter.