"Lock your doors Ambridge!" - listener discussions to 7 October 2011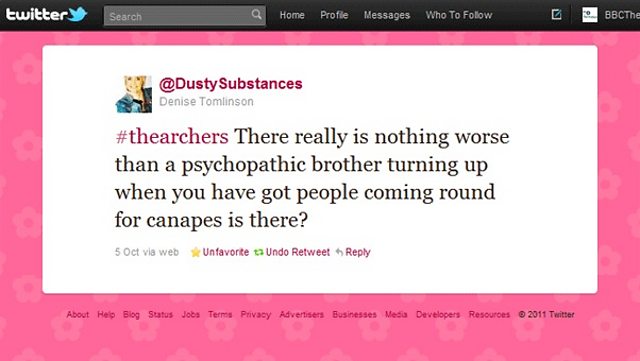 Nic and Will's future, Kenton's new home - and Elizabeth and Jill's reaction to Kenton moving out - have all been discussed by listeners this week. But most topics have been eclipsed by Clive Horrobin's return. What havoc will he wreak in Ambridge?
Over in Ambridge Extra, most have given the series the thumbs up. Many have said that they like the focus on a broader range of ages and the interior monologues. They've discussed Clive's terrible past and Matt's choice of music...
Here's my pick of listener discussions on The Archers message board, Twitter and Facebook between 2-10 October.

Will and Nic - is a wedding on the cards or is their relationship heading for the rocks?
"I've never been happier" words that can only signal some tragedy ahead... #thearchers (@pboropixie on Twitter)
I would like to see a happy outcome for the couple - Will dealing with his anger towards Ed (and Andrew), followed by a nice wedding. No more doom and gloom please. (siriol)
I wouldn't wish a lifetime of Will on my worst enemy so I certainly wouldn't wish him on poor mewling nic. (anna kist)

With Kenton moving into The Bull, Kenton's belongings and his relationship with Jolene have come under scrutiny - are he and Jolene really a good match? Listeners covered their ears on Monday night (and again on Tuesday afternoon) as Kenton went in for a kiss...
AAAAAAAH #TheArchers Jolene and Kenton AGAIN. Took me by surprise AGAIN. Ewwwwwwwwwwwwwwwwwwwww. (@Lauraholmwood on Twitter)
They just don't sound right together, to me... Kenton, as a character, is interesting, but after his history, I just find it incredible that he would shack up with Jolene. He is the incorrigible bachelor, isn't he? (Bette)
So Kenton's an Alfred E. Neuman fan? That explains everything! #thearchers (@archerslistener on Twitter)
Kenton's ears must have been burning as Elizabeth & Jill dissected his character at lunch. Hope they got indigestion #thearchers (@vencut2 on Twitter)
Read more on the Kenton and Jolene, oh dear thread.

"Nasty judgmental pair..." - Jill and Elizabeth's discussion caused rage and sympathy in listeners.
Widders forever - Lizard and Jill! Tearing garments and gnashing teeth forever..... Gawds help us all.... (Threewellsofmyown)
What morbid, nasty cows they are. Not to mention depressing. So no one who's had someone die on them is allowed to do anything but mourn forever more? And let me tell them, that Jolene's depression over Sid's demise felt like it lasted forever. A month felt like a year. What selfish cows wanting to inflict even more of that on the poor listener! (toffee)
I thought the conversation between Jill and Elizabeth was done really well and very moving. (SussexCornflower Autumn is Here)
Elizabeth is breaking my heart again, I'm washing up in my own tears! #thearchers I miss Nigel too! (@HannahPeck on Twitter)
Add your thoughts to the Widders forever thread.

"Ooh er!" Clive is back! Listeners have been discussing his shady past. Would he really get compassionate leave to visit his mum or is he lying to his probation officer?
Lock your doors Ambridge! (Ayesha Z G Jonuschat on Facebook)
Crikey! Neil and Susan make him sound like the Fifth Horseman of the Apocalypse! (groovyfreamon)
Shouldn't there be some sort of restraining order against Clive being too close to people he's gone to jail for trying to kill? Seems hard on the victims to have to potentially run into him all over the village once he's been released... (charmingAnnielynn)
Clive is back! Read all about it!

There was a lot of sympathy for Susan after her shock at seeing Clive - even from listeners who love to hate her.
Had a tear in my eye at the end there, with Susan breaking up (Bette)
Poor Susan. A nutty mix of genuine fear of danger and fear of social disaster!
Sad, though, that [Jennifer] could show such empathy with Susan & totally ignore her brother's distress the other night (acebass)
Show your support for Susan on the message board

Some felt that David was heavy-handed when he castigated Rhys for gossiping on Thursday
"There are still too many victims in the village" And too many martyrs, apparently. Shut up David. #thearchers (@stevenperkins on Twitter)
David is not my favourite character but tonight he was justified. Clive is a nasty person who upset me when I was about 11 with his horse slashing and burning (sunnysakasredux)
Read more on the Hold on! thread.

On Friday, Lilian's offer to help Tony had listeners finding Jennifer wanting
Bless you Lillian, finally someone in Tony's family gets the hint! #thearchers (@fairy_with_hair on Twitter)
Fabulous or what? Compared to her complete (insert own description here) sister (lucyjordan)
Go Lil! What a doll... I really enjoyed her comment re family! I know some of you aren't keen, but she's got a heart of gold. Plus she's good for a laugh - I wish she frequented my local. (Country_Spice)
Share a G&T with Lilian on the message board

Over in Ambridge Extra many listeners said the new series had got off to a great start. A handful said they didn't like it and others gave it a cautious thumbs up, promising to give the series a chance. Many enjoyed the use of the inner monologues, Matt's choice of music and the return of Clive.
A strong start to #AmbridgeExtra. Can everyone else hear the characters' thoughts, or is it just me? @BBCRadio4 @BBCTheArchers (@armlessphelan on Twitter)
Excellent opening episode! Really approve of Ambridge Extra, both the youth bits and the old faves like the return of Clive Horrobin: and of course hearing the otherwise silent Ivy... (Neville Edrich on Facebook)
This was a bit more like a bit from a R4 afternoon play with the use of interior monologue. It was nice to hear a bit more of the woefully underused Matt and Alaistair and a glimpse of homelife at the Stables (Ginslinger Redux)
I was just disappointed that Matt and Cloive didn't enter Ambridge to the strains of Thin Lizzy's "The Boys are Back in Town". (Pat Shed)
And what is Erin after?
We can tell what Daniel's thinking (help!!!) but we don't know what Erin's thinking..... I do hope she isn't just after Dan for his geography coursework. That would be very mean. (ermintrude)
Have your say about Ambridge Extra on the message board

Tayler Cresswell is host of The Archers message board.