'It's all gonna kick off! Can't wait!' - Listener discussions to 18 December 2013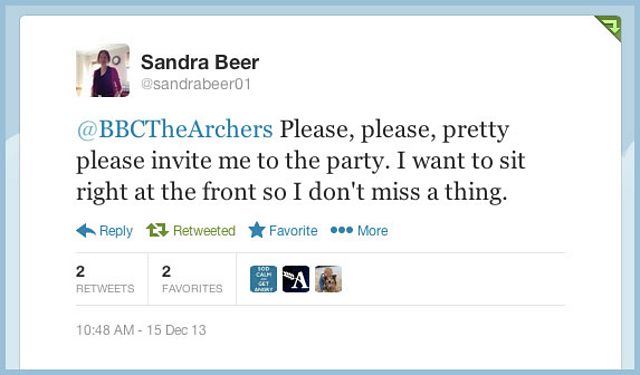 Post from @sandrabeer01 on Twitter
The biggest talking point in the run up to Christmas was Jess's party with listeners discussing what could go wrong (as well as what to wear!). 
There's concern about George getting a puppy for Christmas, and Jill's "unchristian" attitude to Darrell.  But Eddie is praised as a better man for the job of helping Darrell. And while most have covered their ears as Leonie arrives at Ambridge Hall, listeners seem to like the prospect of granny Lilian and Lynda. And Emma was awarded "line of the year" after her apology to an elf.
Here's my pick of online discussions between 12 and 18 December 2013
Everybody was looking forward to Jess's party and there were a huge number of posts during Jennifer's chat with Jess
Wow, #thearchers timeline's moving fast tonight! (@Mudkipstoat23 on Twitter)
I hope we're just like you???? Aykurumba it's the scene that just keeps giving!! #thearchers (@chspeechless on Twitter)
Jess be careful what you wish for.... #Jennifer&Brian #thearchers (@williamshankly on Twitter)
@BBCTheArchers Please, please, pretty please invite me to the party. I want to sit right at the front so I don't miss a thing. (@sandrabeer01 on Twitter)
I would tell you to cancel it, Jess, but I am hoping for an exciting denouement!  @BBCTheArchers (@DavidMBell on Twitter)
It's all gonna kick off! Can't wait!! (Karin Gardener on BBC The Archers Facebook page)
Poor Jess just has no idea of the class war she is stirring up by inviting "the village" to her party while excluding worthy folks such as the Carters (Chris excepted!), Grundys, Tuckers, Horrobins, etc. The Revolution may well start here. (Ian Berry on BBC The Archers Facebook page)
Reason 5 mil for loving twitter - having a conversation with many folk re what to wear to #TheArchers party tomorrow...confusing but great:) (@Mistress_Fiona on Twitter)
Rob Titchener's "bloody Ambridge" comment drew gasps
#TheArchers "i don't want to live in bloody ambridge!" CLAP OF THUNDER! SMALL EARTHQUAKE! (@ThatJoelfella on Twitter)
Can forgive RobTich cheating on wife, sleeping with Helen, dumping her, but saying "Bloody Ambridge"takes him beyond the pale #thearchers (@pauljaunzems on Twitter)
Both Helen and Jess would be better off without him. Hope he gets his comeuppance #thearchers (@NancyDickie on Twitter)
I think Rob is about to crack up with the strain of living with ghastly Jess! Hope she doesn't end up under the patio...on the other hand.... (Sue Gedge on BBC The Archers Facebook page)
And there's been growing (and ongoing) concern about Ed and Emma buying George a puppy for Christmas with many saying that the storyline is irresponsible
Remember Ed, a dog is for life not just for guilt-ridden bribery #thearchers (@AlidevonRVN on Twitter)
Will is an odious twerp but Ed is an idiotic hothead. Really Ed should be getting the puppy for Will. But really, all this talk of getting a puppy for Christmas is extremely irresponsible! (Julie Key BBC The Archers Facebook page)
Pleased to hear that someone buying a puppy on @BBCTheArchers made a point of seeing the mother. Good old The Archers (@Angela_Barnsey on Twitter)
@BBCTheArchers somehow though I can't see Susan letting them have a dog in her very smart house. (@Goldenlady1010 on Twitter)
It would be lovely if Ed could buy a dog for George - that would really irk Will - but realistically now is not the time. (Jill Nichols on BBC The Archers Facebook page)
Not only expensive, but a puppy is also very 24/7 time-consuming if you're every going to have a well-trained, well-behaved pooch. I think Ed is off his rocker for even thinking of it! (Margaret Lesley Gladstone on BBC The Archers Facebook page)
Jill has been condemned as "unchristian" after she advised Jim to leave well alone when it came to Darrell
Jill so does not want to have to cope with Darrell. Christianity when you feel like it hey? #TheArchers (@SueHomeyard on Twitter)
The downward spiral of Darrell is sad listening #thearchers (@monx61 on Twitter)
As Eddie comes to Darrell's aid, there is praise from many listeners – though some fear an "explosive" ending to Darrell's sojourn in the cider shed
A good strong Xmas message in #thearchers - there IS room at the inn. :)) (@SocialBeastie on Twitter)
That line was spoken from the heart Eddie Grundy, it was very good , and it felt like he meant it! (Michael Hopkins on BBC The Archers Facebook page)
I love Eddie Grundy, a true Christmas angel @BBCTheArchers (@SusanDalgety on Twitter)
@BBCTheArchers "Mind that bucket of giblets" Where else would you hear a line of such poignancy. Eddie Grundy...you are a poet! (@lallys on Twitter)
Writers don't be so predictable. Let him See the light, recover x turn his life around. (Katherine Jennings on BBC The Archers Facebook page)
Good old Eddie. I think his approach might work better, as he is enlisting the assistance of his family. Shula took Darrell in out of duty and without the agreement of Alistair and Dan, who then (foreseeably) couldn't wait to see the back of him. Plus Shula's whole attitude is too duty-bound and needs a lighter approach (eg Neil vs Shula in the hospital visit) (Elaine Masters on BBC The Archers Facebook page)
Compost toilet? Gas cylinders? Cider shed? I smell an explosive Festive Storyline brewing. #thearchers (@TheVonster on Twitter)
Giving him a heater with a flame to use in the barn ? It will be grace archer all over again....  (Christopher Seaden on BBC The Archers Facebook page)
Finding the contrast between how Darrell and Leonie are being treated quite fascinating (Tracey Lewis on BBC The Archers Facebook page)
Many guessed that Leonie Snell was pregnant. The prospect of Lilian and Lynda becoming grandmothers – and Matt a grandfather! – has caught the imagination
A meeting of 2 great dynasties!! It's going to be a COMPLETE MONSTER!!!! (Jane Willcocks on BBC The Archers Facebook page)
I pity any child with James and Leonie for parents. Good grandparents though. #thearchers (@janewright on Twitter)
A baby will be a fashion 'add on', the latest 'must have' for the Hoorays of Reigate. Both Grandmas will be emptying their moneyboxes for the progeny (Lynda Everington on BBC The Archers Facebook page)
Matt becoming a step-granddad, well... the mind boggles!  (Maarten van den Heuvel on BBC The Archers Facebook page)
#thearchers I hope Matt gets a chance to give James a hard time over Christmas. It's the only thing that makes his visits bearable. (@SteveBrooks13 on Twitter)
aw - for all her faults lyndy is a lovely step mother #thearchers (@clarrielove on Twitter)
Aaahhhh - a little Leonie - erm, how sweet? #thearchers (@kenton_archer on Twitter)
I'm about to reach thru the radio and strangle Leonie! (Katie Scott on BBC The Archers Facebook page)
Wow - light blue touch paper and ......  roll theme music #thearchers (@busydawn on Twitter)
And finally, Emma's run in with an elf (via George kicking him) was awarded line of the year!
Kicked an elf. Good work fella. #theArchers (@DN100000 on Twitter)
I had to apologise to an elf....  The best #thearchers line of 2013 (@salvatorRosa on Twitter\)
Quote of the night: 'I had to apologise to an elf.'! Love it when Emma gets some comedy! x (Maggie Mumford on BBC The Archers Facebook page)
Tayler Cresswell is The Archers' social media host
Join the conversation
Or join the discussions on Archers fan forums: