"Vicky is just as frightened as Mike" - listener discussions to 12 September 2012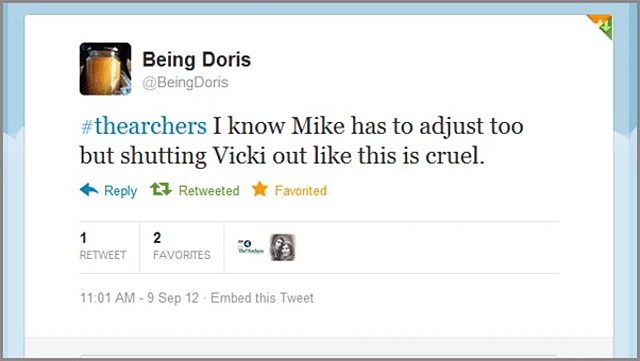 Listeners think it's time Mike and Vicky had a proper talk, but is Vicky capable of listening to Mike's view?
Tom Archer's ready meals have caused a stir; and a few want to buy Pawel a pint.
As Darrell talks about a new job on the horizon, eyebrows are raised at the mention of Paul Morgan, or "Fit Paul" as he's been described on the message board. Should Matt watch his back?
Young Freddie is castigated for taking to his bed after his riding accident - listeners think he should be back at school.
And the Ambridge Extra finale has listeners pondering where the next series will take us.
Here's my pick of listener discussions on The Archers message board, Twitter and Facebook between 15-17 May

Neil's gentle chat with Mike Tucker had some in tears. There has been a huge debate over whether there been too much time given to Vicky's more positive view of her future as a mother of a child with Down's syndrome. Should we have heard some "dissenting" voices? Or have these been communicated, as one listener put it, in "unstated but obvious fears and behaviours" from Mike?
It's fair to say that I haven't listened to a minute of the Mike and Vicky storyline without crying. #thearchers (@ruththevet on Twitter)
Good advice from Neil. He's a brick. #thearchers (@NebulaHugo on Twitter)
Mike you can't treat Vicky like this. You have to talk. Vicky has the patience of a saint. I'd have strangled Mike by now. (binocular on the message board)
Yes! I think Vicky is just as frightened as Mike - she gave a hint of it at the end of her conversation with Kathy, when Kathy said "kids eh? etc...." They're not helping each other, in equal degrees, but you can sympathise with them. (ermintrude on the message board)
Why should Mike think that Vicky is going to listen to anything that she doesn't want to hear? She Has Decided. (Lakey_Hill on the message board)
Why should Mike speak to Vicky. He is depressed, he cannot see anything positive in his future, in his mind there is no alternative to Vicky having the baby, and his spending the rest of his life bringing it up. I would guess that he sees nothing to gain by speaking to her at all. That may not be the way that those of us on the outside looking in see it - but we are not Mike. (RAFromSw on the message board)
Read more of the debate on the message board: Mike you can't treat Vicky like this

Brenda might need someone to talk to, but it seems that "selfish" Tom is preoccupied. His ready meals are off the back burner, to the delight of many listeners
Shut up Tom shut up Tom shut up Tom shut up Tom #thearchers (@archelina on Twitter)
Did you all get the same impression that I did, that Tom was trying his hardest to get Brenda to volunteer to do the cooking again? (charmingAnnielynn on the message board)
Beware, Brenda. He will have you in a pinny tied to the Aga before you know it. #thearchers (@boorach2 on Twitter)
Share your views about Tom on the message board.

Over at Home Farm, flirty Pawel is attracting a few new fans. Whilst some listeners think Adam should tell Ian about the one night stand, others say that he's left it far too late. What you don't know won't hurt you, right?
I think I owe Pawel a pint after winding Adam up so wonderfully. #thearchers (@janewright on Twitter)
OK, so now Pawel is my new favourite character! (Nik Tobutt on Facebook)
The longer you leave it, the less likely Ian will forgive your one-night-stand. (clarityjames on the message board)
I would let sleeping dogs lie if I were Adam. He will just have to learn to live with his betrayal I'm afraid. Oh and if I were Adam I would boot Pawel back to Poland as soon as possible. He is a nasty little scrote and I wouldn't trust him as far as I could throw him. (Scarlett the Harlot on the message board)
Add your advice in the Own up Adam thread on the message board.

Some were intrigued to hear that Darrell was off to work for Paul Morgan over in Fawcett Magna. Is Matt going to lose Lilian and perhaps Amside too?
Paul Morgan? PAUL MORGAN? Isn't that Matt's half-brother who Lilian nearly had an affair with when Matt was inside? EXCITING! #thearchers (@jtwentyman on Twitter)
This may get interesting, especially if he meets Lilian again. (jennet_device on the message board)
It's time Lilian got a nice man. #thearchers. (@Ellen27 on Twitter)
. . . and there was me hoping it was Eddie's mate, Fat Paul. A man noted for his interest in ecclesiastical architecture. (Torch_Brookfield on the message board)
This Paul might have gained a few mature pounds, but by no means is he Fat Paul. In fact he is Fit Paul. (The devil wears Burberry on the message board)
#TheArchers Oh, Lillian, you're going to break your heart again. (@modicana on Twitter)
Read the speculation on the Paul Morgan thread on the message board.

Is Freddie being spoilt? Many listeners think he should be back at school, not whingeing in bed, constantly supplied with treats. Some wonder if he has a weak constitution?
Let revolting child starve #TheArchers (@Mistress_Fiona on Twitter)
Blimey...if Freddie were my child, I'd send him back out on Topper #thearchers #spoiltbrat (@babyniss on Twitter)
Broth is what is needed. I do not know if Jill has managed to ease any into Freddie's brittle frame- I am envisaging the painting 'Death of Chatterton' here- but that is clearly what the feeble wee fellow needs. (Country Squire on the message board)
Perhaps he's turned into Colin Craven from The Secret Garden and will never get up again, believing himself to be a cripple, until Molly Button comes and tells him he isn't. (Auntie Molly on the message board)
Read more on the message board: With puny Freddie now an invalid...

And as this series of Ambridge Extra comes to a close, listeners wonder where they'll go next? Hungary? Back in time?
@BBCTheArchers Have loved it, especially the recent homage to "Dead Calm" on Jolene and Kentons trip to Oz. Classic! (@JoDoZitBest on Twitter)
The only question I keep pondering is... What will they do for the next Am-Ex? Where will they go? Could it be.... (I'll whisper this very quietly) we get to see something of Debbie's life in Hungary? (Minihohum on the message board)
Next series - we've been around the world - what about some time travel - 19th century Ambridge? #ambridgeextra (@helencyb on Twitter)
@BBCTheArchers This series of #AmbridgeExtra has been the best yet, will mark 4th December on my calendar! No....seriously. I'm going to. (@Shippers1983 on Twitter)
Join the post series Ambridge Extra discussion on the message board.

Tayler Cresswell is host of The Archers message board.