"Oh Tom, how could you?!" – Listener discussions to 30 April 2014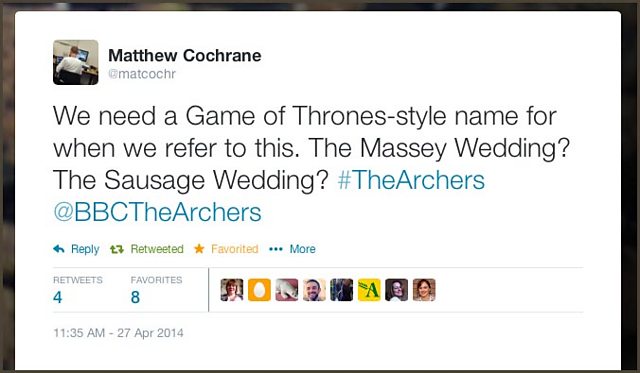 Post from @matcochr on Twitter
It wasn't just Kirsty wailing as the Ambridge wedding of the year turned into a disaster. But who was to blame for the trauma? Not just Tom, according to listeners.
Away from the doomed event, Rob once again made listeners feel uneasy, Brian provided comic relief thanks to his leg pain, and so did Jennifer and Susan with their kitchen unit chat.
Here's my pick of the listener discussions between 24 and 30 April 2014.
As Tom broke Kirsty's heart in the vestry, listener reactions to the wedding storyline were sharply divided though most agreed that it was a dramatic turn of events.
EEEEEEEEEEEEEEEEEEEEEEEEEEEEEEEEEEEEEEEEEEKKKK! #thearchers (@Ifwehadanyham on Twitter)
That was the single best episode I've ever heard, but it was also heart breaking :-( #thearchers @BBCTheArchers (@Kate_MB on Twitter)
Wonderful acting and Kirsty's scream echoing through the church just masterful. Well done all Archers team at BBC. (Elaine Shonfeld on BBC The Archers Facebook page)
It was good drama, looking forwards to the fall out. The Joe and Eddie perspective was unexpected and clever. Slightly Shakespearean. (Mark Farmery on BBC The Archers Facebook page)
Having listened to it all again on The Omnibus (yes, I'm that addicted), still found the last two episodes the most enjoyable in ages. Tom and Kirsty's scenes were really well done, The anguished wail was a triumph (especially in counterpoint to Ed and Jo Grundy's more mundane sorrows over the food). (Lynn Knight on Archers Addicts Facebook group)
Oh dear I haven't laughed so much for ages I must be a bad person. (Gillian Holmes on BBC The Archers Facebook page)
Very dramatic poor Kirsty (RuthO on The Archers blog)
oh for goodness sakes couldn't we have had a happy wedding without trauma - bring back the old archers please (@westlynnjersey on Twitter)
Too dramatic and unrealistic. Surely, someone close to Tom would have picked up on his anxiety sooner. The listeners all did! (Carolyn Gardner on The Archers blog)
Ok ok - so it was very Eastenersey, but brides do get jilted and weddings cancelled and we did all have our doubts about this one. It says more about the stresses of having a big expensive wedding than anything else. (Christine Wilson on BBC The Archers Facebook page)
With the wedding off, listeners joined Team Kirsty, Team Tom or in some cases "Team Sad" and the blame game began – and Pat, Tony, Peggy and Roy were all in the frame…
Oh my god Tom you are such a coward! How could you be so horrid?! Poor Kirsty what an utter nightmare  #archers @BBCTheArchers (@LottieLandGirl on Twitter)
Oh Tom, how could you?! Poor Kirsty @BBCTheArchers (@moorhouseb on Twitter)
The character of Kirsty has grown more and unlikeable as the weeks have gone by. The sheer extravagance of her wedding dress and the wedding itself, and the way she persuaded Tom to buy a house on a new estate. (Kiara on The Archers blog)
I can't be team Tom or team Kirsty at the moment. It's been a great storyline - and well done. I guess I'm just kind of team sad. (Pogle Jones on BBC The Archers Facebook page)
All Tony's fault methinks. That chat he had with Tom did it. (Estelle Suchley on BBC The Archers Facebook page)
"Why aren't Pat and Tony immediately by Tom's side? #thearchers" because they caused it (@LizzieVee1951 on Twitter)
Actually it's Peggy's self indulgent stupidity that helped cause this shambles. Go for her throat Tony. (Andrew Height on BBC The Archers Facebook page)
Looking forward to the fall out. Was it all Roy's fault with the tractor? Who will pay for the uneaten canapes? Who will use the tickets to Costa Rica? Archers at its best! (Bob Cant on BBC The Archers Facebook page)
We need a Game of Thrones-style name for when we refer to this. The Massey Wedding? The Sausage Wedding? #TheArchers @BBCTheArchers (@matcochr on Twitter)
While Rob couldn't be held responsible for the wedding drama, he did cause a stir during an unusually supportive scene with Helen, raising suspicions among many listeners.
#thearchers is anyone else suspicious of Rob he is being awfully nice and supportive to Helen (@bookslovebooks on Twitter)
Helen. Sister. He ain't no saviour. #thearchers (@Novembervivi on Twitter)
Thought Rob's part was well written and acted tonight. He seemed so genuinely kind and then with his assessment of Kirsty revealed he is still a wrong 'un! (Chris Walmsley on BBC The Archers Facebook page)
Good episode: I thought Rob was actually being reasonable, until he spoke to Clarrie in such a nasty tone and then the whole family bit - ugh! (Ann Brosnan on BBC The Archers Facebook page)
Yep Rob the cuckoo shoving Tom out of the nest! Not sure he will fool Peggy very easily! (Alison Ransom on Archers Addicts Facebook group)
Rob is tightening his emotional handcuffs.  #thearchers (@willemharvey on Twitter)
I think I must be the only one who does LIKE Rob!!! I think he's very caring but what do I know???? I always want to see the good in everyone and sometimes I get let down!! (Paula Nichols on Archers Addicts Facebook group)
There wasn't much sympathy shown towards Brian as his leg pain put him out of action when it came to helping Adam meet the maize schedule, though many appreciated the comedy.
Brian's not one for hard work is he?? (Pat Gibbons on BBC The Archers Facebook page)
Can't ....lift...my wallet...too.. heavy (gasp) (Jason Williams on BBC The Archers Facebook page)
Driving while listening to #thearchers & guffawing at some of Jennifer's lines: "Time to polish your woggle Brian!" (@feistyoatcake on Twitter)
still shuddering at the thought of Brian's #woggle! (@kathycaton on Twitter)
What joy !! To have a break from the misery, Thanks Brian Jenny and Adam !!! (Cath Craigan on Archers Addicts Facebook group)
You orrible lot poor old Brian ! (Jill Luckhurst on BBC The Archers Facebook page)
Meanwhile, listeners tried to figure out where Adam's clash with newcomer Charlie is heading.
Adam vs Charlie Thomas? Charlie I think. #thearchers (@MsAlliance on Twitter)
good for you adam if Charlie don't like it tell him to get his hands dirty and get off his backside and do some hard graft (Stephen Evans on Archers Addicts Facebook group)
I'm throwing it out there - anybody else predicting 'sparks flying' between Adam and this other farm manager chap Charlie? And not in the way the storyline of yesterday's episode implied! (Clara McGurk-Ducreux on Archers Addicts Facebook group)
No signs of one of Ambridge's older rivalries subsiding, however, as Jennifer and Susan entertained listeners with their kitchen unit conversation.
Scenes between Jennifer and Susan are always radio gold. #thearchers #kitchencastoffs (@MelloHog on Twitter)
LOVE LOVE LOVE Susan Carter! LOVE!!! HER!! (Corin Warden on BBC The Archers Facebook page)
Good old Jennifer, first class at inadvertently insulting people. #TheArchers (@LukeVernon on Twitter)
Think it funny that Susan trying to climb the archers social ladder. Being put down by Jenifer who was raised in the village pub! (Elizabeth Lane on BBC The Archers Facebook page)
I thought it was very rude of Jennifer to offer her cast offs to Susan like that, but typical. She thinks she's better than anyone who isn't part of the clan (and some who are) (Darrelle Bower on Archers Addicts Facebook group)
Actually, in her way, Susan can be much as a snob as Jenny. (Pauline Stroud on Archers Addicts Facebook group)
Tayler Cresswell is The Archers' social media host
Join the conversation
Or join the discussions on Archers fan forums: