"Swoonerama!" Listener discussions to 8 Dec 2010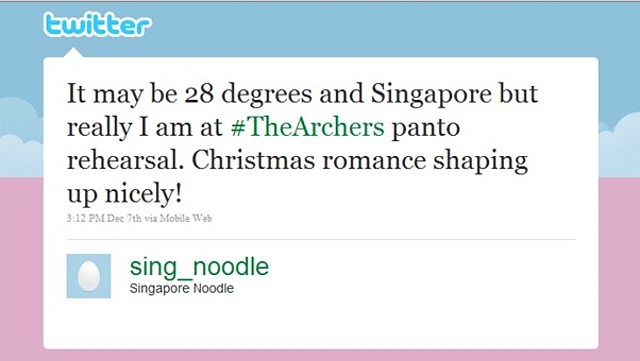 We've had the big education debate, the fall out over Clarrie's broken wrist, that kiss and the Christmas lights switch on. Plus speculation on how The Archers at 60 will compare with Coronation Street at 50... Here's the latest on The Archers according to the folks on our message board and Twitter.

The education debate is back on the message board and it's a hot topic! Should Lily and Freddie Pargetter go to separate schools next year? Private or comprehensive? Shouldn't Nigel and Elizabeth ask their children what they want?

Um, how about because the bright one deserves to be served well by a challenging school rather than drumming her fingers alongside her less-gifted brother? You're telling me it's fairer to have her bored for 7 years because they can't bear to be separated for a third of the day? (EBGB)
This makes me so angry I could spit! Education should be good and challenging for all, not just for those who can afford to opt out of the state system. (happySarahthecook)

Nic Hanson gets more praise for how she handled Will Grundy - but are Nic and Clarrie pushing Will into a corner? And isn't it time the warring brothers made up?
Why should Will be forced to associate with someone he does not wish to be with. Just because it's "family". He should simply refuse to go and ignore all the emotional blackmail. (lsd25)
I am enjoying Nic more and more now she is beginning to stick up for herself and also to encourage Will to deal with the fact that he just has to live with Ed being around. I felt she was trying to show him how he could deal with the problem (with a little bit of emotional blackmail maybe!) rather than just tell him he was in the wrong. (Sussex Cornflower)

After Phoebe Aldridge called Kate "mum", some wondered if step mum Hayley had been relegated? And has Kate has been thrown off her course? Will she quietly slip back to South Africa or is there more drama still to come?
Kate seems be growing on Feebles [Phoebe] in an insidious fashion rather like dry rot. (mavisthegnome)
Read the debate on the message board

Responses to the kiss between Harry Mason and Fallon Rogers at the panto ranged from "Yuck Yuck Yuck!" to "Swoonerama" on the message board and Twitter.
It may be 28 degrees and Singapore but really I am at #TheArchers panto rehearsal. Christmas romance shaping up nicely! (@sing_noodle)
Yes - Not so dull Harry after all - I knew it !!! Shower Scene next week? (fabsupergran)

The switch on of the Ambridge Christmas lights was followed as-it-happened with a thread titled "Any minute now!"
I heart the switch on plus a family row. Deep irony too listening to Kate. Wasn't it at one switch on she abandoned Phoebe to Roy and legged it? Have to say Joe excelled himself. A Joe Grundy guide to simple phlegm moistened pastry should be the stuff of Sunday supplements rather than the usual gushing guff. Next Sunday move over Nigel Slater. Joe Grundy's mince pies. A countryman's delight. (Feral_Ralph)

After Coronation Street's 50th anniversary episode last week, some wondered if there'll be a similar storyline for The Archers' 60th in January!
Well, it wouldn't be the first time ITV and The Archers have been up against each other. Quite fitting in fact. All I'll say is based on Corrie's lack of emergency service response initially, they're going to need one heck of an incident on the Borchester bypass to divert the emergency services. (Looby-Lewis)

A few of life's little Archers moments have been posted on Twitter
Child just called me at work to ask if I was listening to The Archers. She's 6! (@sladey66)
Dear neighbours who were staring: I was sitting in the car because The Archers hadn't finished, mmmkay? (@seraphina46)
You can add your own Archers moment to the My Archers page.

Tayler Cresswell is the host of The Archers message board.