"SHAME ON YOU!!" - listener discussions to 29 February 2012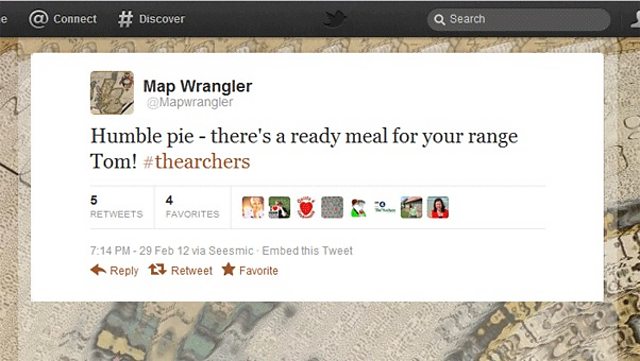 From laughter on Thursday, to tears on Tuesday - it's been an emotional week for Archers listeners. Some have signed up to Neil's fan club, others picked sides at the village meeting over the mega dairy.
But the vast majority of posts have been about poor Tony Archer, a victim of Helen's Beef Wellington perhaps - or is Tom to blame?
Here's my pick of listener discussions on The Archers message board, Twitter and Facebook between 23-29 February 2012

Welcome to Neil Carter's fan club! The scene of his selfless act of helping Tracy retrieve everything from a giant teddy to balloons and bikes from Den's flat was seen as hilarious by many but hated by some. However the laughs soon turned to horror as he and Susan looked like they were in for a night of passion...
#thearchers Tracy & Neil in the car, best episode for years. Top comedy (@johnp0 on Twitter)
Hideous Tracey's existence suddenly validated thanks to that sublimely ridiculous scene with Neil. More balloon/fag/van pls #thearchers (@katbrown82 on Twitter)
Scene with Tracy and Neil was embarrassingly bad. No more, please! #thearchers (@archerslistener on Twitter)
Just when you thought it was safe to come out of the poly tunnel, Susan and Neil get the hots! #thearchers (@salvatorRosa on Twitter)
I just love neil carter, and last night's episode was the final straw... in tipping me into outright adoration... Susan and Neil come across as a real, equal partnership... they clearly both love each other and it is lovely to hear. (radionoush)
Loved the way he quietly and politely put Brian in his place over the meeting - 'it's a debate not a PR forum'... Anyone else recall a lovely little scene last year (I think) when the equally fab Christopher spoke so lovingly of his parents? (GreenBrownBear)
Love Neil too? Sign up to the Neil Carter fan club on the message board

Friday's meeting about the mega dairy had listeners taking sides but there was no real agreement on who won the battle on the night.
Brian stands to speak: "Minions, your opinions are irrelevant. Nothing will stop the rise of the #frankencows! Mwahahaha!" #thearchers (@yokelbear on Twitter)
Ruth sounded an absolute idiot - it was as if she were talking about her pets rather than her business. Sentimental clap trap! (SredniVashtar07)
#TheArchers Pat had taken a double strength sanctimonious pill tonight. Let's face it - they're all exploiting animals to some extent (@StevenBettles on Twitter)
A well-timed insertion of the boot, by Brian, in reminding Pat of the health hazard BF's dairy had been (The Leech Pedlar)
After tonight's #thearchers, I'm now in favour of the mega-dairy. #thebigpicture (@ecogray on Twitter)
Read about the events as they unfolded on the night on the message board thread: It's the village meeting tonight

Most conversation this week has centred around Tony whose troubles began on Thursday with Jennifer's visit. Then along came Tom on Tuesday...
Bloody brilliant showdown with Jennifer and Tony! Class, politics, ethics, and greed. Well done last night's #thearchers writers! (@archelina on Twitter)
Is Tom going to feel remorse tonight or is he going to keep ranting on about the damn peppers? #thearchers #selfishTom (@quilterin24 on Twitter)
Hit him with a spade Tony #thearchers (@lindasgrant on Twitter)

Despite most people predicting Tony's trip to the hospital, some expressed surprise on the night. Most blamed Tom, and others worried that Pat would use this as an excuse to get in touch with Rich
Oh cripes!!!!!!!!!!!! #thearchers (@duncanrsteele on Twitter)
SHAME ON YOU!!! I know Tom isn't to blame for blocked arteries (that was probably the Beef Wellington), but all that pressure Tom put on his Dad, he's got some grovelling to do! (Angela Stepney)
Sitting on train blubbing to last night's ep of #TheArchers. Poor Tony, poor Pat, even poor Helen. No sympathy for Tom though. (@louiseholohan on Twitter)
I don't blame Tom entirely he has just been part of it by being too pushy trying to salvage the business. I think a lot of stuff has caused this.... and he does not do stress well. So give Tom a bit of a break (bebopalula)
One thing I can't wait for is the tramping of Archer feet to the bedside. Will Peggy berate him for not listening to Tom? Will Tom...? ... The only visit he'll appreciate will be from Lilian who can be relied upon to smuggle in a flagon of Grundy cider. The other thing I can't wait for is Pat asking her children "How are we going to break the news to Rich?" (Jacks Parakeet)
Indeed - then Tony could pass on the most priceless heirloom he has to Rich, a solid gold chip on the shoulder. (James o the Glens)
Add your thoughts to the Shame on you Tom!!!! and I fully expect Pat to use Tony's heart attack... threads

As Tony lay in Borchester General and Ambridge folk rallied round, some were suspicious of Brian's offer of help. But perhaps Brian should be congratulated, especially after Friday's drubbing from Pat at the village meeting
I have a lot of time for posh landed gentry not afraid to get their hands dirty. ''Put me in the van and point me in the right direction'' Best line of the night for me. What a guy! (bruxilda)
I hope they frisked him for PR material for the megadairy before they gave him the addresses of their veg box customers! (JOSP01)
But will this give him a change of heart over the mega dairy? I do hope not. To do so will leave Ambridge as a backward looking bucolic farming community suspicious of anything that whiffs of modern business practice, profits and investment for the future. (Lee Shore)
Brian - heart of gold or granite? Have your say on the message board


And I'll leave you with a few Borchester Hospital Radio requests for Tony Archer
It's the Bee Gees with Stayin' Alive... (Freda Fry)
Here's one from your loving son, Tom - 'I want you back' by the Jackson 5 (ermintrude)
"From Tony Archer - dedicated to my loving family ... "Who's Sorry Now? ... Connie Francis.. (JustPresidentBunny_Socialist)
I'm sure Tony would appreciate your requests - you can post them on the message board

Tayler Cresswell is host of The Archers message board.