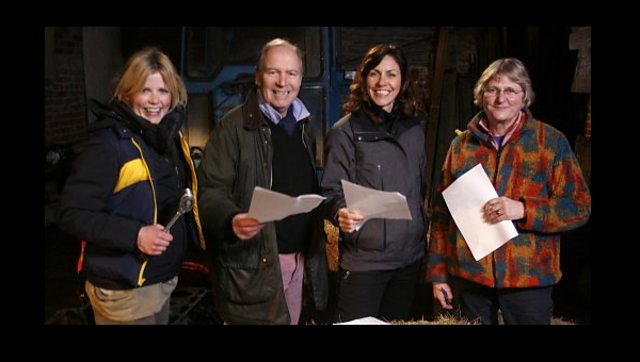 BBC One's Countryfile programme 'does' The Archers this Sunday (27 Feb).
Julia Bradbury and Ellie Harrison visit the Vale of Evesham in Worcestershire, an area that inspired - and still inspires - The Archers. They meet some 'real Archers' - people whose lives mirror aspects of the programme. Subjects include a family vegetable farm and a community running its own village shop.
Julia Bradbury meets Charles Collingwood (Brian Aldridge) and Ellie Harrison discovers agricultural sound effects with Archers producer Julie Beckett. And they take part in an Archers scene especially written for Countryfile.
Keri Davies is an Archers scriptwriter and web producer
Picture shows Ellie Harrison (presenter), Charles Collingwood (Brian Aldridge), Julia Bradbury (presenter) and Julie Beckett (Archers producer)
Watch Countryfile this Sunday 27 Feb, 19.00, BBC One
Full details of the programme, or watch it on iPlayer (for seven days after transmission)