'That's put me right off my sherry' – Listener discussions to 14 August 2013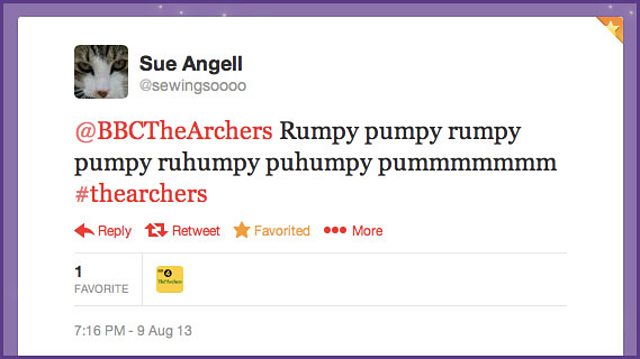 Post from @sewingsoooo on Twitter
Helen and Rob have dominated discussion this week and listeners have complained of feeling a bit queasy. Martyn Gibson is also putting everyone on edge.
On the other hand, Kenton's choice of best man is approved. As is Dmitry in Ambridge Extra – will he be heading for Ambridge with Brenda? And while most think Matt's getting in too deep, listeners are delighted to hear "high-calibre guest star" Anton Lesser in the programme.
Here's my pick of online discussions between 8 and 14 August 2013
"Steady on!" Helen and Rob put listeners off their tea, but not everyone thinks it's a bad move from Helen…
@BBCTheArchers Rumpy pumpy rumpy pumpy ruhumpy puhumpy pummmmmmm #thearchers (@sewingsoooo on Twitter)  
Oi #thearchers. Steady on! (@DAaronovitch on Twitter)
God. That's put me right off my sherry. #thearchers (@Tuftymonk on Twitter)
Gah - kissing in #TheArchers - soundtrack to a thousand ruined Friday night dinners (@kathycaton on Twitter)
Just caught up with tonight's #Archers. Can't decide which is more nauseating -Helen snogging Rob or doing his washing up. (@smithjj62 on Twitter)
Get some bloody self-respect Helen! Call yourself an empowered woman? And he can do his own bloody dishes!!! Why are all the Ambridge women such doormats? I notice that Kirsty is now taking on Brenda's former role of unpaid sausage/ready meals consultant/dogsbody for Tom . . . He'll have her dishing up Gourmet Grills for him in no time. (Amaryllis Roy on BBC The Archers Facebook page)
Hey Helen, the 50s phoned, they're missing a Stepford wife #TheArchers. (@dunderment on Twitter)
I see a Tom/Helen vs Pat/Tony split coming along triggered by the latter pair's dislike of Rob.  (Gary Herring on BBC The Archers Facebook page)
Oh whatever, consenting adults and all... I think Pat and Tony need to stop infantilizing their children and go enjoy semi-retirement. (Robin Winning on BBC The Archers Facebook page)
I hate Moany Archer. And get in there, Helen. He sounds like a hottie on the radio. (Sarah Flossy Brown on BBC The Archers Facebook page)
The scenario is: Rob will divorce his wife marry Helen and get his hands on Ambride organics, simples! (Hazel Hammond on BBC The Archers Facebook page)
I thought it was great. Helen knew what she wanted and went for it. Good for her! (Maggie O'Rourke on Archers Addicts Facebook page)
But for some, Rob's salad is plain wrong
Did Rob offer Helen...salad...? Salad, after a bout of gymnastic boudoir activity? Surely, a baked potato at the very least! #TheArchers (@lomelindi12 on Twitter)
I can cope with the infidelity aspect of this storyline, but still can't come to terms with the post-coital salad. SALAD? #thearchers (@ceefaxisbetter on Twitter)
Over at the Golf Club Martyn continues to upset most listeners – such a bully! – but a few think he has a point about Kathy
Surrounded by golf clubs Kathy. Wrap one around Martyn's head #thearchers (@HiggsBoz0 on Twitter)
Martin Gibson. As welcome in Ambridge as Foot and Mouth disease. #thearchers (@beckyblackbooks on Twitter)
I had a boss like this Martyn once. These scenes are giving me bad memories. #thearchers (@gingabeans on Twitter)
I'm sorry but I think Kathy is utterly ineffectual in the hospitality business. Martyn should headhunt Jolene. (Neil Henderson on Archers Addicts Facebook group)
Why has Martin got so much time on his hands such that he can meddle in the business, perhaps he's one of those people who've lost their job but leave the house, brief case in hand, pretending they haven't. It's not going to turn out that he's Anthea's husband is it? (Andrew Heelis on Archers Addicts Facebook group)
As Kenton names his best man, listeners agree that Jamie is the perfect young man for the job
Best best man ever! #jamie #TheArchers (@VincentN15 on Twitter)
Jamie now has to out-Kenton Kenton. That'll take some doing. #thearchers (@woolminer on Twitter)
Could he be more outrageous than Kenton if he organises the stag do? (Chris Walmsley on BBC The Archers Facebook page)
But when it comes to the guest list, Kenton's surpassed himself…  
Brilliant Kenton! You just invited your ex-wife to your wedding. Idiot! #TheArchers (@Mrs_Fezziwig on Twitter)
Is every Ambridge wedding packed with exes? Sounds fun. (David Bell on Archers Addicts Facebook group)
So how big is Jolene's family? Will her side of the aisle be empty? #TheArchers (@Dark_Blue_Box on Twitter)
And in Ambridge Extra, listeners are starting to hope that Dmitry is a "very good guy". Is he Ambridge bound?
So, do you think the new church organ will be playing Russian tunes after Dimitry pays the remaining eighteen grand? (Tim Unsworth on BBC The Archers Facebook page)
Poor Tom (Gillian Habenbacher on BBC The Archers Facebook page)
Ambridge Extra gets better and better. PLEASE let Brenda and Dmitri stay together!!! PLEASE!  (Madeline Wright on Archers Addicts Facebook group)
Brenda is so much more fun these days. I hope they go back to Ambridge and they become the wealthiest villagers! #AmbridgeExtra (@IlkleyBetty on Twitter)
Well, I never thought I'd be jealous of Brenda Tucker. I want a Dmitri of my own, lucky girl... *rushes off to stick pins into my Brenda effigy* (Sally Kershaw on BBC The Archers Facebook page)
I Think Dimitri could be a very good guy & owns the company. I think Brenda has found her billionaire (Richard Johnson on Archers Addicts Facebook group)
Bring Dimitri back to Ambridge? What would Mike and Vicky make to that ...certainly be one up on Susan's marriage into the Aldridge family ... perhaps they can buy Grey Gables, turn it into a luxury res and Caroline can manage 2 weeks in Italy with Oliver instead of just the one ... (Lesley Schofield on Archers Addicts Facebook group)
Anton Lesser's appearance delighted many – but they don't think he's got Matt's best interests at heart
Stop telling this bloke all your business Matt! You have no idea who he is! #AmbridgeExtra #TheArchers (@AndromP on Twitter)
@BBCTheArchers Matt's City friend sounds like Philby or a character from Le Carre. Watch your back, agent Crawford! #AmbridgeExtra (@bakerpictures on Twitter)
Is that actual Anton Lesser on #AmbridgeExtra? That's what I call a high-calibre guest star #TheArchers (@PennyLiechti on Twitter)
I wish he would come live permanently in Ambridge. He can just sit and read from the telephone book, and I'll be happy. (Lynn McAvenia on BBC The Archers Facebook page)
And some listeners were put out that Tuesday's Ambridge Extra played out events that were out of synch with the later, evening episode of The Archers
Listened to #thearchers at 7.15 pm & Brenda was only just telling Lilian that Matt was in London. Sequencing all wrong! Grr! (@SocialistGreen on Twitter)
I took it as both storylines happening concurrently .......... (Gillian Corrigan on Archers Addicts Facebook group)
I was instinctively going to listen to TA first and then AE, but I remembered AE airs first and so decided to listen to them in order… it was weird …it was kind of like listening backwards. (Penney Mischief on Archers Addicts Facebook group)
Tayler Cresswell is The Archers' social media host
Join the conversation:
Or join the discussions on Archers fan forums: