'UNEXPECTED BENEFICIARY IN THE WILLING AREA' – The Archers listener discussions to 22 January 2014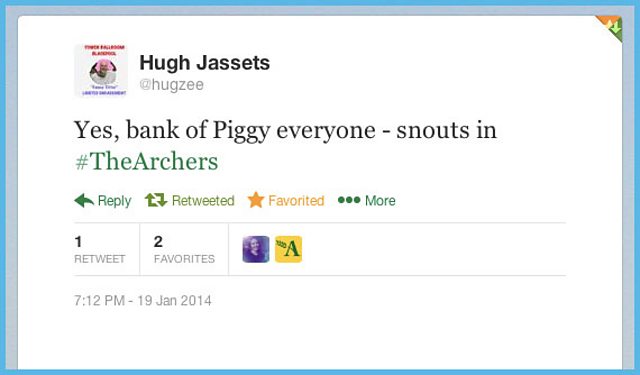 Post from @hugzee on Twitter
This week it's all about the Woolley inheritances. Have Jack and Peggy done the right thing? Will Peggy change her mind after finding out about Helen and Rob? And is it time for Pat to back off?
Here's my pick of the listener discussions between 16 and 22 January 2014.
Listeners were agog to hear what was in Jack's will. And horrified to hear that he'd left the bulk of his estate to Hazel.
As a Victorian literature specialist, I am LOVING the will reading! Loving it. Thank you scripties on #thearchers (@redbookish on Twitter)
What was Jack thinking? (Abby Alexandria Jones on BBC The Archers Facebook page)
*UNEXPECTED BENEFICIARY IN THE WILLING AREA* #thearchers (@salvatorRosa on Twitter)
#thearchers I think punching the air was a tad inappropriate, Hazel (@barefootmower on Twitter)
As utterly appalling as Hazel is, and as sure as I am that she's going to decimate the village with her money grasping, I love her being here if only for the chance to see Peggy show some impeccably polite steel for once. Go Peggy, fight the good fight. (Kat Brown on BBC The Archers Facebook page)
Ooohhh the grim reaper is having a look round! Can you feel the chilly breeze......... hazel's on the war path #thearchers (@debpapprill on Twitter)
STOP PRESS: Hazel renames 'Ambridge' as 'Inventory'. #thearchers (@psalotti on Twitter)
The whole family is every bit as grasping as Hazel, they just hide it better. #thearchers (@TreacleToo on Twitter)
Peggy's gathering on Sunday drew gasps from listeners, though they enjoyed the fondant fancies! Some suspect she'll change her mind about Helen's share of her will once she finds out about Rob. Many felt she'd been unfair to the rest of her grandchildren: Adam, Debbie, Kate, Alice and James.
Quite a bombshell. I wasn't expecting Helen and Tom to be Peggy's sole beneficiaries. Some serious jealousy to come I fear. And all the more reason for Rob to stick to Helen. (Nigel Cropper on BBC The Archers Facebook page)
Yes, bank of Piggy everyone - snouts in #TheArchers (@hugzee on Twitter)
Well, the sausage baron knows how to keep Grandma sweet #thearchers (@fondantfrancy on Twitter)
That's an outrage. Sausage boy gets the lot. Poor Tony. #TheArchers (@AndromP on Twitter)
Can't wait for Peggy's backtrack when she finds she's bequeathed a serious slice of Ambridge Real Estate to a Grand Daughter carrying on with not only a Stockman, but a married one too (Richard Gilbert  on BBC The Archers Facebook page)
Machiavelli has his sights set on the Lodge for sure. Helen, you've got eyes, open them before it's too late. (Stephen Āh Burroughs on BBC The Archers Facebook page) 
Peggy will love him, surely? Charming, successful, career in an industry with a future & potential to make zillions of pounds, and Helen will be fulsome in affirming how devoted and loyal he is. I fully expect Peggy to include him in the Will! (Ian Berry on BBC The Archers Facebook page) 
Surely it's the other grandchildren who should be miffed. If I was Alice I think I would be rather cross:-) (Heather Walker on BBC The Archers Facebook page)
I do hope Sharon turns up to demand John's share of Peggy's fortune for his son. #TheArchers (@laughinglibby on Twitter)
Her money she can do what she likes with it, it's tough but her decision...Life isn't fair... all quite real, I bet it happens in the real world too. (Zoë Eaglesfield on BBC The Archers Facebook page)
Oh to have been the fly on the wall of the cars on the drive home from Peggy's. #thearchers (@shimmy41a on Twitter)
Some felt sorry for Tony after Peggy aired her views about how him not providing security for Tom and Helen's futures
I don't understand why Peggy has such a downer on Tony. He's not fantastic, but he's all right. Peggy should count her blessings - not just her money! (Avril Rennie on Archers Addicts Facebook page)
There was no need for Peggy to share her negative view of him with the world. #thearchers   @BBCTheArchers (@SteveBrooks13 on Twitter)
The pain of always being a disappointment to a parent never goes away. It's cruel of Peggy not to leave something to her children, even if just a little. And what about Alice? Or is Bryan going to take care of her? And Adam? It sounds like Peggy plays favorites a lot. Nasty sort of mum. (Pattipeg Snyder Harjo on BBC The Archers Facebook page)
I actually felt sorry for Tony on this occasion. I can see how he felt humiliated. And Peggy commenting on how well Jenny and Lilian had done for themselves when all they'd done is marry or live with people who were already wealthy! (Soozi Quattro on The Archers blog)
Some have questioned Pat's motives in wanting Peggy to change her will.
Stop digging Pat or you'll alienate the whole family! (Hayley Powell on Archers Addicts Facebook page)
@BBCTheArchers Is Pat trying to disinherit her own children? That's taking hating Rob a bit far surely? (@amoc44 on Twitter)
I thought Pat was actually trying to do something nice for Tony - who is after all her partner of many years and who is currently pretty upset and depressed. Peggy has been at best insensitive and at worst a nasty old biddy in denigrating what Tony has achieved. I just though Pat was trying to find some common ground somewhere - and trying to find some allies. (Pogle Jones on BBC The Archers Facebook page)
There was some delight as listeners heard Henry call Rob "Daddy". Listeners are divided over whether Pat's interfering or looking out for Helen's best interests. But no one's sure about Rob – is he sincere?
Henry's calling Rob Daddy in front of Pat. Worth the BBC licence fee alone. #thearchers (@Airscaper on Twitter)
I will say it again Pat. What has it got to do with you? Back off! If she makes a mess of it, it will be all down to her not you #thearchers (@Anne_O on Twitter)
Why exactly is Pat so unnerved by Rob? Just the megadairy? Because she was barely more than civil to him long before anything happened with Helen. Her reactions are so absurd, but unfortunately not too unrealistic. Henry is a very small child, and even if he weren't, he'd come out just fine. (Paige Poe on BBC The Archers Facebook page)
It must be very hard to live in their situation. Pat is bound to be worried and many parents would find it difficult to keep quiet and not voice an opinion. I think it is safe to say that Pat will be there to pick up the pieces if it all goes wrong. (Chris Walmsley on BBC The Archers Facebook page)
Yes, she should be there for Helen if it all goes wrong, but I don't see why she should have to live with an adult daughter who treats her with such contempt. (Brenda Selwyn on BBC The Archers Facebook page)
Well, said Rob! I'm on your side, if no-one else is! #thearchers #teamRob (@archerslistener on Twitter)
I believe Rob is sincere, and will continue to believe it until Jess is found buried under the patio! And even then, I'm not sure I'll blame him. (Sue Gedge on BBC The Archers Facebook page)
Well the scriptwriters should give themselves a Merit for presenting Rob's character in such an ambiguous way that generates such ambivalence! It is all very Jane Austen! But will he be a Wickham or Darcy type?! Or maybe a morally shades of grey Frank Churchill?!x (Maggie Mumford on BBC The Archers Facebook page)
I will be really sad if Rob turns out to be a wrong un ...I'm loving Helen seeming buzzy and life in colour not black and white Maggie is right though. The scriptwriters are most likely enjoying teasing us. But please..... if they all lived happily ever after would suit me fine (Sally-Ann Howard on BBC The Archers Facebook page)
Tayler Cresswell is The Archers' social media host
Join the conversation
Or join the discussions on Archers fan forums: