Editor's Note: We hope Wednesday's episode in which Bridge Farm's dairy herd was sold sounded realistic. Writer Carole Simpson Solazzo explains how she went about ensuring it had the ring of truth.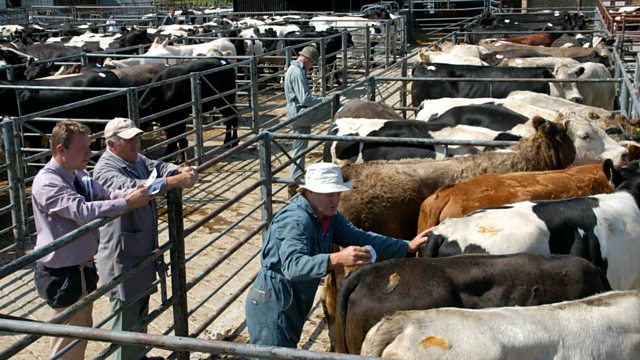 A Farm Sale in progress.
As soon as our agricultural advisor Steve Peacock began talking about the Bridge Farm dispersal sale in our script meeting, I decided I needed to see one in action. I love this kind of research, and there is no way a writer could conjure scenes like this out of the imagination. You need to be there, in the thick of it, watching, listening, absorbing.

I was lucky to find a similar sale within easy driving distance, in the wilds of Cumbria. I say I was 'lucky'. I am well aware that my luck was the farmers' misfortune. They were selling up completely after generations of their family had farmed that land since the 18th century.

I decided to make a day of it, and took our eldest granddaughter, whose daddy is a sheep farmer, along for the ride. We took water-proofs and wellies. Even the best-kept farms can become a bit of a mud-bath in the rain.

The farm was packed, the atmosphere warm and animated. Chatting to some of the people there, it quickly became clear that many were local farming families from miles around, there to show support and solidarity for the farmers selling up. It was as much about celebrating the lifetime's achievement of one their own, as a business opportunity to buy a piece of kit or a cow.

There was the equivalent of 'Gourmet Grills', serving egg-and-bacon barms and sausage sarnies, (even veggie ones), and good strong tea, and an organic ice cream van. We tucked in, and then had a wander through the two big silage clamps where the machinery and equipment were on display, and spent a lot of time in the huge barn opposite, admiring the pedigree dairy herd.

I got a catalogue from the table in a small barn near the farmhouse, which had been set up as an impromptu office. Auctions are very traditional affairs, cash only transactions. Often sales are still made in guineas rather than pounds.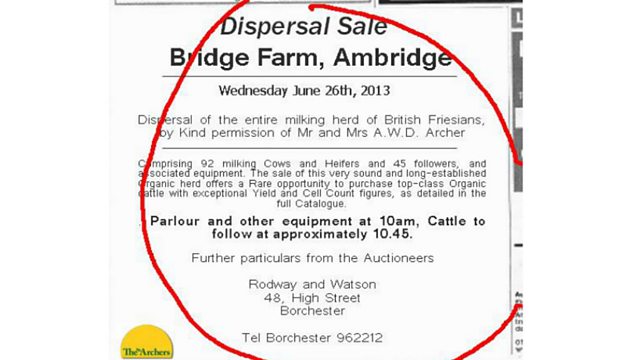 The classified ad for the Bridge Farm dispersal sale

Then a hand bell rang, and the auctioneer began, first selling off the smallest bits of equipment, before moving on to bigger pieces of kit, like the mixer wagon and the three tractors. And he used a stout walking stick rather than a gavel, which he smacked hard on his hand at the conclusion of a sale.

I didn't get to meet the host farmers. Perhaps, like Pat, they hadn't had the heart to watch as the herd that was their dedicated life's work was broken up and sold off.

The herd sale began with the auctioning off of the hay bales, then moved on to the serious business of selling the cows and calves, one by one.

The ring was set at the bottom end of the barn. It was surrounded with tiers of straw bales for those who wanted to sit, with enough space in front for a few rows of the farmers intent on buying to stand.

The cows had all been groomed as if for a show, and they hadn't been milked that morning, the better to show off the fine quality of their udders. What dairy farmers look for is even quarters, (udders are split into four of them), teats that point straight down, and a strong, full bag that doesn't sag.

I took lots of notes during the auction, listening out for phrases and jargon used to talk about the cows, and at one point I recorded some of the patter on my phone, so I could get the rhythms and speed right when I came to write our Bridge Farm auctioneer's speeches. At script stage, my script editor Kim and I discussed how best to write the auction episode. We knew our listeners would be interested in the authentic sound of the auction itself. But more importantly, they would want to follow our characters through what was a very emotional day, one way or another, for each of the principals. I wrote more dialogue than I would normally, so that the auctioneer could be heard in the background, while we focussed on how our characters act and react in the fore.

I hope you enjoy the episode and think the research paid off. Sophie and I certainly enjoyed our day. Sophie even got to do one of her favourite things – 'drive' a tractor!
Radio 4 - Highlights: Bridge Farm