'Brenda could trade in her sackcloth and ashes' – listener discussions to 3 July 2013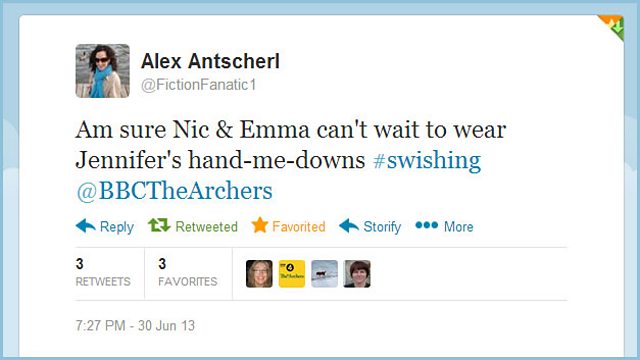 From Twitter 3 July 2013
Listeners have offered their Swishing suggestions, there's been speculation over Brenda's next move, suspicion at Pip's offer to look after Brookfield as her parents plan a holiday, and relief that the flower Festival has come to a close.
And there's palpable excitement at the new series of Ambridge Extra, though some listeners aren't happy that Matt and Lilian's confrontation wasn't aired on The Archers.
Here's my pick of online discussions between 27 June and 3 July 201.
There's a buzz surrounding news that Sabrina Thwaite is helping Jennifer to organise her swishing event. And whilst there was debate over what swishing means (Jennifer is adamant that it's not a jumble sale!), there were suggestions for Ambridge residents on what they might have lined up for the clothes swap…
Do hope Brenda goes to Jennifer's swishing party - she could trade in her sackcloth and ashes. #thearchers @BBCTheArchers (@AJBendaker on Twitter)  
It's an opportunity for Lil to ditch that purple frock... (@AnneLayzell1 on Twitter)   
Am sure Nic & Emma can't wait to wear Jennifer's hand-me-downs #swishing @BBCTheArchers (@FictionFanatic1 on Twitter)  
I'm with Peggy in thinking that they're just posh jumble sales. And I suspect that if JD hears one more person say 'so, it's a jumble sale', she'll explode! (Cathy Bowden on BBC The Archers Facebook page)
You can hear Jennifer's nose wrinkle as Peggy forces Swish leaflet on Neil. Can only lead to Soozan becoming uppity again. #TheArchers (@RadioAmbridge on Twitter)  
Brenda's continuing woes have listeners rolling their eyes. Come on Bren, time to move on – at home and at work. Some wonder if she's being lined up for a job at Grey Gables – surely Caroline could do with the help…
Quick! Someone throw Brenda a life raft, or something. She's drowning in the Sea of No Hope... #thearchers (@hebdensnapper on Twitter)    
Walk away Brenda. From the job and from Ambridge and from my radio at 7pm in the evening. You are getting on my nerves. Anyone who just moans but does not do anything about rectifying the situation doesn't deserve any sympathy. You are becoming very annoying, nearly as annoying as Tom. (Susan Wakefield on BBC The Archers Facebook page)
Love Brenda & her lack of direction! Not everybody's life is mapped out with inherited farming land/careers!x (Maggie Mumford on BBC The Archers Facebook page)
Imagine leaving Tom, then ending up having to live with Roy. Talk about the devil and the deep blue sea. #thearchers (@SarahThornton1 on Twitter)  
@BBCTheArchers Why doesn't Brender just move into the Dower House, eat/drink the place dry, with a couple of Matt's Monte Cristos for fun?!  (@lauradavies24 on Twitter)  
Dudes - two sisters sharing a room is not a human rights violation #thearchers (@fontantfrancy on Twitter)  
Thought she might be destined for Grey Gables to give Caroline a hand running the place (Barbara Alderson on BBC The Archers Facebook page)
Why would Caroline want a tea girl? (Jayne Callaghan on BBC The Archers Facebook page)
How much longer is Brenda prepared to feel the backlash of Lillian's personal life? Tell her to stuff it B! #thearchers (@Bob_Hudson on Twitter)  
@BBCTheArchers even from afar Pussycat can fight back & give poor Brenda a nasty scratch, ouch. (@Barlie40 on Twitter)     
Pip's passed her exams but listeners seem reluctant to offer their congratulations. As Pip suggests her parents take a holiday, most are suspicious of what's behind her offer to look after Brookfield while they're gone.
Pip has passed her degree in Loud and Selfish with flying colours #thearchers (@potterwigwam on Twitter)  
#TheArchers The non-Archers me wishes all students well in exams....however...my *other* self says "Fail Pip Fail"! (@Mistress_Fiona on Twitter)   
What is Pip up to? Hustling the parents out of the country? #thearchers (@KershawMatthews on Twitter)  
She is being sinisterly too good to be true... Rather like Mr Titchener... (Roe Z Sandy on Archers Addicts Facebook group)
@BBCTheArchers oh dear it's all going to go wrong if Pip's left in charge! #disasterwaitingtohappen  (@kidmorris on Twitter)  
Stoodent party round Pip's!!!!! #trashthemilkingparlour #thearchers (@gingabeans on Twitter)  
It was all go at the Flower Festival, but some listeners breathed a sigh of relief as it all came to a close. But what did Clarrie and Nic's display really look like?
I'm so glad the flower festival is nearly over... #thearchers (@Teldeb on Twitter) 
Despite being bored to distraction with the run up to the blessed flower show, I actually found the denouement quite funny. (Ian Berry on BBC The Archers Facebook page)
Hope that was some DAMN good pudding, Jazzer. #thearchers (@Mudkipstoat23 on Twitter)  
please, please, please @BBCTheArchers create a visual of Clarrie's display for us #thearchers (@hoogarvaaner on Twitter)
I would love to see Clarrie's arrangement, it probably looks better than it sounds. (Karen Hudson on BBC The Archers Facebook page)
And over on Radio 4 Extra, there was huge excitement as Ambridge Extra got underway. There was shock as Matt admitted he knew about Lilian's affair and many think Matt's new Russian friend will take him to the cleaners. Ambridge Extra has generated a huge amount of discussion, not least because some Archers listeners were put out that the big Matt and Lilian denouement played out on the spin off programme.
Ooh, a huge weight's been lifted from my shoulders!! #AmbridgeExtra like a dam bursting.... (@MozartsGirl on Twitter)   
Well, that was my first ever #AmbridgeExtra. What a corker! (@nigelwUK on Twitter)   
"I know you were sleeping with my brother!" FINALLY! But why #AmbridgeExtra and not #thearchers @BBCTheArchers ? The theme tune is wrong (@fayschopen on Twitter)  
I hope that they get back together. Oh Lilian, Matt would have forgiven you if only you'd owned up. Missed chances. She realises now what she may have lost. (Pauline Stroud on Archers Addicts Facebook group)
Oh no, Matt's getting conned. He WILL be the ruin of Lil.. #AmbridgeExtra (@AliDeane80 on Twitter)  
#AmbridgeExtra always adds massively to enjoyment of #thearchers. Excellent writing, acting, editing. (@Ann_O123 on Twitter)  
Very annoyed to find out that a major part of the Lillian and Mat story line happened on Ambridge extra! Even more so that I found out via radio feedback. Will major story lines now always be resolved on Ambridge extra where the majority of listeners, will not hear and will find out via other BBC radio 4 programs? ... We have all been on tender hooks waiting for a bit of excitement, whether it's Jolene getting that call from Lillian or to hear Lillian admit to Mat her wrong doing, I am very disappointed! (Emily Robards on BBC The Archers Facebook page)
At the mo us 'normal' Archers listeners find the 'catch up' scenes very irritating so some work needs to be done on that score. (Maggie Mumford on BBC The Archers Facebook page)
Ambridge Extra used to forward a significant plot point?? What the hell? I thought it was 'extra', not crucial listening. #thearchers (@dunderment on Twitter)   
Tayler Cresswell is The Archers' social media host.
Or join the discussions on Archers fan forums: