"Woah! Resignation on the cards?" - listener discussions to 28 March 2012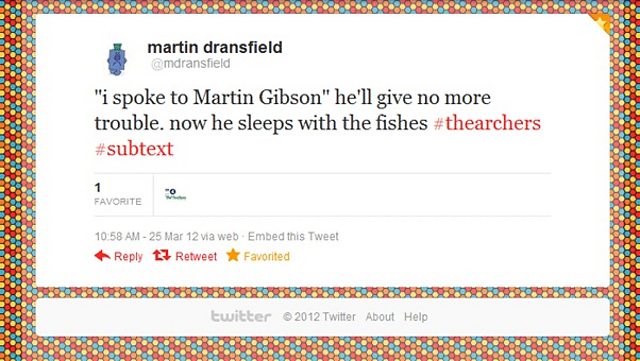 Brian's mega dairy and his place on the BL board look to be on increasingly shaky ground this week. There were tears at Rich's visit to Bridge Farm. Amy's new love interest, Carl, has roused suspicions, and there are high hopes for James and Leonie...
Here's my pick of listener discussions on The Archers message board, Twitter and Facebook between 21-28 March 2012.

Brian and Debbie's mega dairy seems to be just as unpopular among listeners as it is for the residents of Borchester. There was surprise at Debbie's idea to change the dairy into a "mega piggery". What would Tom Archer say? And with Brian's chairmanship at Borchester Land looking increasingly tenuous, some are wondering what tactics he'll employ next?
"I spoke to Martin Gibson" he'll give no more trouble. Now he sleeps with the fishes #thearchers #subtext (@mdransfield on Twitter)
Woah! Resignation on the cards? #thearchers It's like Dynasty with polytunnels. (Wimblebear on Twitter)
"Velociraptors really are the way to go, Brine... After all nobody gives a monkeys if THEY are tied up all day... and just think, BL would be leading the way on a global scale in the intensive farming of terrible extinct reptiles." (MsMumbo-Jumbo)
Wait until Tom hears about the #frankenpigs! No to the Aldridge #megapiggery... #thearchers (@gingabeans on Twitter)
I don't expect all farmers to have Fluffy Bunny Syndrome, but farmers that I know do care about their animals. I have the impression that to Debbie they're cash on legs, and nothing more. (JudithL)
Join the debate on the fantastical Velociraptors may be the way to go thread, and the more down-to-earth Debbie and animal welfare thread.

With John's long lost son Rich heading for Bridge Farm, listeners awaited Sunday's episode with baited breath...
*Clears diary for 7pm Sunday* #thearchers (@pboropixie on Twitter)
Haven't looked forward to a Sunday more for ages. #TheArchers @BBCTheArchers (@robertolopezuk on Twitter)
I do so hope that Rich causes trouble at Bridge Farm. I have no time for Sharon but Pat and Tony were horrendous to her. (Louisa Jaine on Facebook)
Don't tell me Helen's "be thoroughly crass and insensitive, then cry all over everyone" strategy worked! #TheArchers (@marzillik on Twitter)
Won't somebody think of the children? Block all routes out of Leeds. #thearchers (@fionavgraham on Twitter)

Whilst some were disappointed that there were no fireworks during Rich's visit, many were moved to tears. Step-dad Eamon got the big thumbs up from listeners, but some muttered darkly about Sharon after she "caved" so quickly over allowing Rich's visit.
I found #thearchers so moving this evening. I like the Rich story line very much *reaches for a second box of kleenex* (@lizharrisauthor on Twitter)
@BBCTheArchers Awwwww! I made cheese sauce with a moist eye during that. (@thackers1 on Twitter)
I thought Eamon did really well by all parties. I also reckon he has been a far better father to Rich than Jaaarrn would have been. (Buntysdaughter)
I liked it too! Really good acting, just the right level of awkward I thought. Very impressed with Eamon, especially the scene at the beginning where he gave Rich the option of turning back. I guess it all went a little *too* well, but doesn't mean there can't be a set-back in the next few weeks.... (cheltenhamjess)
I think Helen liked him. Poor man. Run Eamon, run. She'll be standing outside your house drunk as a skunk waving cucumbers and claiming a relationship before you know where you are. (Vicky S)
Join the conversation on the Creepy voice: Eamon and Well I enjoyed it... threads.

There's been plenty of gossip about Amy's new friend, Carl. The overwhelming consensus is that he's trouble...
Okay, Archers fans. Who else among you is alarmed about Amy's new boyfriend? (Heather Bryan Gillen on Facebook)
Catching up on #theArchers .... what do we think? Amy's hunky new chap is married with a family elsewhere he goes back to at weekends? (@EdinBookshop on Twitter)
Can't believe Amy could possibly be so naive. (story fairy)
I actually wonder if Amy knows this to be the case. He's giving it the "my wife doesn't understand me" routine and the weekend absence is an excuse cooked up by Amy so as not to be pressed into wheeling him out for a meeting with friends and family. She seems a bit cagey about the whole thing. (Fi of little faith)
My impression of Amy is that she has a pretty firm moral code and I doubt very much that she would get involved with a married man however attractive... she is fairly naive in the relationship world and if... he is married she hasn't got a clue about it. (Scarlett the Harlott)
Wait till Mabel finds out! (binocular)
Air your suspicions on the Amy - he's married thread.

James and Leonie's helicopter trip over Ambridge had some listeners hoping for a happy ending for the pair...
I was just feeling slightly guilty that my immediate thought was CRASH. James and Leonie, it's what everybody would have wanted. (mademoisellecompost)
Why do you think we heard the laboured conversation at Home Farm about the first aid box. JD will whizz over to the accident scene with her new box full of bandages Elastoplast and instruction leaflet... (Lee Shore)
Read more on the So, James and Leonie in a helicopter... thread.

In other discussions...
Hurray Kenton! It's been too long #TheArchers (@entersoundman on Twitter)
All my hopes for a Jim & Christine romance have been dashed. I blame Alan #thearchers (@JuneGloom20 on Twitter)
Who is in the creaky coffin? After all this speculation surely we should be told? #thearchers (@Noelgoodboo on Twitter)

Tayler Cresswell is host of The Archers message board.