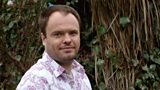 Tim Stimpson
Blog posts in total 3
Posts
Scriptwriter Tim Stimpson reveals how he created The Archers Trial Week.

The challenges that real life presented to the writers of Ambrige Extra

It's now almost nine weeks since we sat down with all but a blank sheet of paper and began planning the first series of Ambridge Extra. The opening episode has now been broadcast, another seven have been recorded, a further eight have been written and we've just finished storylining the final te...