Tonight was movie night and we can't wait for tomorrow's sequel to see who makes the final cut. Until then, here's a recap of what's happened…
This week our couples were scored out of 50 as Donny Osmond joined the show as guest Judge. Frankie and Kevin stole the show with the first 10 of the series from Donny for their powerful Paso, achieving a "Totally dynamic" from Craig, a "You are on fire" from Darcey, and a top of the table score of 45. Pixie and Trent followed closely behind with their beautiful Beauty and the Beast inspired Quickstep, which saw Pixie as the Belle of the ballroom, and Trent as a candlestick. (As you do.) Darcey complemented: "there wasn't much wrong with it at all" receiving an overall score of 43. Just one point behind with 42 were astro-naughty Caroline and Pasha, who received an "almost perfect" from Bruno for their raunchy Rumba.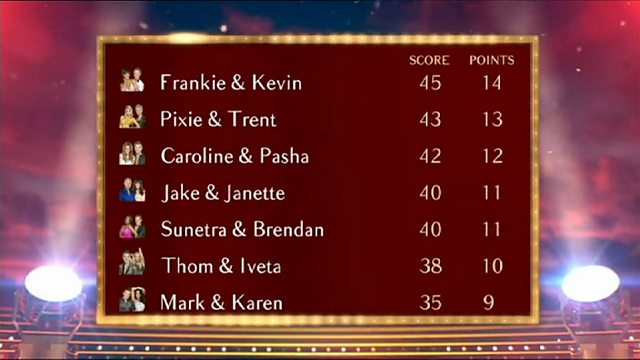 Next on the Leaderboard are Jake and Janette who scored a naughty 40 for their Godfather themed Waltz, joint with Sunetra and Brendan who wowed the Judges with their American Smooth. Thom and Iveta followed with their naughty-cal New York Charleston which awarded them 38. A few points behind with a 35 are Karen and Mark who performed a Superman-inspired Paso Doble (which Bruno referred to as a "Paso Nuts"). Despite a little fall, Donny said "You are Superman, buddy!", giving Mark a high five – followed by a high score of nine.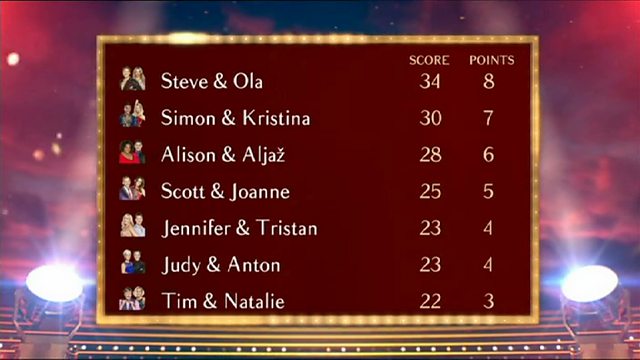 Tim and Natalie were our lowest scorers of the night with a total of 22 for their Charleston to Money Money – so they didn't exactly steal the show. Craig gave them a teeny weeny two, saying it was a "disaster, darling", but at least Len said he wanted them back next week. Joint second bottom are Judy and Anton and Jenny and Tristan, both with a total score of 23. Craig told Judy: "I thought you were getting rigor mortis, my darling!" but Darcey told Judy: "You looked like a film star". Our Super Troupers Jenny and Tristan aren't exactly super scorers either. Craig told them: "You were all over the place", but Len saw some positives stating:  "I think that is the most relaxed and confident I have seen you dance."
Then finally, third from the bottom (of the deep blue sea), was THAT performance. The one you won't forget in a hurry. Yes, even our Judges were a tad shell-shocked by Scott and Joanne's Samba to Under the Sea. Craig scored it a two, saying it was "like lobster on acid!" but Donny gave it a seven, saying: "I don't care what they're saying, I loved it!" Bruno was satis-fried it was better than last week, but with an overall 25, will it save their plaice?...
Tune in tomorrow night to find out which couples will be safe and which pair sadly won't be making it to the sequel.