The following statistics are correct up until the end of the day on Wednesday 6th December 2012.
Here are the training hours for each of the couples still remaining in the competition up until Wednesday 6th December 2012: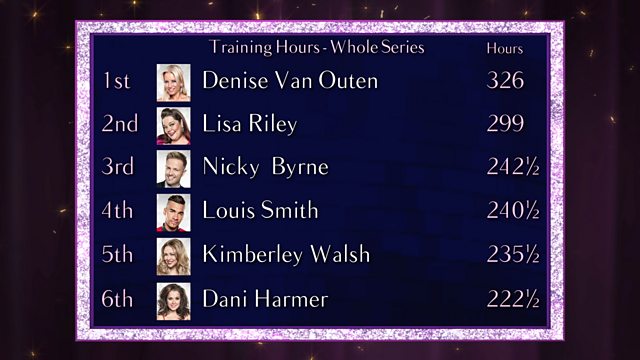 The pro dancer line up has changed considerably over the past 10 series but let's focus on the current professional dancers of 2012. The graph below shows us how long our series 10 pros have been with us: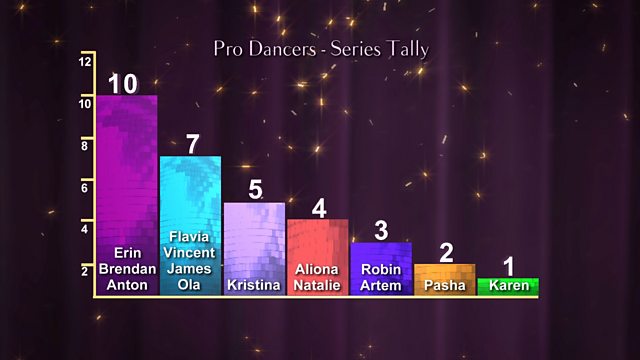 As you can see, the vetrans of Strictly are Erin, Anton and Brendan who have been with us since day one.
This chart shows us the average score for each pro: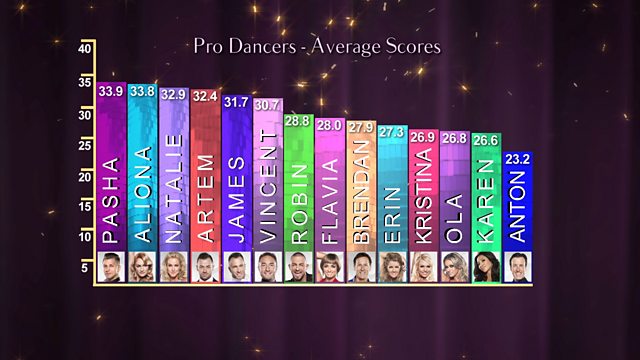 Considering that Ola is former Strictly Champion of series 7 with Chris Hollins, it's surprising that she is the lower end of the graph.
In a previous statistical blog about past Strictly celebrities, we looked at the power of ten. Now let's look at which pro has been awarded the most amount of tens:
It's interesting to note that Natalie Lowe may have been given the most amount of tens, but she has never actually lifted the Glitterball Trophy!
The graph below shows how many times the pros have been given the perfect score (that's all tens from the judges by the way):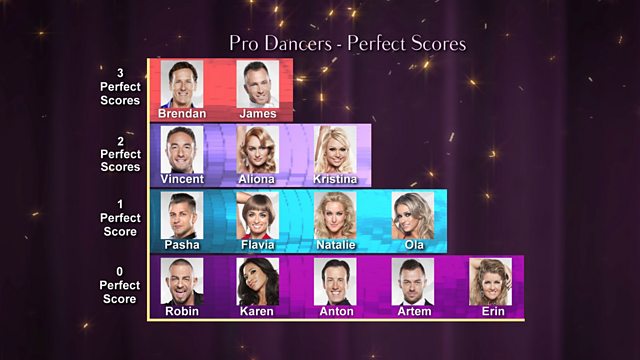 Special mention goes out to Natalie and Ola's top marks which were actually 50/50 in series 7 when Darcey Bussell joined the panel as a guest judge. 
Interestingly enough Flavia (aka the Queen of Tango) actually got her perfect score with Matt Di Angelo in the Waltz and Vincent (aka the King of Tango) got his perfect score in the Foxtrot with Rachel Stevens!
Brendan and James have both recieved top marks three times. Brendan with Lisa Snowdon in series 6 with their Cha Cha Cha, Quickstep and Foxtrot. James with Pamela Stephenson in series 8, twice with their Quickstep and once with their Viennese Waltz.
Now let's look at how many of our dancers have reached the Quarter Finals...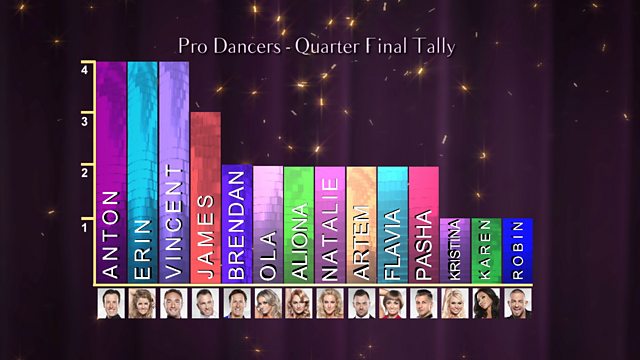 This is the first time that Robin has reached the Quarter Final which means he has broken his week 9 curse finally! 
From our current line up we've had four who have lifted the Glitterball Trophy: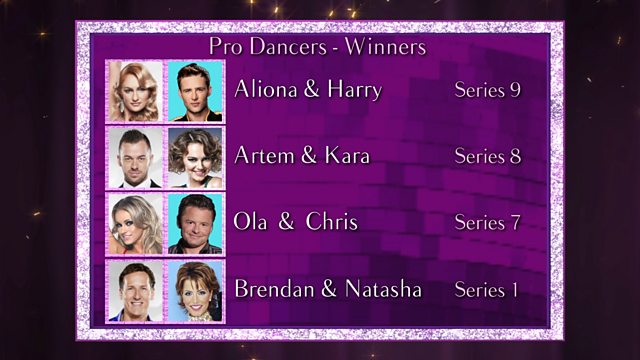 All of our previous Strictly champs have been eliminated before this date meaning that for series 10 there will be a new pro dancer winner and in turn means that no pro in the history of Strictly will have ever lifted the Glitterball trophy twice!
Wowee. I'm all stat-ed out for now! How are you feeling? How did your favourite pro do in our statistical rundown? Let us know what you think below...