Week Eight: Songs and dances revealed!
Who's ready for more Strictly news after last weekend's drama in the Dance Off? This Saturday our nine remaining celebrities return to the floor. "But what will they be performing?" I hear you cry! Well, wait no more! Here's what they will be dancing and the songs they will be dancing along to!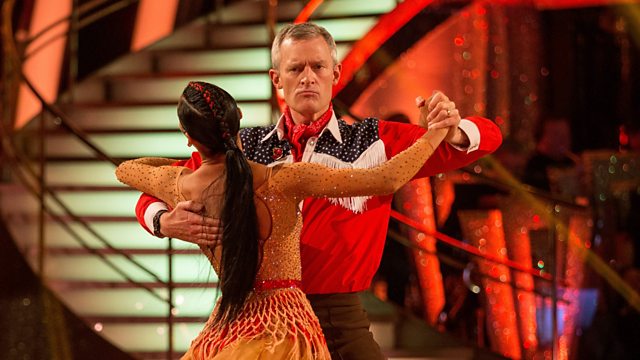 Anita and Gleb will be performing the Quickstep to 'Don't Get Me Wrong' by The Pretenders.
Georgia and Giovanni will be dancing the Charleston to 'Hot Honey Rag' from Chicago.
Helen and Aljaž will be performing the Tango to 'Hold Back The River' by James Bay.
Jamelia and Tristan will be performing the Samba to 'A Little Respect' by Erasure.
Jay and Aliona will be dancing the Foxtrot 'Lay Me Down' by Sam Smith.
Jeremy and Karen will be performing the Quickstep to 'Going Underground' by The Jam.
Katie and Anton will be dancing the Rumba to 'Never Never Never' by Shirley Bassey.
Kellie and Kevin will be performing the Samba to 'Boom Shake The Room' by Jazzy Jeff and the Fresh Prince.
Peter and Janette will be dancing the Viennese Waltz to 'You're My World' by Cilla Black.
Check out our Strictly playlist to listen to the songs from the show and don't forget to tune in to BBC One on Saturday at 18:50 and on Sunday at 19:20 for more magic from the Strictly dance floor!
Plus, there more news, pics and vids on our Facebook, Twitter and Instagram pages!