We have just four weeks of Strictly Come Dancing left until the final on the 22nd December 2012 and the couples are really starting to feel the pressure. 
This week on the It Takes Two sofa we've had tears, tales and secrets shared and you've been there every step of the way.
On Monday we said an emotional goodbye to the lovely Richard Arnold and Erin Boag. Martin Duncan wrote that he was "really moved by seeing Richard & Erin's journey" while mairead wrote "boo hoo :-( miss you both already." It is always difficult to see one of our amazing couples leave the show, but when our assistant floor manager Jonathan escorts the couples off as he did below, it makes it a little better...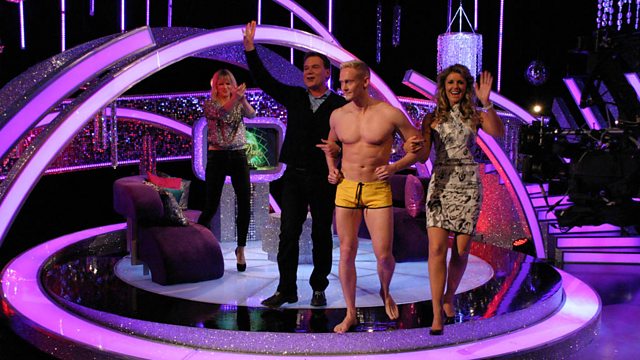 You can see more of our images in the weekly gallery.
Meanwhile on Wednesday we ran an #askian session with our very own Ian Waite. There were hundreds of comments and here are the one's that Ian answered...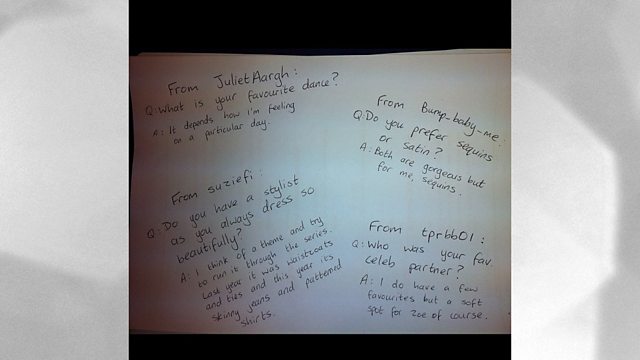 We then had a bit of fun with our resident stats man Russell Grant on Thursday with an #askrussell session as well. Here are his answers...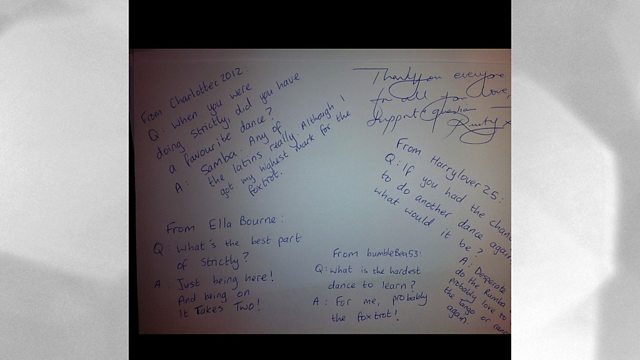 As ever, Russell did not disappoint with his stats and you can read about the power of 10 in our Strictly stats blog.
Then on Friday we had the classical singing quartet Il Divo popping in to give their opinion on the remaining Strictly couples. They also gave birthday girl, Zoe Ball, a special performance of 'Happy Birthday.' Here's Zoe's reaction when they surprised her live on It Takes Two...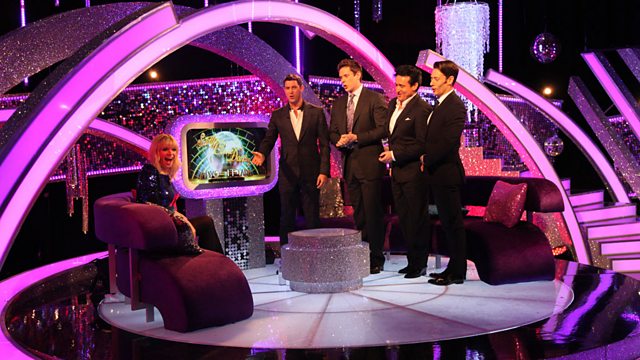 As ever we had birthday wishes coming from everywhere on Twitter, Facebook and our blog. Nadine Erskine said "HAPPY BIRTHDAY Zoe Ball. Hope you're having a lovely day and enjoy your cake!!" while Sarah Entwistle asked whether she could share in a piece of cake... I'm not sure it would arrive in one piece in the post!
Diane summed up the celebrations very nicely, "well Waite and birthday cake. What more can you want?" Very true. Very true.
That's it for this week. Thank you once again for all of your comments and questions. Remember that you can send us questions throughout the week for our guests on It Takes Two. And we'll leave you with this hilarious video of a cute kid going nuts for Strictly Come Dancing (who can blame him!).