There are so many ways to get in touch with Strictly Come Dancing this year. We have the official BBC blog, the Official Strictly Facebook and Twitter feeds, pintrest, instagram just to name a few. 
We love sifting through your ALL comments. The good, the bad AND even the ugly ones. So much so that we've decided to showcase a few of the best from over the live weekends. So without further ado, let's see what you have been saying this week about Strictly Come Dancing.
First up, we had this great picture sent in from Lolam aged 7, who has called her new Guinea pigs Len and Bruno.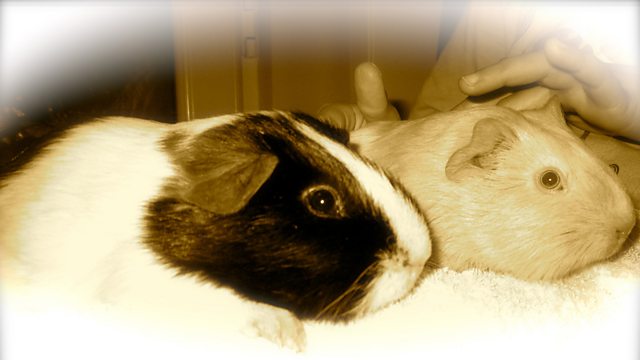 Then there has been much love for all our couples;
Team KiwiGB
PoshFrockAndFeatherBoag said "nicely done Queen Victoria! A bit stiff but acted well. Stupid dress getting in the way" where mollie5555 thought that "Victoria messed up way before the dress issues. Really like her though"
What do you think? Watch their routine again and see if things went wrong before the wardrobe malfunction took place.
Team Ton and Jerry
bruce42 thought that "Jerry moved more than she has all seriees, not necessarily in the right places but it is a start" while Strictly fan Kathy Holsgrove just went for the one word to describe Jerry... "different!"
What do you think? Watch their routine again to see if Jerry did move more than ever this series.
Team Ferrari
Jacqui Bush just had the one thing to say about Fern and Artem tonight... "supercalifragilisticexpialidocious" (funnily enough spell checker doesn't seem to have that one listed!). Alayne Fawkes told us that his "3 year old boy had now watched Fern's dance 8 times in a row." Wow, that's a lot of Mary Poppins. We're glad he's liking the routine though.
What did you think? Watch Fern and Artem perform their Charleston again and again and again and again and.... Then you can join the 8 viewed crew as well.
Team Pasherley
After a shakey performance last week, fans really got behind Kimberley. SH_Coleman said "lovin Kimberley Walsh on BBC Strictly looking beautiful! And great dancing!" with frankynix86 agreeing "wow nimble Kimble! So beautiful"
Kimberley certainly made an impression on these fans but what about you? Watch their quickstep routine again
Team Vanjam
JackiHicks commented, saying "Denise and James so good! Strictly Come Dancing costume department have done brilliant job tonight" while clairegrigor commented to us saying "my 4 year old just walked in and saw TV and said 'mum that's Woody dancing. He's from Toy Story. They are good"
Do you agree with clairegrigor's son? Watch Denise and James perform their foxtrot again and decide for yourself.
Team Erick
Richard and Erin bounced back from being in the bottom two in week 2 and won over you at home as well as the judges. mapheaven said "he was a lot better this week. Even Craig liked it" and we all know that in itself is quite the accomplishment. geordiegirl83 thought that "Richard Arnold looks like Harry Potter in those glasses"
I can see what you mean! What do you think? Watch Richard and Erin perform their quickstep again to see perhaps a preview into Harry Potter's later life
Team Smurf
Here's Dani and Vincent with a picture sent in of the dancing duo, drawn by Eilidh aged 5.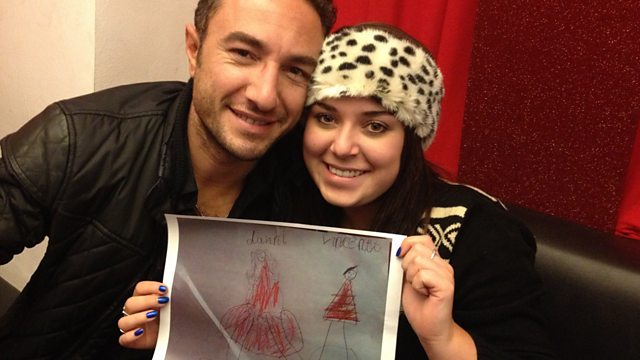 Dani and Vincent made the nation quite emotional when they performed their foxtrot. DANCE_IN_PUBLIC thought that "Dani danced that beautifully. Actually brought a tear to my eye" while MarketingGeni commented, saying "can't believe there's a real Toto on BBC Strictly."
Well believe it and as further proof, check out when our online presenter Nikki Dean went backstage to meet the true star of Hollywood week.
Team Ri-Ro
Lisa was back to a latin routine and hall_tl said "Lisa you are FAB U LOUS! Love watching you" while Susan Hunter commented, "great dance. Great legs!"
We agree with you Susan. Check out Lisa's luscious legs in the jive they performed in week 3
Team Kanicky
Nicky and Karen finally had some positive feedback from our judges which seemed to please Debbie Hall; "well done Nicky it was nice to see you get some good judges comments this time." David kirby's comment was short but sweet; "SMOKIN NICKY. Excellent."
Why not watch Nicky dressed as The Mask once again and let us know whether you thought he was indeed smokin'?
Team Howznat
The Strictly social-verse seemed to be split with regards to Michael and Natalie's performance. redls52 thought that it was "awkward but he did try. Better than last week" whereas Louise James just thought that the "best bit was when he nearly fell off the chair!!"
Were you bowled over by Michael and Natalie's cha cha cha?
Team Colina
Colin and Kristina performed to a James Bond theme which left a lot of you out there like Karen Nicol. She was "shaken, stirred and wanting more!" While Rossana Dowsett needed to cool down by "taking a cold shower!"
How did the performance leave you feeling? Watch it again to see if you were shaken or stirred
Team Flouia
First up, we've had a lovely picture of Flavia sent in from Charlotte aged 6. We were so impressed with those artistic skills, we printed it out and gave it to Flavia.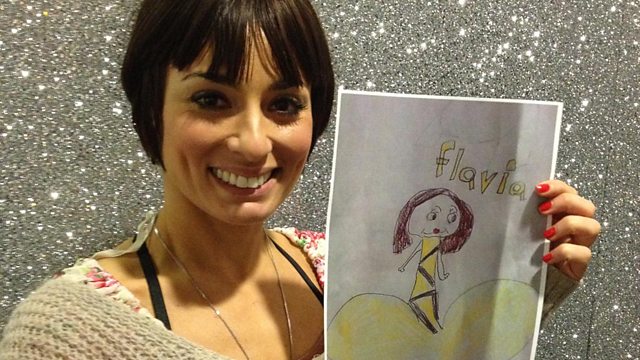 Kees thought that "Louis again a nice performance. We are impressed. But we missed the joy and fun needed to do a smoking salsa" whereas Carrie Stanley commented, saying "Flavs and Louis were living my dream! He was more Patrick Swayze than the man himself"
Which side of the fence are you on? Hot or not? Watch Louis and Flavia's performance again and judge for yourself.
The Results
The sensational opening pro dancer routine had you all hooked on the Hollywood results show. Karen Linley thought that it was an "awesome opening to the show. Bit of glamour and very Hollywood."
We lost our second couple of Strictly 2012 and this is what you had to say;
Jonathan Gilbert thought that "the wrong couple left" while Busflower said, "sniff, sniff, sniff! So sorry for Anton" and Andreabolton also felt the same sadness, saying "so sad to see Jerry and Anton leave tonight. I loved them."
It certainly won't be the same here at SCD-HQ without the glamourous Jerry Hall and always dapper Anton Du Beke but thank you for all of your comments throughout the weekend. 
Don't forget you can always send your questions into It Takes Two for all of our Strictly stars. Remember to include your name and location and they might just appear on the show!