Week Four: Songs and dances revealed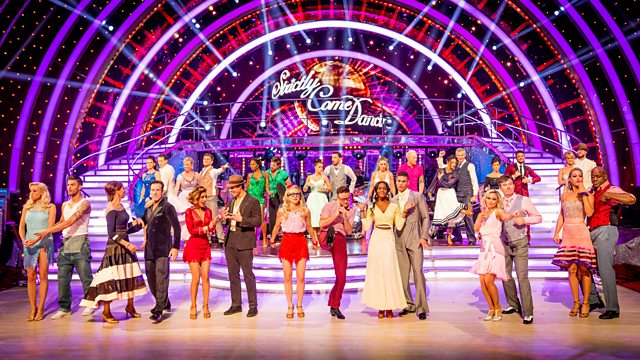 Wow – our eyes are still a little bit dazzled from the bright lights of Movie Week as we sit here picking bits of glitter out of our hair. *blows party horn* Without a doubt, Jay and Aliona's Jive was the Oscar winning performance of the weekend, but with every high comes a low and Sunday saw Anthony and Oti become our second contenders to leave the ballroom. You can watch their Goodbye video here.
Looking ahead to this week, we've got some incredible routines and tracks coming your way - from U2, to Elvis all the way back to S Club 7! So take a peek below and find out who is dancing which routine to what song this Saturday.
Ainsley and Natalie will be Waltzing to What a Wonderful World by Louis Armstrong
Anita and Gleb's Hips Don't Lie as they Samba to Shakira
Carol and Pasha will Paso to Trad's Espana Cani
Daniel and Kristina will dance the American Smooth to Frank Sinatra's Fly Me To The Moon
Georgia and Giovanni will Quickstep to S Club 7's Reach
Helen and Aljaz will Salsa to Miami Sound Machine's Doctor Beat
Jamelia and Tristan will do the Charleston to Straight Up by Scott Bradlee's Postmodern Jukebox
Jay and Aliona will Quickstep to My Generation by The Who
Jeremy and Karen will Jive to Bobby Darin's Splish Splash
Katie and Anton will perform the Viennese Waltz to Elvis Presley's If I Can Dream
Kellie and Kevin will Foxtrot to Dream A Little Dream by Mama Cass
Kirsty and Brendan will Paso to U2's Beautiful Day
And last but not least, Peter and Janette will dance the Tango to New Order's Blue Monday.
So join us on Saturday night on BBC One at 6.30pm and Sunday night for the Results Show at 7.15pm. Who are you most looking forward to watching? Comment below to let us know or have your say on Facebook, Twitter or Instagram.
You can also listen to the Strictly Playlist to hear the original versions of the tracks to re-live every kick, ball-change and chasse!