There were highs, there were lows, there were thrills and there was one rather embarrassing spill (I'm looking at you, Robin). But after an incredibly well contested sixth week, our couples have done all they can do to try and secure a place in next week's Wembley show.
Once again, Denise and James find themselves at the top of the leader board (36) whilst last week's second and third places swap over, meaning that Dani and Vincent and Kimberley and Pasha also remain fixed in the top three.
At the other end of the table, Fern and Artem sit second from bottom with 27 points whilst Michael and Natalie's rather muddled Salsa scored them 26 placing them as the lowest scoring couple of the night.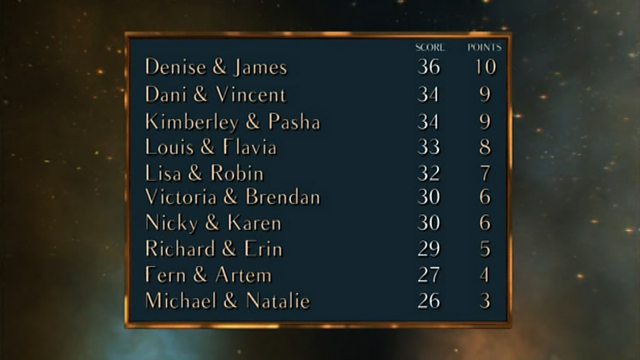 How will YOUR votes affect the scores? Find out tomorrow night as we say so long to another couple.