Halloween Week: Songs and dances revealed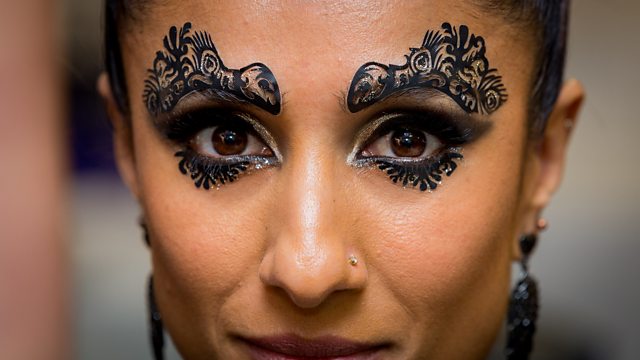 Last Sunday we sadly had to say bon voyage to the jolly TV chef, Ainsley Harriott, but 11 spooky stars remain and have a frightfully fabulous show in store for you this Saturday: HALLOWEEN WEEK!
There'll be boo-tiful costumes, haunting melodies, and – let's be frank(entstein) – even more scare spray than on a normal Strictly night! We're not sure about you, but we're dying to see it!
You can expect a spooky Samba from Helen and Aljaz, a scary Salsa from Jeremy and Karen and a frightening Foxtrot from Peter and Janette. But who'll be the Romeo and Ghouliet of the dance floor, and who'll be putting on a grave face? Without further ado, here are this Saturday's songs and dances, in alpha-boo-tical order:
Anita and Gleb are dancing a wicked Waltz to Once Upon A Dream by Lana Del Rey
Carol and Pasha are dancing a rattling Rumba to I Think I Love You by The Partridge Family
Georgia and Giovanni are doing a terrifying Tango to Ghostbusters by Ray Parker Junior
Jamelia and Tristan are dancing a jeepers-creepers Jive to The Time Warp from the Rocky Horror Picture Show
Jay and Aliona are dancing a scary American Smooth to Lil Red Riding Hood by Sam the Sham and The Pharaohs
Jeremy and Karen are doing a spooky Salsa to Thriller by Michael Jackson
Helen and Aljaz are dancing a spine-tingling Samba to Take Your Mama by Scissor Sisters
Katie and Anton are dancing a petrifying Paso to Phantom Of The Opera by Steve Harley and Sarah Brightman
Kellie and Kevin are dancing a paranormal Paso to Schools Out by Glee Cast and Hedwig's Theme by John Williams
Kirsty and Brendan are dancing a teeth-chattering Charleston to Bad Romance by Scott Bradlee's Postmodern Jukebox
And last, but by no means least, Peter and Janette are dancing a phantom Foxtrot to Ghost by Ella Henderson
So boo-kle your seatbelts and join us on Saturday night, BBC One at 6.35pm. You're in for a frightful ride! Let us know how you think our stars will get on in the comments section below and join us on Facebook, Twitter and Instagram for all the latest Strictly news and gossip. If you like the tracks listed here too, you can listen to the original versions here on the Strictly Playlist. 'Bone' appetite!
P.s. Why did the mummy call the doctor?
Because he was coffin.
Feel free to share more terrible Halloween jokes below!