Another stunning, staggering and stupefying Strictly Show on Saturday saw the standard of dancing reach new levels as our 12 remaining couples took to the Ballroom once more.
Jake and Janette opened the show with a blisteringly fast Quickstep to Elton John's 'I'm Still Standing'. They received 31 from the judges, all of them except Craig awarding them an 8.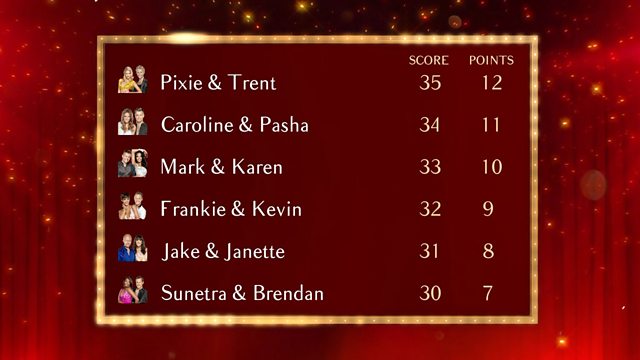 But with the quality of the performances getting better by the week, their score was overtaken by no less than four other couples.
Frankie and Kevin's dreamy Foxtrot to The Monkees 'Daydream Believer' had Len gushing; "you floated across that floor like a butter on a hot crumpet!". They totalled 32 with 8s across the board.
Mark and Karen's saucy Samba to the disco classic 'That's The Way I Like It" thrilled the audience and judges alike. Darcey marvelled that Mark's "hips know how to party". They scored 33, with Ms Bussell giving the first nine of the night.
Caroline and Pasha's passionate Paso Doble was full of drama and intensity. Their fiery routine to 'Live And Let Die' by Wings left all the judges full of praise. Bruno described it as "a wonderful and powerful performance", whilst Craig added "it was impassioned and full of highlights". And with a total of 34, including two nines, from Darcey and Bruno, they must have thought that they were going to top the leaderboard, but…
Pixie and Trent's show-stopping Samba finished the evening on an amazing high. They danced to 'I Like You Very Much' by Edmund Ros, and their tropical-tinged performance had Bruno declaring it "a high camp extravaganza of a Samba". Darcey, Len and Bruno all awarded Team Trixie nines, with only Craig holding back with an eight.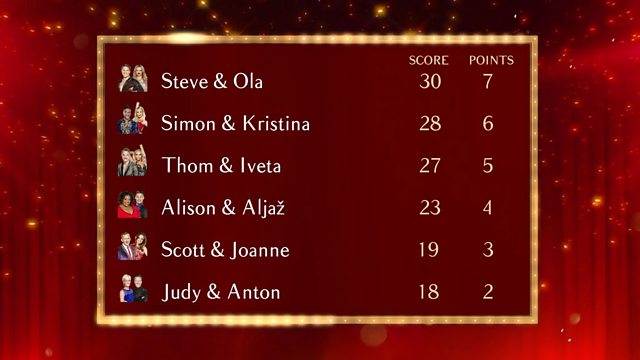 Unfortunately not everyone received compliments form the judging panel, and it was two couples who both performed Charlestons that came under the most intense scrutiny.
Scott and Joanne's performance to Tommy Steele's 'What A Picture 'could only muster a meagre 19, Bruno unflatteringly said that Scott could be "the love child of Ann Widdecombe and John Sargeant", and Craig sniped "I thought a three year old could have done it".
But Judy and Anton's boating-themed Charleston ran-aground and sadly sank to the bottom of the scoring with just 18. Len said that poor Judy had "gone a little bit back this week" and Bruno went further by saying "it was like the Titanic of Charlestons".