12th August 1993
Elastica head to the BBC's Maida Vale Studios to record their very first Peel Session.
17th August 1993
Elastica shake on singles deal with Deceptive Records in the Good Mixer pub in Camden.
"Up to this point.  I'd met with Justine in a pub in Cambridge Circus in the west end of London, and there were obviously a lot of labels interested in working with them. But in the end they went with us. There was no contract at the start. We just spent the afternoon in the pub. I think they signed their publishing deal with EMI at the top of Primrose Hill in the same week." - Steve Lamacq
27th August 1993
Blur play Reading Festival warm-up at Windsor Old Trout. Elastica supported.
28th August 1993
The end of the month saw the Reading Festival kick off over three day Bank Holiday Weekend. While The The are on the main stage, Blur headline the Melody Maker tent, which remains for the most part influenced by Grunge and American Indie Rock.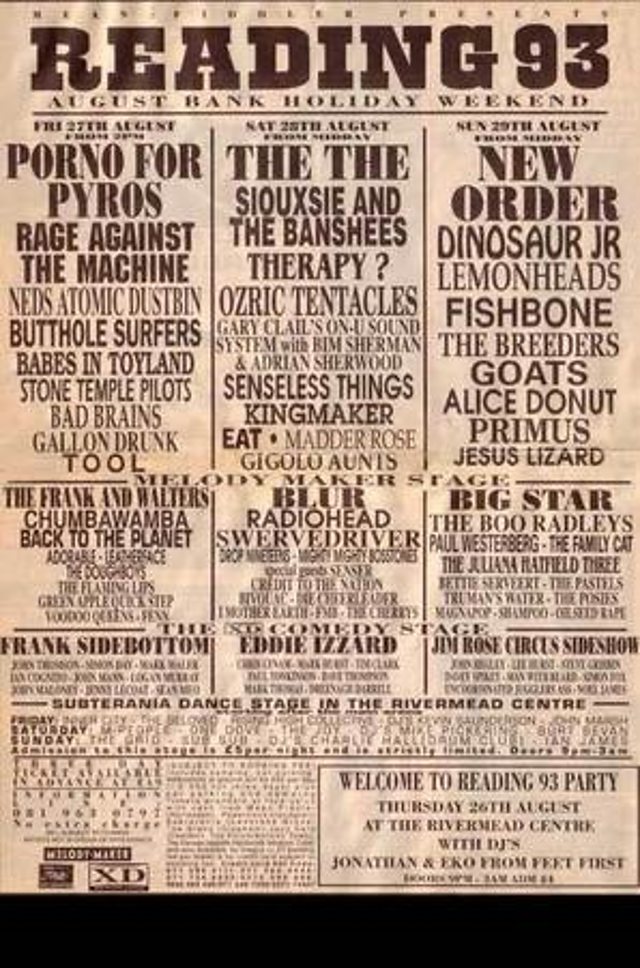 Reading Poster 1993