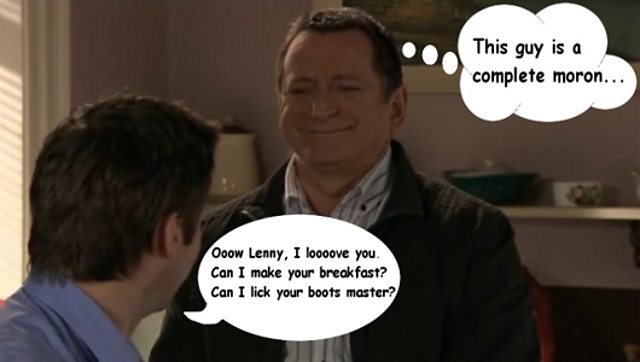 Well, its official Lenny is back in Shieldinch for good - yaldi! And he's opening up a cab firm, hmmm is it a stable business or a front for criminal activities? One things for sure, Legit Lenny certainly has the measure of Feeble Fraser, that boy really is a plonker. He made me mad when he stole Jimmy's business idea but I'm confident that Lenny won't let Fraser get away with anything.
On the topic of Double Denim Jimmy, he just can't catch a break. He was so close to moving back in with Scarlett but then it went wrong again. I hate seeing Jimmy down and out!
Dreich Deek may be out the jail but he's still looking a bit miserable. He's got money problems to deal with and he's found out that it was Jimmy's fault that he was banged up. I'm sure Deek will bounce back though.
There's something brewing over at the Tall Ship with the odd couple Eileen and Raymond. Their living arrangement has been working up til now but it's about to take a turn for the worse. They just can't seem to agree on what's best for baby Stuart, how long will Raymond put up with Eileen's nagging and pushiness? Looks like he's going over the edge in sneak peek for next weeks show! Who's the bloke that he was punching? Well Gary Tank Commander fans may have spotted the familiar face - he's Paul James Corrigan who plays Adam in Tank Commander. I'll not tell you too much yet but I will say that new boy Stevie is set to ruffle a few feathers!
Let us know what you thought of this week's episode by commenting below!
The River City tour guests had a nice surprise this weekend when Tom Urie (Big Bob) made a special one off appearance! There are some brilliant pictures on the River City facebook fan pages here and here you want to take a look. I asked Tom about his visit and this is what he said:
"Had a riot this Saturday. Spent the whole day hiding in the Oyster Cafe kitchen and then jumping out and surprising the tours! It was amazing to see and hear how much people love the show, especially last week's episode, which was like a movie. Some people go on the tour every single year!

I asked everyone what they'd like to see in the show. They mostly wanted Bob and Iona together, and would also like to see the return of past characters like Hazel and Vader, two of my favourite past characters.

Everyone was unanimous that the show is at its best just now. The right blend of drama, comedy and character driven stories.

It was so nice to get feedback from fans of the show, and their faces were a picture at the sight of a larger than life Big Bob!"
What a brilliant surprise for everyone!! While we're discussing it, why don't you tell us what characters you'd most like to see back in Shieldinch and why? Get commenting below!
Random Trivia of the Week
Tom Urie's best friend when he was a child was Gerard Butler.
Quote of the Week
Annie (to Charlie): "Babies can be soothed by skin to skin contact...get your top off." - now Annie, none of us would really object to Charlie taking his top off but I don't think I'll be using that chat up line anytime soon!