Eileen Vs Raymond – The Vote is On!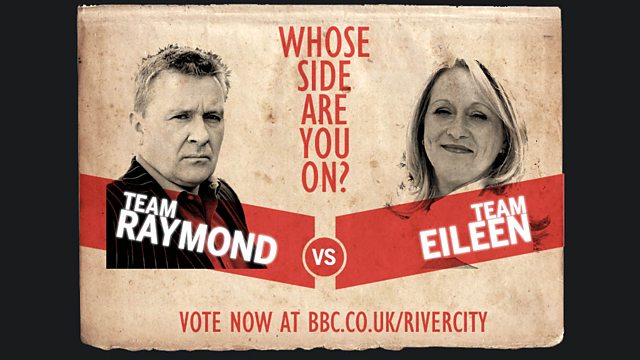 Ahhh love. It's a complicated thing.
 Think of the world's great couples. Barbie and Ken. Justin and Britney. Henry VIII and…all his wives. What do they all have in common? They didn't last.
Oh, we forgot one more famous pairing. Shieldinch's favourite pub landlord and his good lady of many years – Raymondo and Eileen.
Now these two haven't been 'together-together' for a while now, but with all that history behind them, and wee Stuart's future ahead, they kept on good terms. Not anymore it seems. What with Raymond's secret murdering ways and Eileen's alliances with dodgy property developers, it doesn't look like they're going to patch things up anytime soon…
Neither of our contenders are saints, but whose side are you on?  Who do you think is doing the right thing….or the wrong?  We want to know what you think!
Over the next few weeks, we'll be asking you guys to vote on what you think about Raymond and Eileen's actions. It's time to pick your side –
Team Eileen or Team Raymond?
Just pop back to the Official River City BBC Website after tonight's episode for the first vote – and tell us what you think!
The vote will begin after tonight's episode (13.11.12) and will close on 20.11.12. Get in quick!