RUMBLE IN THE JUNGLE (ISH) COURT ROOM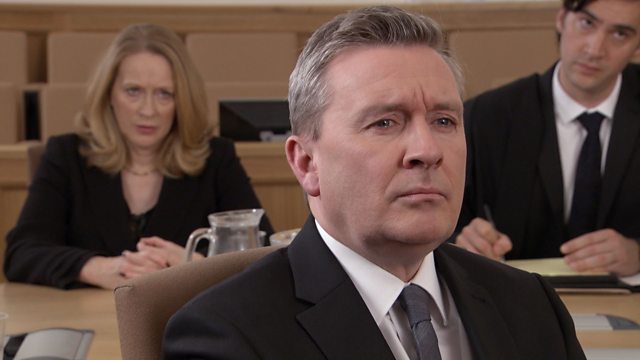 Well, City-ites, it's been a while. But though we might have been AWOL, the fireworks in Shieldinch never stop! Over the festive season, we pushed Scarlett into a Christmas tree, exposed Nicole as an evil cyber-bully and pushed Will even further to the dark side with some help from that little devil Edward. Oh, and don't forget Randolph the Dog. Who could have asked for more?
Well…us! We saved the most explosive drama for the first of those dark cold January nights that we've all been dreading.  For weeks we've been asking if you're on Team Eileen or Team Raymond, and this week Shieldinch's resident power couple took to the courtroom as they fought for permanent access to wee Stuart.
The sides looked evenly matched as they went into the first round, Raymond supported by fellow Bromancer Murray by his side, whilst Family Hamilton threw looks alternating between sympathy and daggers as the drama unfolded. Things might have been civil at first, but you know Raymondo and Eileen. It was never going to last. And the world's two sneakiest barristers were on hand to stir the pot as much as possible - with a wink and raised eyebrow Eileen' barrister played the Columbo card and managed to outsmart the room as his comedy bumbling hid an acid tongue.  We can't believe he ripped Stevie apart on his birthday, his birthday?!  Don't the courts have any sense of occasion?
(Talking of such, we've been swooning since last night about the thought of Stevie in his birthday suit. Wait…no. Don't be filthy! We're just saying…he can give evidence for us anytime…)
But the truth had to come out eventually. Both Raymondo and Eileen have had their fair share of shenanigans over the years. Those barristers should've had plenty to play with. Well yes Ma'am, there was that time Raymond killed a gangster then blew him up in a gas explosion. Then there was the arms deals going on in his pub.  Oh, and ghosts of said gangsters do roam the corridors. But apart from that…
…Oh dear.  Eileen didn't fare much better. It was a shame Malcolm actually remembered the burning iron, and leaving Stuart on the subway. And then everyone remembered that he lived with a former pimp and wannabe gangster and suddenly the subway seemed like the safest place for Stuart to be.
In the end, if you play dirty you've gotta be prepared to get covered in muck. But it was Raymondo's attempts to save Eileen that backfired on him in the end – forcing him to give up everything. No Stuart, no home. Now no Ship.  Though there's a chance that with Lenny in charge, there could actually be fewer gangsters in the pub. There's a thought.
One thing's for certain, with Lenny in charge Scarlett and Molly won't be pulling any more of their moonshine out of their pram for a while! It might have looked harmless enough, but judging by the state of Gabriel and Malcolm, it packed one hell of a punch.  It wasn't long before the pair were facing Liz's wrath…already stressed by the poor timekeeping of charity organiser Maurice Norris, it's a wonder Liz wasn't a bit more handy with her handbag at the site of these two stumbling around her front room. It's no surprise she enjoyed the respite provided by a cup of tea handily made by Maurice, who made himself well at home in the Hamilton household…surely…he doesn't have designs on Malcolm's fair lady?
Next week, Liz's charity fun run bursts into Shieldinch. Ahh there's nothing like a long distance run in the bracing Glasgow wind to knock the Christmas stuffing out of you!
Quote of the week:
MOLLY: (on the pram-disguised moonshine) What will we say if somebody wants to look at her?
SCARLETT: We'll say she's an ugly wean.