So it looks like Nicki's had it with Shieldinch - a cab zipped her off to the land of Spanglish and sangria, into the well-tanned arms of Shirley, her substitute mum. She leaves behind a cheating fiancé, the stench of engine oil, a squad of mates and a whole gaggle of memories. Who knows if we'll see Nicki again on Montego Street but the actress who plays Nicki has got Broadway firmly on her mind. Talented Jayd Johnson has taken up a place at a prestigious acting school in New York and she has started her studies. Are we jealous? Hmmm... Central Perk or Kinning Park?
We caught up with Jayd to find out all about her new life in the Big Apple, and she sent us a snap of her enjoying an icy February day in Manhattan.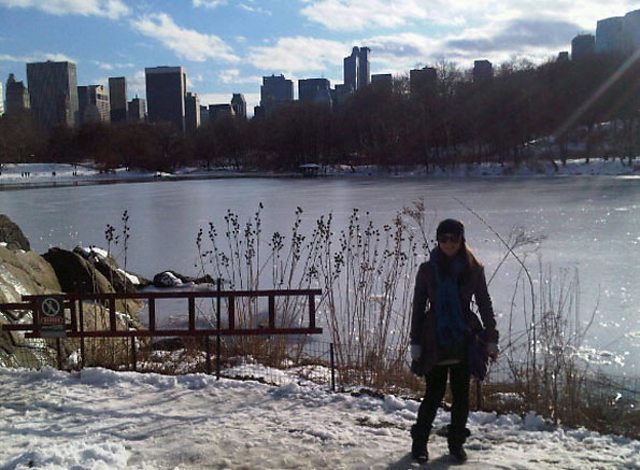 "I arrived in NYC on the 5th of January this year but I had a really bad flight, and got earache, so when I landed I went straight to the hotel and into my bed. So my first day in New York was spent in bed! But on the second day we went to Times Square and I think that's when it hit me that I was in New York! I sat on the red steps and it was such a strange feeling because all I could think was 'I live here now' - amazing!
"The city is amazing - it's so much more than i imagined! I walk past the Empire state building every day to get to school.
But was it sad saying farewell to her friends in Shieldinch and Scotland?
"My last week in Glasgow was amazing - my friends actually had two nights for me leaving, they threw me a leaving party at a bar in town and I got to see all of my friends. Gordon McCorkell and Lorna Anderson were both there. And then the night before I left I went for dinner with my best friends and family. Sam Robertson was there and, of course, Laura McMonagle. So it was great getting to see them all.
"I found it really hard saying goodbye to my friends. My mum, dad, sister and brother-in-law all came to New York with me for my first week so I didn't have to say goodbye to them in Glasgow. It was such a hard thing having to say goodbye to them and I do miss them a lot.
So now she's settling into New York life. As a student surely it's all long lies, the odd lecture and beans on toast? Don't think so!

"The course is really busy and I take seven classes in all: theatre history, acting, movement, voice and speech, speech practicum, vocal production and Alexander Technique. I've learnt so much already and I have only been here a few weeks! Among the plays that I'm loving are 'True West' by Sam Shepard and 'Hooters' by Ted Tally. The workload is very intense - we have a lot of studying to do in terms of writing play reports and reading but I am loving it so much."
So will Nicki return to Shieldinch? Who can say but, for Jayd, the door in Dumbarton is always open. The cast and crew of River City are proud as punch of her achievements and they'll always be glad to hear from her. We wish her well with her studies and look forward to hearing about her future success.
You can watch our exclusive video interview with Jayd now, and visit our 'Gangs to Gaskets' photo gallery to relive her time in River City.