Aaaaaaaaangie! You Don't Have to Turn on the Red Light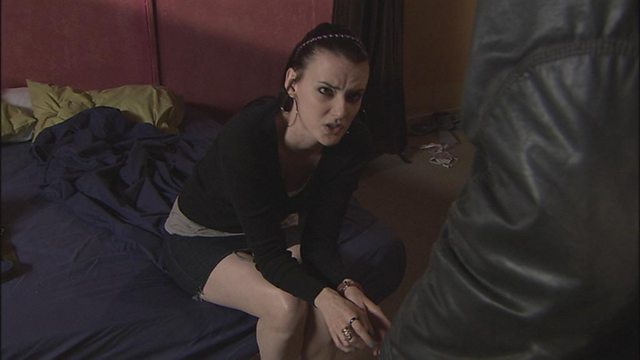 Angie's reaction to her reassignment
Jeez Louise, we've been waiting on that for weeks now! All Hail the return of Sir Gabe! He finally lost the black jacket of pimpdom and donned the white hat of a hero. F-i-n-a-l-l-y. We were more than a little worried that Gabes was so scared of Sean that he wasn't actually going to help Angie when Sean decided to send her to his mate's flat in Newcastle (which sounds like the seventh circle of hell from Angie's description). All it took was for Angie to confront Gabriel with the spineless Yes-Man he was becoming for him to see the light.
Well. That and realising the complicated web of connections between him and Angie, up to and including Nicole, Cammy, Sean and his bro Michael, all sung to the tune of 'It's a Small World After All'. The people you meet in the strangest places, eh! It was sweet to see Nicole and Angie reunited after the last time they met and for Angie to confront Nicole with a couple of home truths. There may have been affairs happening all over the shop with The Geyla but at least Nicole had a home to come back to and people that cared about her. Poor Angie, it was heart-breaking to hear that the only person she felt ever cared for her was Cammy Tennant (aka Cam the Bam). She deserves so much more. Good on you, Gabe. You finally managed to do something right and put Angie on the Clockwork Orange to a brand new life. 
But now we are holding our breath. Has the sun finally set on the awful, awful reign of Sean "Shady" Kennedy? Has he gone forever? He did seem pretty panicked when he waved a gun in the Don's face and he did manage to get Tony the Tiger-Gangster nicked at his arms deal. All in all, looking pretty stupid for him to stick around. But, as Lenny says, how much do we trust Sean Kennedy to be smart?
Across town, Big Bob was handling his recent brush with death with some rice cakes and a large helping of denial. According to him, everyone was overreacting and setting up a healthy-snack lined prison. He's fine! It took a very quick game of tig with Madonna to convince him otherwise. After everything that happened last week, even Iona raised her eyebrows; telling him to take better care of himself as she broke the news that she was leaving for good. Poor Iona, she definitely looked like a film star and a tragic one at that as she hugged her loved ones goodbye and left Shieldinch for good. Cheerie, Iona! We'll miss you. 
Next week:
Raymond finally gets a break from Shady Sean and is hit with the pub being closed. IN THE FACE! Gabriel is looking cheerier than ever and is that a new ability to talk with Nicole we see?

Quote of the week:
TATIANA: *as Bob starts to get up* Don't! Even think about it.
BIG BOB: Aye, well, I'm quite comfy right enough.