Sir Gabriel Of Brodie and The Tale of His Pesky Scarf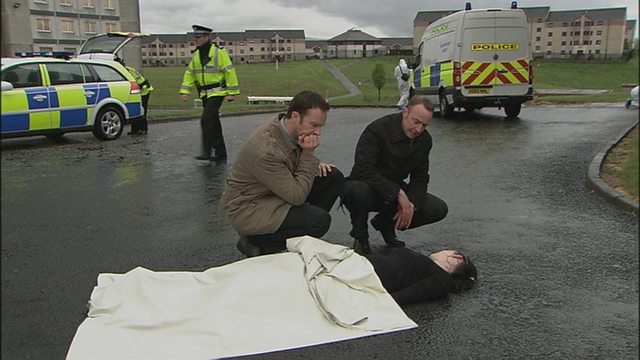 Donald and Will look on the dead body of Angie
Woah.
Well that was an emotional rollercoaster wasn't it?  As the bodies piled up in Donald's hood, things were heating up for Gabriel in Shieldinch.   Who knew they'd be pulling everyone's favourite prostitute Angie from under that blanket? Packed off on the subway, we, like Gabriel, were convinced she'd make it to the safety of London and away from the clutches of Shady Sean. Sad face. But never fear, Donald and Will are on the case.  And Donald wanted every nook and cranny checked for evidence (or maybe more bodies).  Every hedge, every skip and every bin (we're guessing wheely bins, wastepaper baskets don't hold as much evidence!).  If he could just clear these pesky murders up, he'd be the best officer in the land.
But while Donald and Will were hitting the streets to catch this murderer, poor Gabe was walking the streets of Shieldinch happy as larry. He had no idea Angie was kaput. He thought she was enjoying the Olympic delights of London.  The key mistake everyone made though was to believe that Sean was really gone.  He's still got a few of those dodgy laptops to shift. And not one to hide in the shadows for too long, Shady Sean rocked up at the least likely place - the police station -  with a face full of concern.  And what are those, tears?  Is he…acting?  Turns out Sean is a bit of a thespian at heart.  And referring to Donald and Will as Batman and Robin?  Didn't we start that?  Has Sean been reading our blog?!
So just as Gabriel was trying to patch things up with the family – the police reared their ugly heads.  The revelation that Gabriel brought Angie into the Brodie House to keep her safe holds no sway with Leyla – she wants nothing more to do with him.  Is this the end of The Geyla…for good?
After all that, Gabriel's arrest in the street, for all the world to see. Here at RC Towers we've not screamed at the TV so loud in a long time!  GABRIEL IS TELLING THE TRUTH – HONEST DONALD!  Angie took his scarf…she did. The fight really was faked – really! We thought Hamish was coming to the rescue for a moment, but the appearance of Angie's jacket dumped outside the arcade…that's pretty damning.  Surely Sir Gabriel of Brodie isn't capable of something like this? And so we left Gabriel in the cop shop wondering where it all went wrong.  I think it started with some dodgy booze and a van full of laptops.  Such simple beginnings.  Let that be a lesson to us all, kids.
And when Sean wasn't turning on the waterworks for the polis, he was tormenting poor Raymondo once more.  Flirting with a terrified Eileen and threatening little Stu-Stu?  Well that pure gave us the creeps.  Forced into a corner, Raymondo thought he had no choice but to go to Lenny for help…and a gun.  Oh Raymond, gone are the days when the mere threat of a gun was enough to scare away a gangster.  Once upon a time, hide a banana in your coat pocket, and it would be enough.  But Lenny's right – you point a gun at Sean, you might have to use it.  He's well used to getting his five-a-day.
With all the stress of a double murder and Donald on his back, Will's stressed at work again.  NO WILL, PLEASE NOT AGAIN!  We loved Robbie's act of defiance in opening the door to Deek…but little did we know it would end as it did – a hit and run on Montego Street!  Poor Deek, trying to protect his bezzie, and running into the path of an oncoming car.  We're keeping fingers, toes, eyes, everything crossed for wee Deek's health.
Next week: It's all happening in Shieldinch, with the aftermath of Deek's accident, Gabriel's arrest and Sean continuing to turn the screws on Raymondo.
Quote of the week:
Eileen hands Raymond a letter suspending his license.
Raymond: I don't believe this.
Eileen: You had gangsters in here doing an arms deal.  There was a sub-machine gun in the flippin' bar, what did you expect?
Finally – a big congratulations to everyone who won tickets to see preview screenings of the 10th Anniversary Episodes over the next couple of weeks.  We're looking forward to hearing what you think on next week's blog!