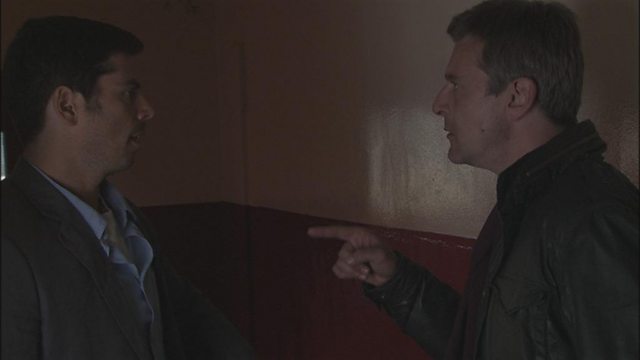 Dan confronts Gabriel at Sean's flat.
Oh, dear. *Dabs eyes* We were all getting very teary-eyed as Doctor Dan said his goodbyes and took the long taxi ride out of Shieldinch to start on pastures new in North Africa. He even managed to make up with BFF Gabriel before he left and it looked like these two would never speak again after Dan found out Gabe's secret about working with Sean. After his lovely safe send off from Malcolm, Liz and the Health Centre staff, it must have been quite a shock for Dan to find out just why Gabriel's not been hanging out round the Arcade so much. You could have cut that scuzzy brothel air with a knife when he blasted his look at Gabriel.  You know the one, it's like that awful look your mum used to give… I'm not mad. I'm just disappointed. We're surprised Gabe didn't spontaneously combust from the glare.
What ever happened to Sir Gabe, knight in shining armour? He's got a bit tarnished now, especially when he didn't let Dan phone an ambulance for poor new girl, Charlene.  Maybe this will be the nudge our Gabriel needs to find a way out of his horrible situation? Or maybe not. When Gabe finally got a chance to explain his side of the story and the whole tangled web of Leyla, Michael and Shady Sean came spilling out, poor heroic Dan's head must have been spinning. We were all set for Dan and Gabriel, the dynamic duo, to save the day when the good doctor offered to stay. But we kind of have to agree with Gabe's assessment. Dashing as he may be, Shieldinch's resident George Clooney wouldn't have had a snowball's chance in hell of scaring off Sean.
But! There was hope across the Street. We had out the Lenny flags and the Lenny bunting up, all ready to see him gangster-off with Sean. Things were looking up and, judging by how scared Sean got with Lenny's mention of the naughty step, the Don certainly has a better chance of chasing him off than the Dan. But no. Ever a dark horse who marches to the beat of his own….cab  horns, Lenny is still refusing to get rid of Sean once and for all. And for all his protests of it not suiting him and playing the long game, we are just a teeny bit suspicious that the lordy doth protest too much. Are you a bit feart, Lenny? Come on! We believe in you! Sort that Sean out and send him to bed without tea.
 On the other side of the street, things were looking a bit brighter with Iona winning £50,000. Um....we'll have what she's having! And it seems like it might be what she was thinking after she saw Tattie with Doctor Dan.  That was some nifty fishing with Molly, Iona, we were very impressed. But what's your game, missus? We'll have to wait and see.
Next week:
Could this be the end of Tattie and Bob, Shieldinch's starcrossed lovers? And is Iona making her play for Bob's big heart?

Quote of the week:
LENNY: Look, I'm going to make this simple for you. Do what you want but stay away from my family.
SEAN: Or what?
LENNY: Do you want putting on the naughty step?