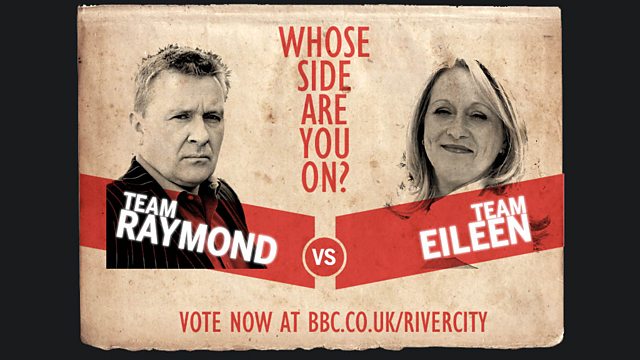 Wowsers! It seems you guys love some emotional fisticuffs! 
It's been a brilliant response to the vote and lovely to see all of you guys tweeting and facebooking about our Team Eileen vs Team Raymond debate. Keep it up!  We particularly loved the idea of getting #teameileen and #teamraymond to trend....let's do it!
Now, in true Strictly style (I've always wanted to say this!), the votes have been counted and verified and I can now reveal that the winner of this week's vote, overwhelmingly is....
TEAM RAYMOND!
With a whopping 80% of the votes, Raymondo was the clear favourite after last week's episode. Eileen's shenanigans with Mark Vincent and his evil evictions were just too much for most of you, who will be all too happy to see Eileen get her comeuppance by the looks of it. She might have tried to persuade him to leave his illegal-ness behind and let the Shieldinchers stay, but it fell on deaf ears unfortch. Boo Vincent!
So the people have spoken, and you're with Raymond at the moment. Or Raybo as my Mum calls him. He's a man of many colours apparently. (Yep. That was a terrible Mum joke. You're welcome). But in this battle of deadly foes, can he keep the upper hand?  Will Eileen redeem herself? Our next vote begins again after the episode on 4th DECEMBER (almost Christmas!) so make sure you let us know what you think then!
Until then RC Massive, until then....