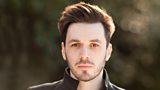 Roddy Hart
Presenter, Roddy presents the Thursday evening "Roddy Hart Show"
Blog posts in total 32
Posts
Roddy Hart  reflects on the pitfalls of leaving a band and going solo after being in an already succesful band.

Roddy Hart focusses his attention on the California music scene.

Roddy Hart provides a glimpse of what to expect on his Thursday night's show and profiles the great R.E.M

Roddy Hart reflects on the music icons from his childhood.

Roddy writes about the first impressions created by the name of a band.

Roddy writes about the roots of his love for American music.

Roddy writes about the start of the festival season and the return, after a year's sabbatical, of Glastonbury. Roddy shares his Glastonbury highlights and looks forward to the artists featured on his weekly Radio Scotland show.

Roddy reflects on the music legends that have visited Glasgow this June as well as those legends still to arrive.

Roddy writes about his obsession with Springsteen which began because his barber, back in his time as a skint student, was a devotee of "The Boss". He writes about how initially he was intrigued by the fanaticism but quickly became a devotee himself. The reason Sprinsteen is on Roddy's mind ? "T...
Previous

1