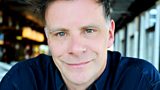 Ricky Ross
Presenter, Ricky hosts Another Country and is one of the presenters of Sunday Morning with...
Blog posts in total 26
Posts
Ricky returns to friday nights with his Americana show.

Ricky reminisces on holidays, festivals and his Friday night show.

Ricky Ross shares some of his musical moments from Glastonbury 2013.

Ricky Ross reflects on meeting Loudon Wainwright III and his family for his Wainwright Family Special edition of Another Country with Ricky Ross.

Ricky shares his memories of listening to Neil Young's music over the years and his hopes of attending the singer songwriter's upcoming concert in Glasgow. Ricky also introduces the new artists that will feature on this weeks show - Ralfe Band, Valerie June, Slaid Cleeves and Daniel Meade.

Ricky relates stories from Nashville.

Ricky Ross describes how music can help alleviate the shock of the week's news.

Ricky Ross gets prepared for a very big, noisy and exciting show...

Ricky muses over life on the road and meeting Another Country listeners...
Previous

1