The Return of The Pickerskill Reports: Series 2
Behind the scenes during the recording of the second series of The Pickerskill Reports.
Series 2 starts on Wednesday 27th July at 11:30am
For four days in April an ordinary house in London became Haunchurst College for Boys, the setting for The Pickerskill Reports. The kitchen became the dining room; the garden became the college grounds, the forest, and playing fields; the living rooms the offices, staff room and study and a vaulted room, the school classroom and school hall.
As the holder of the recording equipment I was essentially the headmaster, marshalling Ian McDiarmid as Dr Henry Pickerskill, Sheridan Smith as the wily Lady Beauchamp, pupils Kris Saddler, Jack Edwards, Joe Cooper, James Rowland, Louis Williams, Harry McEntire, Tom Kane, Jahvel Hall and fellow masters and staff Toby Longworth, Michael Feast, Mike Sarne, Mia Soteriou and Tony Gardner, in and out of different rooms.
At times it felt like a bizarre Edinburgh Fringe show where actors take over a town house dragging the audience with them as they perform scenes in different rooms.
Why do this for radio when you can simply gather everyone around a microphone?
Well, because it feels very real. Everyone is in motion, charged with a happy tension, no one is hanging about in a green room and the atmosphere of a school comes alive through this dynamic, fast moving recording session.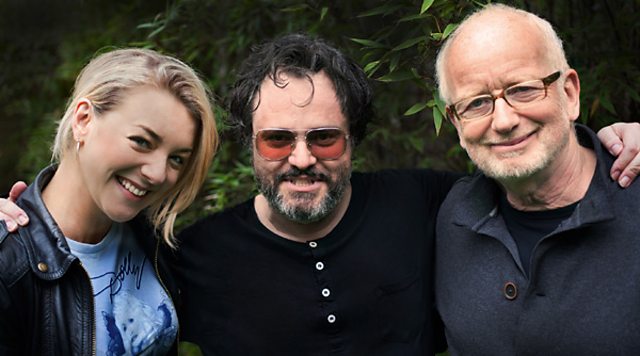 Sheridan Smith, the holder of the recording equipment and Ian McDiarmid
School days were not the best days of my life so Dr Henry Pickerskill is perhaps a projection of who my favourite teacher might have been - a responsible English master, who inspired me, who I most wanted to emulate, who came closest to revealing possibilities for adulthood and revealed that the predictable cycle of human folly should not put me off trying to punch through the walls of conformity. Owwch!
There is always something compelling about school stories the pupils and the teachers in particular. You know who the famous fictional ones are - Mr "Chips" Chipping, Miss Jean Brodie, Rattigan's Andrew Croker-Harris and Miss Camilla Dagey Fritton of St Trinian's.
As Dr Pickerskill looks back, his memoirs are soaked in mordant observations about human nature, his shortcomings, those of the staff and the wonder and promise of those boys he deems to possess "originality". Their letters back to him, form the core of each tale and seem to bear out his belief that they were going to be significant in some way - often with the police not far behind! Of course he can't help deploying his "spirited iconoclasts" sometimes to get himself out of tricky political situations that emerge at Haunchurst College but in spite of his honey-tongued, waspish and ever-so-slightly pretentious prose style as Dr Henry Pickerskill, he is the extraordinary teacher.
And for four intense days, an ordinary house becomes the extraordinary Haunchurst College!
Andrew McGibbon is the writer and director of The Pickerskill Reports