The Front Row Boxing Day Quiz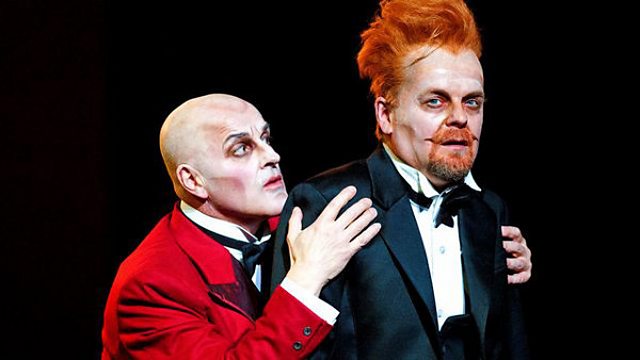 The Damnation of Faust at the English National Opera
Tempted to test your memories of the year's music, films, books and more? Then try these two:
1. What links John Cleese's Alimony Tour, The Damnation of Faust at the English National Opera and a new short opera The Doctor's Tale at the Royal Opera House?
2. Which 2011 memoir, by a very popular poet and performer, includes these lines:
The following week it was all over the local paper alongside Arthur Titherington's photograph of me lifted from the cover of my booklet. "Local girl a hopeful for Opportunity Knocks" read the headline with all the dates and information I had given him. My friends were astounded.
Answers below - but don't tell your family or friends. You can remind them of your wide-ranging cultural knowledge when you tune into the Front Row Boxing Day Quiz on Monday at 7.15pm.
Mark Lawson leaves his regular seat in the seclusion of studio 50C for the question-master's chair beneath the bright lights of the Radio Theatre in Broadcasting House, London.
There he lines up these and many more cultural brain-teasers for two competitive teams with buzzers at the ready. Historian Antonia Fraser, crime writer Mark Billingham and Downton Abbey's Dan Stevens face a team of writer and performer Natalie Haynes, playwright Roy Williams and actor and writer Michael Simkins.
It's quite a contest, and even features an artistic "What Happened Next?" round.
John Goudie is the editor of Front Row on BBC Radio 4
The Front Row Boxing Day Quiz is on Monday 26 December at 7.15pm on BBC Radio 4 and online shortly afterwards.
Answers:
1. All works involving members of the Monty Python team - The Damnation of Faust was directed by Terry Gilliam, and The Doctor's Tale features a libretto by Terry Jones.
2. An extract from The Necessary Aptitude by Pam Ayres.