Gironimo! Riding the very terrible 1914 Tour of Italy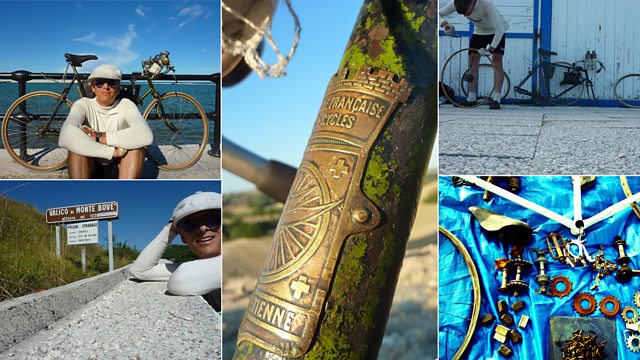 The terrible, glorious moment that hooked me on cycling was
Stephen Roche collapsing
just past the line at La Plagne in the 1987 Tour de France, oxygen mask clamped to his waxen face, eyes a million miles away, too far gone to grasp that his extraordinary, soul-flaying effort had all but won him the race. That, with apologies to
Roche's
loved ones, was what professional cycling was meant to be about. It was what inspired me to tackle the route of the 2000 Tour de France. But by then we were into the
Lance Armstrong
era, and something had changed. Riders, in the preferred argot of endurance sport, just didn't seem to bury themselves any more. When the camera closed in on a rider's face, you rarely saw suffering. You saw concentration. It seemed like an insult to the suffering endured by champions past, and indeed by me.
Twelve years on and the wrong side of 40 – the extremely wrong side, the one hard up against 50 – I began to plot another over-ambitious cycling mission. Something epic, a challenge from the old school. Giving Lance the finger and hoisting a salute in tribute to cycling's whey-faced, lion-hearted heroes of old. I was going to bury myself one last time, before someone else did it for me.
Turning to the internet, I searched for 'Hardest ever grand tour' and my fate was sealed: 'The 1914 Giro was without a doubt the hardest-ever Grand Tour, a staggeringly difficult race that proved too much for even the greatest champions of 'il ciclismo eroica'…
Il ciclismo eroica succinctly embodied the spirit I hoped to recapture. Between the 1920s and early 50s, the Italians - while winning almost as many Tours de France as did the French - maintained a monopoly of their own national tour, the Giro, which had cemented itself as cycling's second-most prestigious race, and first-most gruelling.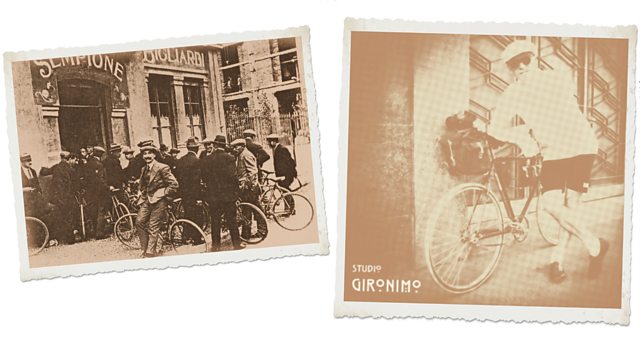 'There's so much more carnage than at the Tour,' said Bradley Wiggins just before the 2013 edition. 'You keep thinking: "Why on earth did I choose to do this bloody race?'" This was the race that Lance Armstrong – hah! – dared enter only once, and then came eleventh. The race that Bradley Wiggins, in five attempts, has never managed to finish inside the top 40. The race that as recently as 2011 claimed more than a quarter of the starting field. I'd just begun to warm to my task when I made the mistake of opening veteran journalist Paolo Facchinetti's study of the Giro d'Italia's uniquely onerous eighth edition.
The 1914 'Giro of records' in numbers:
Longest ever average stage length: 396.25km
Smallest number of finishers: 8
Highest percentage of retirements: 90%
Longest individual stage by distance: 430km, Lucca-Rome
Longest individual stage by time: 19h 34' 47", Bari-L'Aquila
Beyond these bullet points of doom, Paolo's account was vividly appalling. Stages that started and ended in the evening, requiring a 19-hour non-stop ride through the night on gravel roads. Bikes that weighed twice as much as Wiggo's, even before they were loaded up with the supplies, spare tyres, clothing and tools that every rider was required to carry. You were lucky if you had two gears, though not that lucky: changing between them meant getting off to flip the back wheel around.
Competitors were largely fuelled on raw eggs, stored in the front pocket of their heavy wool jerseys and cracked open on kneecaps. The performance-enhancers of choice: strychnine, self-evidently not a drug for the risk-averse, and the vino rosso that almost every rider kept in one of the two tin bidons rattling about in his handlebar rack.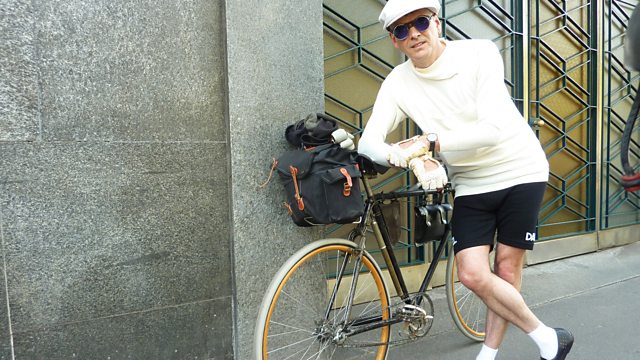 For me, to pay meaningful homage to the 1914 Giro competitors meant doing everything as authentically as possible. To suffer as they suffered I must go where they went, ride what they rode and wear what they wore. This meant a plain white woollen roll-neck jersey with buttons down one shoulder, hand-stitched for me by a man in Parma. It looked like the sort of thing a Scottish islander might put on before going out to catch deep-sea fish – not optimal when the digital thermometers outside every Milanese chemist told me it was 41 degrees. The real horrors, though, kicked in from the neck up. Research and the photos in Paolo's book had besmirched my internet history with searches for 'vintage blue lens safety goggles' and '8 panel white linen baker boy hat'. Thus kitted out, my reflection in Milan's shop windows said I could have saved time by typing in 'alarming Seventies pervert'. Fathers who saw me pass would shout well-meant encouragement: 'Eh, Fausto Coppi! Eh, old-style!' Mothers tended to gather their children close to them until the bad man had gone.
Beyond the sat-nav clamped to my rust-scabbed top tube, my most significant deviation from authenticity was to start in late August. The 1914 Giro rolled away down the Corso Sempione just before midnight on May 24; within three hours a ferocious spring storm was blowing riders off roads flooded knee-deep in mud. It raged on through the night, evolving to a blizzard as the survivors approached the Alps. That was only half the fun. Sabotage, rife in rural areas where bicycles were still feared and hated, found expression near Lake Maggiore, in bucketfuls of nails and tacks thrown out from the shadows. The reward for indentifying a nail-chucker was generous: anyone who turned in three would have earned more than the Giro winner. No one did though. The lucky riders got through with just a couple of flats; others found that the three spares they carried about their person weren't enough. For many of the pros, the Giro was over before it had begun.
Feeling a bit too hot didn't seem to qualify as empathetic distress, though proper misadventure didn't keep me waiting. An hour into the second day, my leather saddle – the deeply crevassed Edwardian original – snapped clean in two. Rural Italy isn't overloaded with bike shops: looking back, the 65km I managed to ride with a rusty bolt up my gusset ranks amongst the most impressive feats of my adult life. The distressingly modern replacement I sat on thereafter added a new phrase to the very strange holiday vocabulary I was building up: I could tell a native hotelier all about cotter pins and apologise for my non-original saddle, but requesting a single room always involved sign language.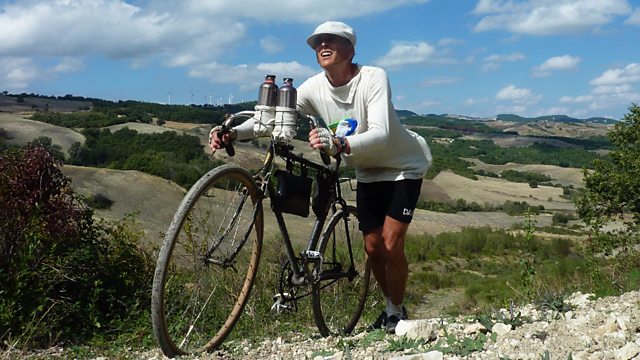 Going up the Alps without gears seemed almost inhuman. How very glad I was for the precedent exposed in the photographs that illustrated Paolo's book, many of which depicted mud-faced riders pushing their bikes up hills. Going down it was in many ways worse: one of my cork brake blocks fell out and I ended up trying to scrub off speed by planting both shoes onto the speeding tarmac. Fun fact: more professional cyclists were killed in 1913 than in any year before or since.
Less than half the 1914 peloton made it over the Alps, the survivors so thickly encased in frozen mud that officials couldn't tell them apart. Amongst the casualties were most of the pre-race favourites, including double Tour winner Lucien Petit-Breton, and his Atala teammate Freddie Grubb, a silver medallist at the 1912 Olympics and the first Englishman ever to enter the Giro. (A teetotal vegetarian, Grubb was so harrowed by what had been his professional debut that he never rode another race. It would be 52 years before another Brit dared enter the Giro.) The morning after this apocalypse, race director Armando Cougnet was asked if he regretted setting such a severe challenge. 'Not at all,' began his cheery riposte. 'As long as one rider finishes, that's enough for me!'
Shattered wheels, broken arms, snapped forks and kidney failure: the daily toll of retirements would bring Cougnet's brutal vision ever closer. By then the race lead had been almost surreptitiously assumed by Alfonso Calzolari, a rider from Bologna with a journeyman's record: at 27, he could boast just one victory in a small regional race.  
It was taking me four days to do stages that Alfonso and friends finished in one, but I can't say it didn't hurt. My knees seized up in La Spezia, and outside Lucca my brain boiled dry. The Hirondelle and I descended one of Chianti's steepest hillsides side by side. By Bari my mangled cotter pins were wedged in place with nails and bits of wire, and I was getting ever shorter shrift in my quest for mechanical assistance. 'Your bici no for road,' said one typically disapproving bike-shop manager. 'Is for museo.'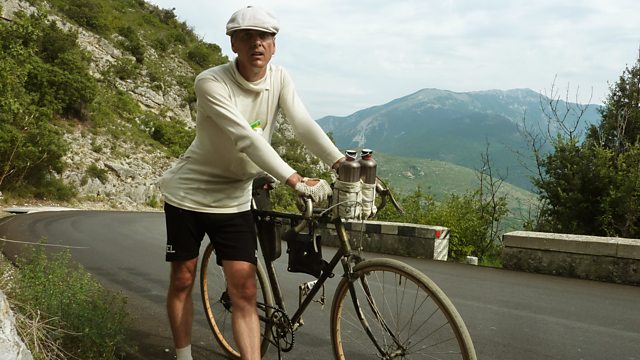 Along the way I honed the most profound respect for what the 1914 riders had endured. Riccardo Palea lost an eye in a collision with a horse-drawn carriage, but still turned up at the start line the next day. Mario Marangoni finished every single stage a distant last, never less than four hours behind the winner, but ploughed doggedly on. Calzolari, stubbornly defending his improbable lead, had to fend off relentless dirty tricks. He sustained mysterious punctures at crowded registration desks, and once while carrying his bike up a hill amid a ruck of rivals. In Bari a shadowy stranger woke him in his hotel bed, offering him twice the winner's prize to throw the race.
When the Bianchi team successfully convinced officials that Calzolari had completed part of stage 6 on the running-boards of a car – a trumped-up allegation he furiously denied – the three-hour penalty handed certain victory to their rider Giuseppe Azzini. Or should have: Azzini disappeared near the end of the same stage, and was found the next morning in a barn miles off route, mumbling and disorientated. Along with his extraordinary exploits in the previous two stages – he had won both by over half an hour – this sorry episode suggested a heavy hand on the strychnine bottle. But then by this stage the survivors were all losing it. When an over-zealous customs officer tried to confiscate a flagon of Barbera from Giovanni Gerbi's saddlebag, the feted rider kicked him unconscious. Gerbi retired a few hours later with 'a swollen and turgid right leg'.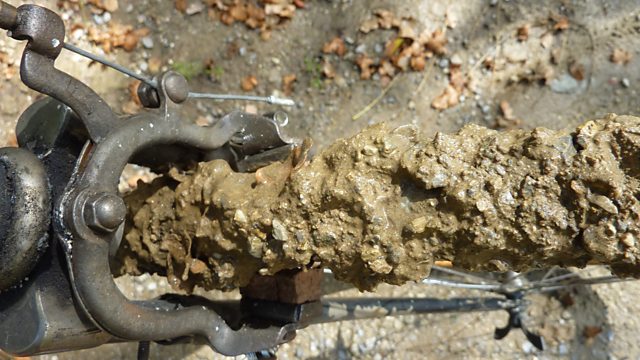 With just eight riders left and Calzolari's lead nudging two hours, a weary truce prevailed for the final two stages. The terrain must have helped: with the endless Appennines at last behind us, my legs finally got to enjoy themselves. The Hirondelle didn't though. Its pedals were now lined up at least 10 minutes shy of the traditional quarter-to-three position, and every juddery rotation unleashed a symphony of creaks from the bottom bracket. No less conspicuously, 3,000km of potholes and 85kg of maps, tools and middle-age spread had bullied my wooden rims into twisty ovals: I bucked and bounced down the steeper hills like a man on a runaway mule. I'd already lost four spokes from the back wheel, and with Milan almost in sight it buckled so dramatically that I had to remove both rear brake blocks to allow it to spin.
Instead of taking it easy I went nuts. Alfonso Calzolari lay approximately 51 hours up the road in our virtual race, not even allowing for the fact that I'd taken nearly five weeks to ride the 3,162km he'd covered in eight days of cycling. But perennial table-propper Mario Marangoni seemed much more my kind of guy, and here the action was building to a climax. When Marangoni threw in the towel on stage 6, his average speed stood at 17.7kmh; with the Milan rush-hour swelling madly around me and the finish nigh, the relevant figure on my sat-nav screen flashed up to 17.8. Pathetic, I know, but you've got to pick your battles down my end of the athletic scale.
The tiny clutch of survivors and their shocking condition sparked an immediate scandal. The 1914 Giro, everyone now saw, had been in every respect a race too far: the stages too long, the route too cruel, the conditions too relentlessly brutal. 'An event that seeks to destroy its competitors has no place in sport,' wrote one commentator. 'The organisers have no right to call this inhuman spectacle a success.'
When the Giro was resurrected in 1919, the attritional suffering of brave young men had rather lost its appeal as a spectator sport. Never again would professional cyclists be compelled to set out at midnight on 20-hour rides. The stages in the first post-war Giro were on average 100km shorter – seven of them won by Girardengo, in an unparalleled display of dominance. The campionissimo claimed victory in the colours of Stucchi, stoutly assisted by Alfonso Calzolari, who was running third when he retired on stage 7. Calzolari never won another race: the 1914 Giro wasn't just his finest hour, it was pretty much his only hour. But what an hour it was.