Radio 4 Extra - June Whitfield interviewed: Take It From June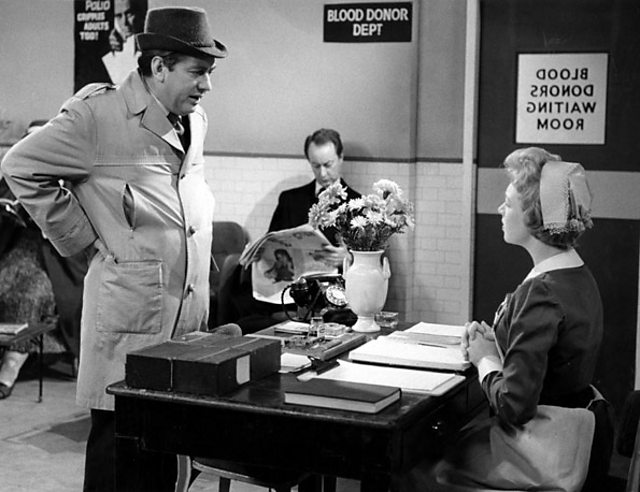 As I rummaged in the BBC archive searching for programmes to celebrate June Whitfield's radio years, a thought popped into my head. Should the history of British radio and TV have a special new acronym - TBJ - Time Before June?
As you'll hear this Saturday on Radio 4 Extra June Whitfield jokes that her own CBE award really stands for 'caught before expiry'. Born in 1925, the remarkable fact is that her BBC career spans over 60 years.
Enyd Williams has directed June in many radio dramatisations, notably casting her as Miss Marple in the radio Agatha Christie mysteries. So who better to interview and talk to June about her radio years?
As we were going to meet June at BBC Broadcasting House reception in London, I could not help but think that June would've been standing in that very same grand space in 1947. That was the year she got her first BBC telegram, offering her first radio acting job. Incredibly, when we arrived, June was carrying her enormous, bulging scrapbooks - with that very telegram proudly and carefully placed at the start.
In the programme we follow her across the radio years, from her big break in 1953, when she joined comedy scriptwriting giants Frank Muir and Denis Norden on Take It From Here, helping to create radio's first dysfunctional family; to singing with Leslie Crowther and Ronnie Barker; trying to keep up with Frankie Howerd; jousting with Bob Monkhouse in Punch Line; to Roy Hudd in the News Huddlines and creating Agatha Christie's Miss Marple for the airwaves.
That list alone backs up Roy Hudd's affectionate title for June as the 'comic's tart'.
June's complete modesty is striking in the interview. June has worked with just about every British comedy great in the last 60 years and the overwhelming feeling that emerged as June talked was sympathy. Sympathy for the predicament and the perpetual pressure of expectation placed on the star of the show, which June says, she never was. She gives us an insight into this world when she talks about working alongside the troubled radio legend Tony Hancock.
Though June has had great success on television in programmes such as Terry and June, radio is still her true love.
June tells Enyd about when they tried to transfer The Glums to television but it wasn't the same.
June says radio has such an advantage over television: 'You make up your own pictures'.
Peter McHugh is the producer of Take It From June
Take it From June is on Radio 4 Extra this Saturday at 0900 and at 1900 and you can listen online for seven days after that.
Caption for the image reads: "June and Tony Hancock Hancock : The Blood Donor 01/01/1961 © BBC Picture shows - Tony Hancock and June Whitfield as the reception nurse."
There are more pictures of June Whitfield in the Radio 4 Flickr group.