Editor's note: In Thursday's programme Melvyn Bragg and his guests discussed Marco Polo. As always the programme is available to listen to online or to download and keep - PMcD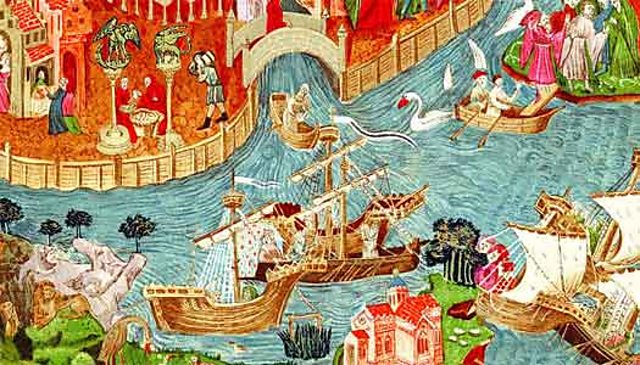 Hello
Ingrid told me that I was writing too much again. She must be obeyed. She works both for Start The Week and In Our Time and works with ultimate efficiency and patience. (I bet that was hard for you to type out, Ingrid.)
After the programme there was a lot of talk about Kublai Khan. He was thought of as being the greatest Khan. He was compared with Alexander the Great who, of course, had gone into the East but not with goods, with an army, and dropped only when he had no more worlds to conquer. We're told that there is a Muslim Alexander, a Persian Alexander, an Alexander for all seasons, just as there was a Great Khan for all seasons.
Frances Wood is beguiled by Matthew Paris, who seems to have lived in St Albans all his life and yet reached out right across to the edge of Asia with his information. He knew all the stuff about the Khan and he marvels at how knowledge travelled in those early, so-called rather primitive, medieval days.
The most sensational discovery for me was that the reason why the Mongols stopped at the gates of Vienna was not to do with any superior force, but was because the Great Khan died, and they all turned to go back across the plains and the steppes to be there at his funeral and to help choose his successor. So, we are not Mongol because of the death of the Great Khan.
The Bodleian text of Marco Polo is highly recommended by everyone, especially the illustrations.
London has hit a heat wave and, Murphy's Law, I was so hedged in by work on the imminent renaissance of The South Bank Show and a serious argument with - well, let's leave it at that. Not an individual but ...
So it's been pounding pavements, hitting phones, texting, emailing, and trying to get numbers and addresses and so on. But no bad life at all. Cathy Haslam, with whom I set up a small company to continue to make the television programmes I wanted to make, and I celebrated an anniversary with a quick lunch. But now an evening of relief: off to Michael Frayn's publication party in a garden.
Best wishes
Melvyn Bragg
Download this episode to keep from the In Our Time podcast page
Visit the In Our Time website