All in the Mind: Take the BBC Stress Test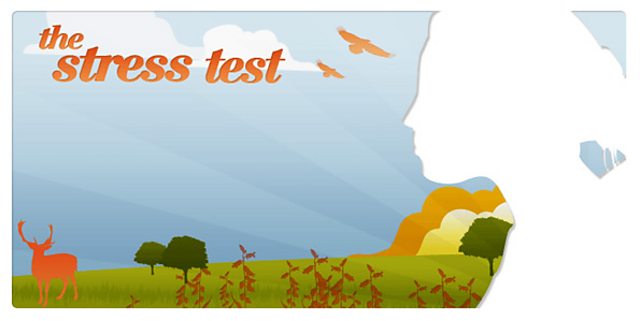 We all get stressed sometimes. It's inevitable. But for some people this tips over into depression and anxiety and for others it doesn't. The BBC Stress Test is a new online scientific experiment we're launching which is designed to find out why.
There are so many different factors to tease out.
Your biology - does your genetic predisposition explain your reaction to stress? Do you have good friends to talk to? Do you tend to blame yourself when things go wrong or do you go back over and over your own mistakes in your mind? How much do your experiences in childhood influence the way you handle stress? This research, the first of its kind, is going to try and work out which factors make the most difference.
The Stress Test has been designed by Professor Peter Kinderman at Liverpool University in collaboration with BBC Lab UK. We're hoping thousands of people will take part. It takes about 20 minutes (or longer if like me you insist on doing it in the middle of busy office where people keep coming up to chat). You can take the test here.
What I like about the test is that as well as that getting that warm glow of knowing you're contributing to the sum of the world's knowledge, you also get something back immediately - personalised feedback about the way you cope with stress and tips to manage it better.
The test starts with some general questions about you (N.B. everything's confidential). Then it asks how you've been feeling recently followed by questions about your social life, your work and whether you have money worries.
The most fun bits of the test are the practical parts. In one test you're asked to respond to positive and negative words as they flash up on the screen. Your reaction time and the number of errors you make can show how your brain processes emotional information.
While my reactions to words like "crying" and "failure" or "joyful" or "serene" were measuring an aspect of my stress I was unfortunately in an open plan office and chatting to colleagues so I think made a few mistakes on that part. Oh well.
The test even looks at who you blame and why. I like the bit where you can use a slider to allocate blame to different things for certain situations - move the cursor to decide how much to blame yourself or outside influences when a friend ignores you while out shopping.
Psychologists have found that the way we explain things that have happened in the past is closely linked to the explanations we give in the present and the predictions we make for the future.
After you've done all the tests submit your results and a few seconds later you'll get personalized feedback on how stressed you are now, what sorts of coping strategies you use and the possible causes of your stress.
Then there are tips for managing it better - again tailored to your answers. It's well worth doing. Some of the answers I got surprised me. But one last word of advice - don't do it in a busy office.
Claudia Hammond presents All in the Mind