Editor's note: In Thursday's programme Melvyn Bragg and his guests discussed Chivalry. As always the programme is available to listen to online or to download and keep.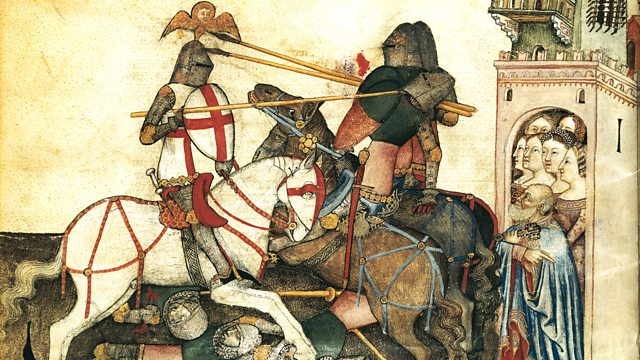 Hello,
I was walking down to the House of Lords a couple of days ago and above that grand building – officially the Palace of Westminster – there curved a double rainbow. I can't think when last I saw a double rainbow, if ever. And, of course, up pops Wordsworth: "My heart leaps up when I behold/A rainbow in the sky:/So was it when my life began;/So is it now I am a man;/So be it when I shall grow old,/Or let me die!" And so into a very powerful debate across the spectrum on immigration.
London ought to be a washout but it isn't. People stoically bend their heads into the howling winds. Water sluices everywhere, but people still make every effort to get into work, despite rather powerful obstacles – only one of them, the Tube strike – being put in their way. The sky is playing peculiar tricks which would have driven Constable mad. Heavy, very laden rain clouds outpouring their matter, and then, literally a few minutes later, as blue as a Provencal summer day and quite warm with it.
After the programme one of the contributors listened intently to her mobile and announced: "My Pilates teacher thought it was very good".
Laura Ashe pointed out that the constant injunctions to the chivalric knights not to rape women meant, in her view, that raping women was what they got up to too often, which is why the injunction was repeated so often.
I was keen to bring in the idea that these great codes might be taken notice of more in the breach than the observance. It was not only the Black Prince who killed prisoners, and Henry V, but the great warrior of them all in the 13th century, King Edward III, who raised the dragon's flag which signalled that all prisoners should be killed.
I think it was Matthew Strickland who pointed out that although courtly love tended to be extramarital, and the general pattern seems to have been that you loved somebody who was already married (see Arthurian legends), nevertheless an adulterous relationship in the 11th century could lead to quite a nasty conclusion.  Philip of Flanders, for instance, caught a man who was at his wife, and after the man was beaten he was suspended over a privy until the smell drugged him to death. Another adulterer was impaled rather nastily, even beyond the dreams of The Wolf of Wall Street.
By the way, the word 'chivalry' comes from the French word 'chevalier' (meaning knight) and 'chevalerie' (knightly behaviour) and 'cheval', of course, means a horse. Which brings us to the hackney cab.  In another of my rare outings with the hackney, I this time came across a man who had relatives in the Thames Valley, and he put forward the proposition that instead of giving 13 billion pounds to persons overseas, we should give it to persons in the Thames Valley, the Somerset Levels and everywhere else beaten by storms – as the good ship Britain is rocked with a fury which would have led the Old Testament prophets to accuse the whole nation of having committed terrible sins, to have such retribution visited on them.
Best wishes
Melvyn Bragg
Download this episode to keep from the In Our Time podcast page
Visit the In Our Time website
Follow Radio 4 on Twitter and Facebook
The BBC is not responsible for the content of external websites