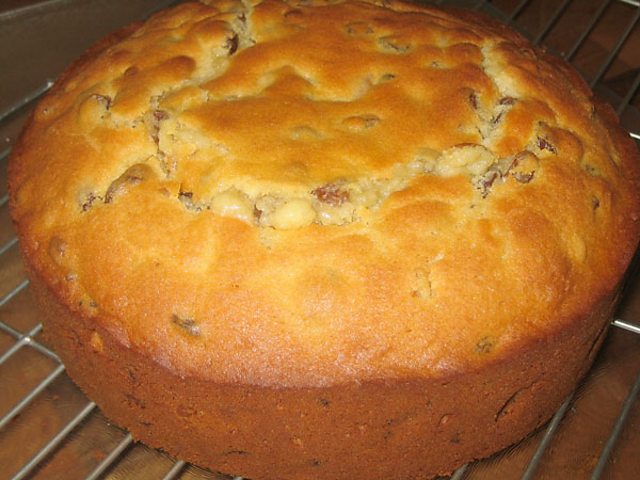 Editor's note: I know I said that the Farming Today bees were off to their own blog a little while ago but we've now decided that they should stay here, on the Radio 4 blog, for the rest of the season. We've grown attached to them (and we like the honey). And, in a follow-up email, Charlotte appeals to you:

"I could really do with some pointers from people who have made this cake before! Is the oven too hot? in a fan oven does it matter which shelf it goes on? should I use a less runny honey? And in less than a month can I produce a cake I won't be ashamed to take to the Royal? Help?"
I am, though I say it myself, quite good at cakes. Both making and eating them. So when our producer Fran wafted back into the office from her latest foray to the Farming Today beehive, and informed us that the Royal Show has a honey cake competition, and we should enter, I volunteered without too much thought.
Mistake.
I have never made a honey cake. I assumed it was something like a sponge with less sugar and some honey. It isn't. It has lots of ingredients, and seems to require an attention to detail that doesn't come naturally to me.
Still, practice makes perfect and all that, so I embarked with some confidence on Honey Cake 1. I haven't got any of the Farming Today honey yet (there is already a queue and when I tried to jump it by mentioning my cake duties I got short shrift) so I am using some runny Yorkshire honey I got the other week at the Duncombe Park show. I needed 225g. Have you ever tried weighing honey? Its messy and sticky and doesn't come off clothes all that easily. Anyway, creamed that with the butter OK... Well actually it was margarine... added eggs, sieved the flour... Feeling a bit smug by this stage... shoved in the currants, sultanas, mixed peel, nutmeg and salt. Looked convincing, so put it into a cake tin. At this point I realised I hadn't put the oven on. I read the recipie, it calls for a 'moderate oven'. Arrghhh. Whats a moderate oven? So I go upstairs, log onto computer, Google Delia Smith - of course she knows - so I charge back downstairs to set the oven to 170 degrees C... Wait for it to heat up... Put cake in. Sit back and wait to taste my triumph.
I am not sure what happened next. I can't blame the family, as the kids were in bed and my husband at work... But somehow I forgot all about the cake. I only remembered when a singed smell spread through the house.
The 'cake' was more a burnt biscuit. It hadn't risen much at all, and was almost on fire when I rescued it from the oven. There is no photo. I am too cross.
So Honey Cake 1 went in the bin. Tonight I am attempting honey cake 2, having invested in an apron, a smaller cake tin, some butter and worked out how to set the alarm on my mobile phone. What can possibly go wrong?