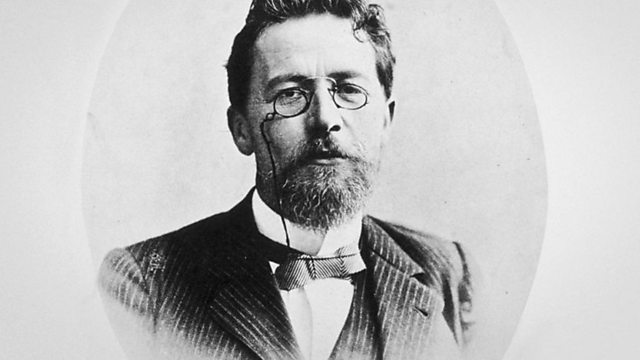 Anton Chekhov
Hello
There was a march through London last Saturday for International Women's Day. It streamed down Shaftesbury Avenue and I stared and I stared but I saw not a man in the march, which was obviously intentional and made the march all the more dramatic. Well-lettered banners. Mixtures of folk, a true London/new UK representation.  Very lightly policed. And the presence of the new innovation – people blowing old-fashioned referee whistles. Oh well, oh well. In my day it was jazz bands and singing, but time marches on. It's a curiously dramatic event to see the streets of such a great city taken over by a peaceful, determined march in such a cause. Makes you feel quite proud, although perhaps we're not supposed to say that.
Went down to Maidstone to a funeral yesterday. The death of an old friend who had filmed more than a hundred South Bank Shows. We had the reception in The Crown in Rochester where Dickens might well have had a drink or two. We certainly did. It's such a pleasure to see old friends you've worked with together over the years. You realise in a minute or so how very, very much working relationships matter, and how much you have in common, and how you wish you would meet more often, and how you make plans to do so, and how you hope it's going to happen, how you hope it's all going to come through. Les Young was a wonderful cameraman and tribute was properly paid in a simple, calm, humanist funeral in the crematorium. Then glasses were raised.
London seems to be bowling along quite heavily at the moment. Take today. In Our Time was a bit of an odd one in that, having announced Chekhov, I began with the word Tolstoy. I think I was quite nervous before the beginning for one or two off-mic reasons and hadn't taken the minute or so to myself that I like. Anyway, Tolstoy it was but he soon morphed into Chekhov.
There was so much to say. Perhaps I went in with an agenda of my own in one or two cases. I was determined that the sanitised version of Chekhov which I had received as a young man and as a passionate Chekhov reader since my late teens should not prevail. I somehow had the feeling that the Edwardians had treated him as a sanitised Edwardian hero, fragile and coughing, the genius coming out in some rather melancholy, sad, late-nineteenth century, Puccini way. In fact, despite the terrible illness which he noted in his twenties, he was a man of multiple passions, great powers, ferocious ambition and boldness in so many areas of life. I hope that, at least, came across.
The three contributors were so very good that each one, I felt, (and to a certain extent I feared, to tell you the truth) would have done the forty-five minute programme and more alone and with great ease and panache. There was so much to say and there always will be about Chekhov. Afterwards I said that perhaps we should have just concentrated on the plays; that we were trying to put a quart into a thimble. "No, no," they said, "we wanted to cover the whole range." Means that you have to drive it quite hard. A couple of e-mails have said that they thought I was impatient. I'm sorry I came over as impatient. What I know it was was an urgency to cover the ground and to hit as many nails on the head as I could (mixed metaphors again!).
After that to see a wonderful rough cut of a South Bank Show film on Tamara Rojo, the magnificent, young, Spanish dancer who's now taken over the English National Ballet as its director as well as a principal dancer. It's such a good profile, so well-made by Suzannah Wander, one of the directors I've worked with for about ten years now.
Into the office for piles of post and preparing, as I dictate this, to go to the New Statesman's office to talk with David Hare for a couple of hours about Britain (and perhaps even more) over the last hundred years for the centenary issue of the New Statesman. Rather dreading it. What is there to say that has not been said so many times? On the other hand, we might get lucky...
And then – where else? On to The One Show to talk about the South Bank Show Awards which are going out on Sky Arts tonight.
And so, as the man said, to bed.
PS: Dashed across the road to the sandwich bar, as per usual, for those who think I lunch high up the hog every Thursday!
Download this episode to keep from the In Our Time podcast page
Visit the In Our Time website
Follow Radio 4 on Twitter and Facebook
The BBC is not responsible for the content of external websites.