Intellect, Rigour and Frocks - Sue Lawley on Reith Lecturer Grayson Perry
Editor's Note: The first of The Reith Lectures, delivered by Grayson Perry and chaired by Sue Lawley, will be available from Tuesday 15th October.
Grayson Perry, this year's Reith Lecturer on Radio 4, is extraordinarily good fun to work with. Clever, quick, and charming, he's a natural stand-up artist and wowed our audiences in London, Liverpool, and Derry~Londonderry (Central St. Martins still to come). At his first lecture at the Tate Modern, there's wild applause when he walks on stage: mind you, he IS a sight to behold.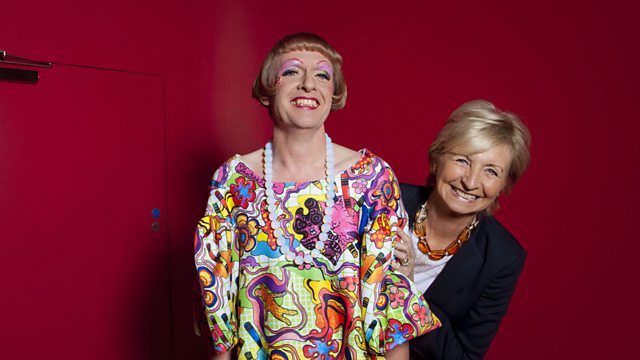 They wait for him at stage doors and gently mob him when we move from hotel to taxi. I've become his minder, I discover, politely refusing more photographs and pulling the car door shut as Grayson arranges his skirt on the back seat.
He is, after all - as I told the audience on our first night - the first cross-dressing lecturer in the 65 year history of the Reith's. 'As far as you know' was his riposte. Cue uproarious laughter.
Grayson Perry discusses the language of the art world.
He's also, in my experience of the last dozen Reith lecturers, one of the most painstaking experts to take on the task. It's a 'demanding gig' as Daniel Barenboim (Reith Lecturer 2006) commented.
To deliver an original thesis which develops across four lectures, have them subjected to cross-questioning from audiences of hundreds and broadcast to millions beyond that, takes intellectual rigour, a deal of wisdom and (always a bonus) a dollop of wit. Grayson has these qualities in spades.
I first met him back in June over a cup of builders' in his Islington kitchen. He was already clear about what he wanted to achieve through his lectures – to explain the contemporary art world to the wider audience, give them the tools to judge it for themselves and licence to dismiss as rubbish some of its worst excesses. Like the 'telephone artist' who rings up the workshop and says "Here's an idea – make it six feet high and colour it blue. See you at the opening".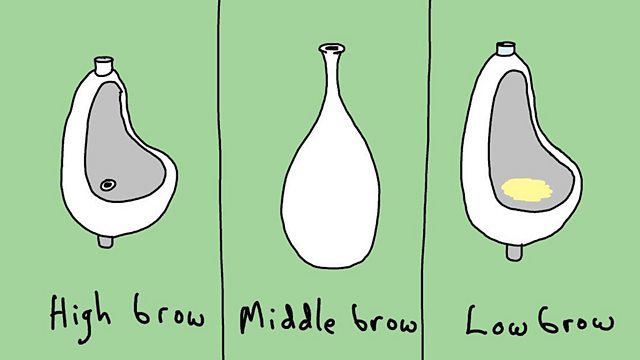 He is one of the few lecturers to meet the agreed deadlines for delivery of the text and the only one, to my knowledge, to ask for a full rehearsal. The man is a pro.
He's also the first lecturer I've known not to read from a script. Using bullet points on a laptop, he's free to extrapolate when the mood takes him. And it does. This is radio – tho' we do our best to paint a picture for listeners of this extraordinary figure pacing up and down, his turquoise sequinned eyelids catching the lights as he goes, you can't beat seeing it for real. At the first lecture, Grayson wore a multi-coloured trapeze line frock, sea-green tights and huge pale orange patent shoes tied with satin bows. He uses a hot comb to train his hair in curves over his ears and the Cupid's bow mouth is drawn thin and strong in red. Mr Perry does nothing by halves.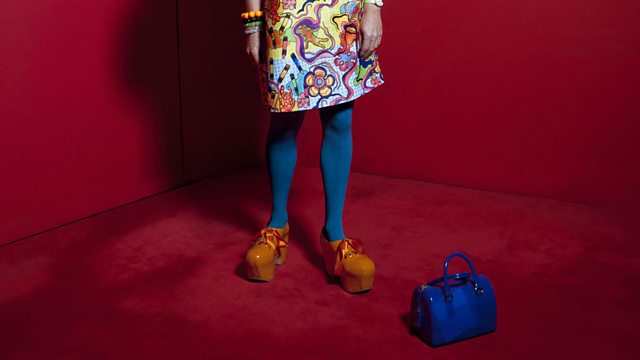 His wife, Philippa, and daughter, Flo (who's reading for a chemistry Masters), came to the first lecture. Both strong women and entertaining in their own right, the bond between the three of them is obviously strong.
At 54, Grayson is one of the most famous artists in the UK: he won a BAFTA for his Channel 4 series on taste and class, and the tapestries which resulted from those programmes formed the centrepiece of the Royal Academy's Summer Exhibition.