In Our Time: Icelandic Sagas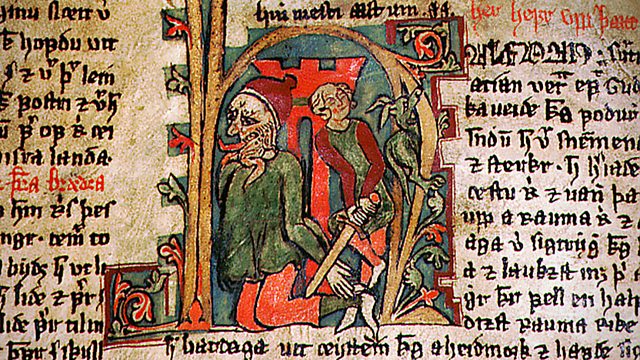 Icelandic Sagas
Hello
It seems that although the original male population of Iceland was pretty much Norse and mostly Norwegian, a lot of the women were Celtic. They came over, or were brought over, from the Western Isles and particularly from Ireland. This led one of the contributors to say that perhaps the saga tradition and the poetry tradition came from that Irish connection, with its great history of poets at court and poets being such famous figures there. This Irish connection was not particularly well-received by the other two contributors. I'm not naming names for obvious reasons.
I was very diffident about making the connection between the West Cumbrian dialect and Icelandic and mightily relieved that I was more or less ushered through on that one. Sometimes I think that I'm remembering a contemporary folk tale, but not so. It did happen. Cumbrians and Icelanders, after a fortnight or so, can talk each other's language – if the Cumbrian talks the Norse dialect, that is.
So yesterday the State Opening of Parliament, which for various reasons I did not attend, but happened to find myself down beside The Mall as the procession was going back to the palace. A thin crowd along The Mall and not a huge number in front of the palace itself. Possibly the British public is 'royalled out' after the fantastic crowds that have turned up to greet the Queen and her royal party whenever there's been a royal party. But still, it was lovely to see all those black horses and all those breastplated men with shiny helmets and red plumes or white plumes, one white-gloved hand holding the reins, the other holding a sword upright, in perfect order, trotting gently down The Mall, with coaches carrying the Queen and her relations and, I presume, top members of state to the palace for, I hope, a bit of a beano, or at least a lunch.
I wandered into Green Park as I had half an hour to kill after a quick haircut, and as I sat there the horses came up Constitution Hill, all of them walking.  Their hooves on the tarmac sounded like rain on a corrugated roof and the slow procession of this phalanx along the side of the park was somehow moving, not only as a representation of what had been but as the confirmation of what continues. Or maybe it's just remembering toy soldiers and being unable to eradicate the boy.
For your information, I have just stood up as the Speaker of the House of Lords has walked past and you are supposed to stand up, but the gentleman opposite me at this table says he didn't even see her, so there you are! Or the Lord opposite me at the table said that!
I was walking back to Hampstead through Regent's Park the other day and passed a royal parade of cherry trees in full blossom. A bit like guardsmen, all lined up, present and correct and at attention. A gentle mile and a half up the hill on Hampstead Heath there's scarcely any blossom out at all. But there are people out in London. It is massively peopled by students who flow along the pavements six or seven deep. Oh dear. Am I going to say again: what happened to the crocodile?
On the train to Lincoln for the start of what could laughingly be called a tour of the various literary festivals, from now – at a steady rate – until November. That is to say, not all of them, not by a long chalk, but many in places I want to go to again. The two advantages of going to a literary festival are that you meet readers and you see places you might not otherwise see, or see again places you want to see. I want to see Lincoln Cathedral again for many reasons, not least because Paul Morel took his mother to visit it in Sons and Lovers and there's something that closes a circle about that today.
Best wishes
Melvyn Bragg
Download this episode to keep from the In Our Time podcast page
Visit the In Our Time website
Follow Radio 4 on Twitter and Facebook
The BBC is not responsible for the content of external websites