Black Roses: The Killing of Sophie Lancaster - Four years on
Editor's note - In 2007 a young student, Sophie Lancaster suffered fatal injuries while protecting her boyfriend Rob from a ferocious attack by a group of youths. She later died on August 24th 2007. Black Roses: The Killing of Sophie Lancaster is a drama documentary marking the anniversary of her death in which Sophie tells her own story through a series of poignant poems written by poet Simon Armitage alongside her mother, Sylvia Lancaster remembering her daughter's life. On the blog Simon writes about meeting Sylvia and the making of Black Roses - PM.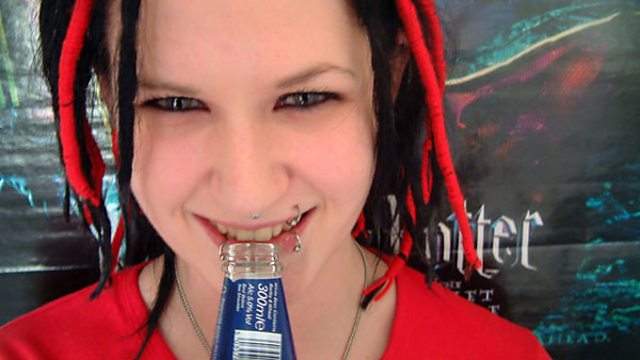 As soon as I heard about what had happened to Sophie Lancaster in the park that night, and more so after hearing that details that came out following the court case, I felt as if I wanted to get involved.
It seemed to me that Sophie had been killed because she was different, and for no other reason, and as well as feeling angry and upset about it, I probably felt some underlying kinship with her, having grown up in a small northern community not unlike Bacup where to be different was to risk ridicule or aggression. Also, in images and photographs that begin to circulate, Sophie seemed so innocent, beautiful and vulnerable, yet she met with terrifying and almost unimaginable violence.
I met Sylvia, Sophie's mum, not long after the offenders were jailed, and was immediately struck by her great courage and her determination not to let her daughter's killing go unnoticed.
In Black Roses, Sylvia's brave and sometimes harrowing testimony is interspersed with poetic monologues in Sophie's voice, based on Sylvia's descriptions of her daughter's life and death, and their heartbreaking goodbye when the life support systems were eventually switched off.
I wanted to give Sophie her voice back, allow her to speak again, and to celebrate her attitudes and character as well as commemorate her.
Black Roses isn't an easy listen, but of everything I've ever written it seems to have made the most impact, in terms of listeners getting in touch and wanting to sympathise with Sophie or to relate similar episodes of prejudice and intolerance in their own lives.
I never mean to campaign or to crusade when I sit down to write, but on this occasion I hope I have done justice to Sophie's story and to Sophie as a person.
Simon Armitage wrote Black Roses
Black Roses: The Killing of Sophie Lancaster is on Radio 4 on Wednesday 24 August 2011 at 2.15pm on Radio 4. There's a debate on the issues raised around Sophie's death chaired by Matthew Taylor at 8pm and repeated on Saturday 27 August at 10.15pm.
Both programmes will be available to listen to on the Radio 4 website for seven days afterwards via these links: Black Roses: The Killing of Sophie Lancaster and Black Roses Debate.